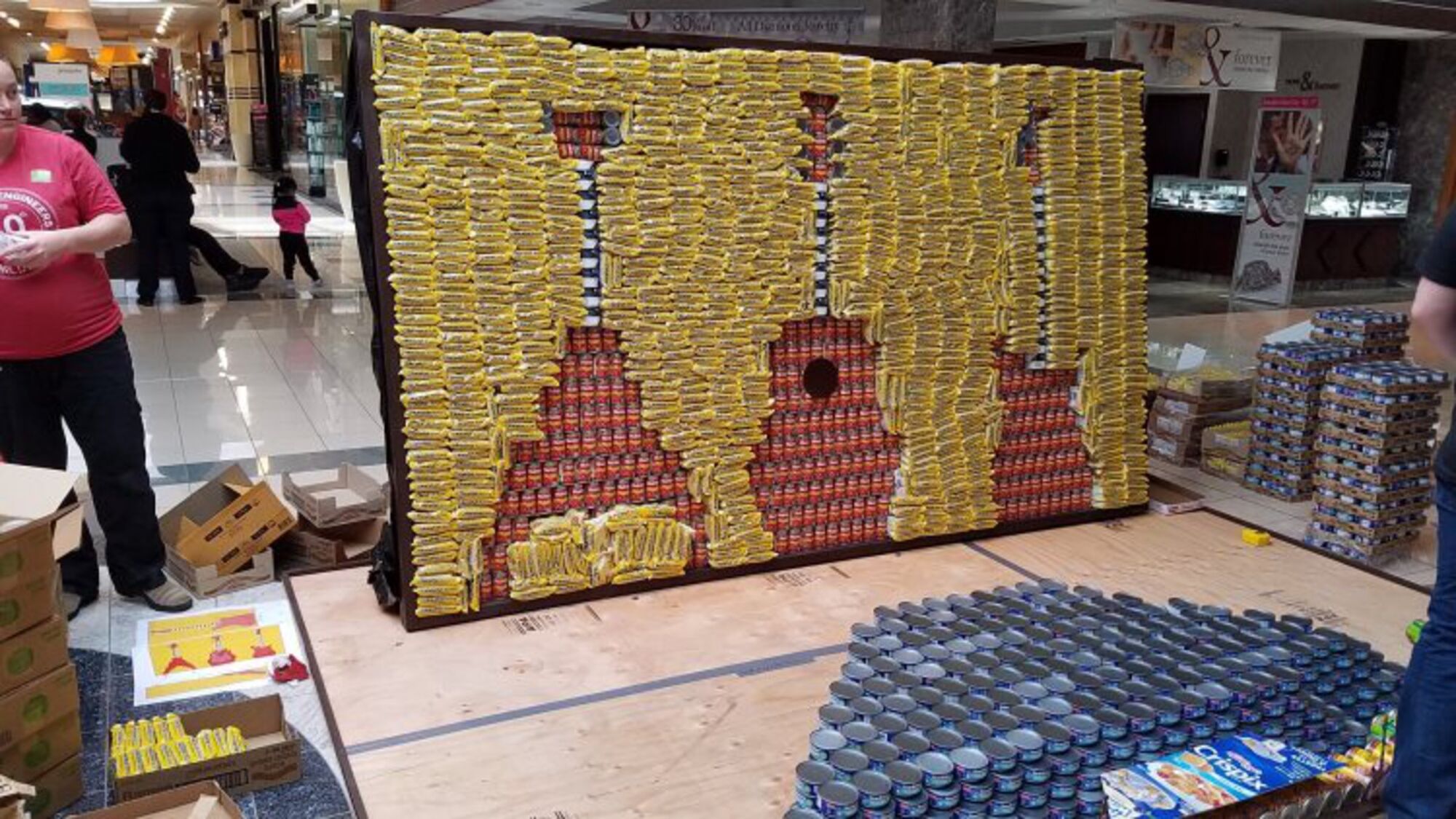 News & Announcements, Professional Culture
AEI helping end hunger with Canstruction Madison
AEI is proud to have been able to participate in such a wonderful event that brought in ~50,000 individual canned goods for MOM Food Pantry. This local Middleton, WI pantry serves an average of 65 families a day, six days a week; representing 66,393 people of which almost 50% are children. Canstruction is a strategic event planned for early spring to aid the supply before going into their peak demand season. Canstruction is MOM's biggest fundraiser and food drive of the year and provides enormous exposure for hunger issues in the community.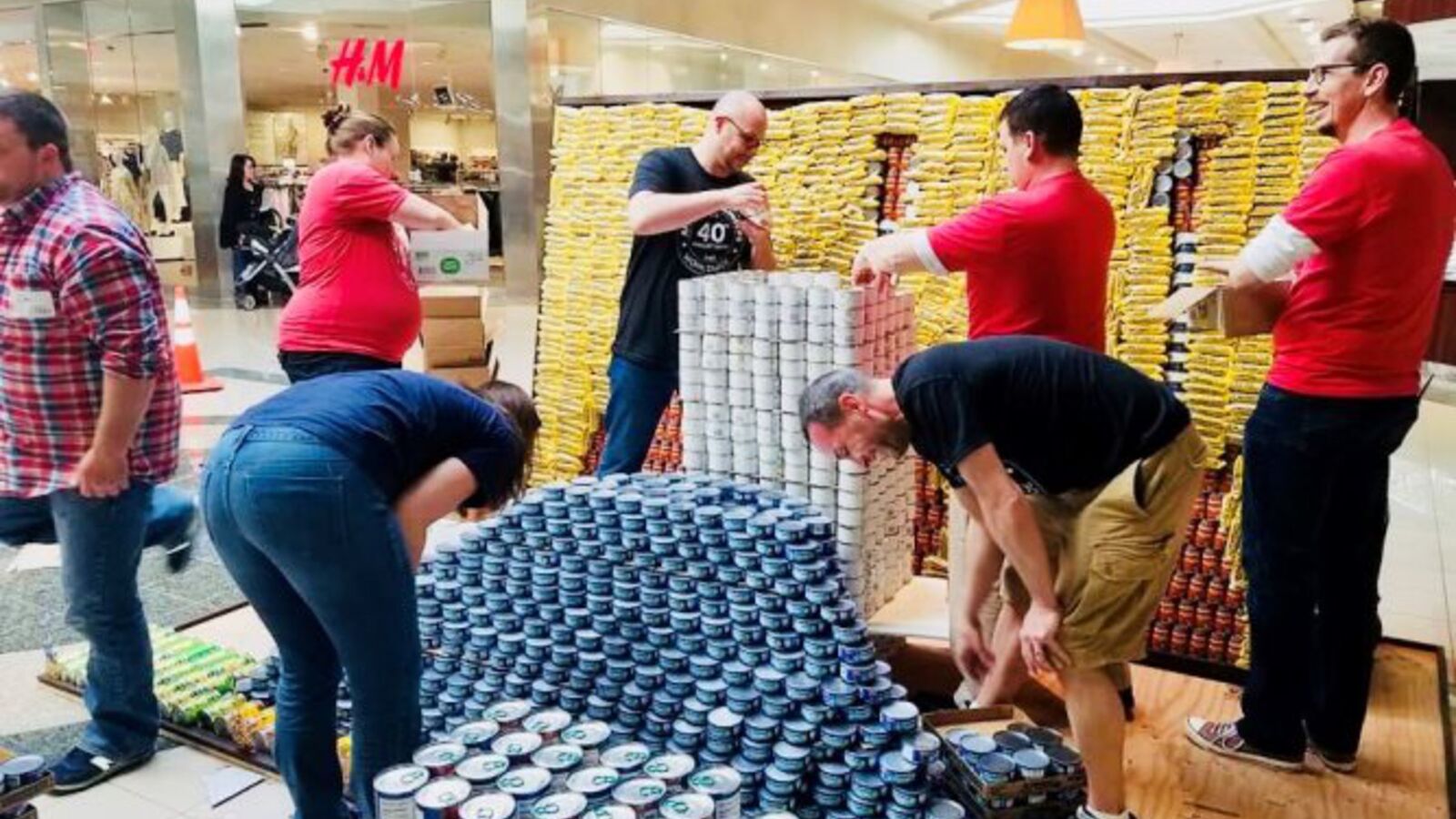 Supplies and food items were sponsored by Affiliated Engineers, totaling around $5,000 and 4-hours of paid time off for 14 AEI employees. Below is a broken-down list of ~6,000 individual food items that were used to create the AEI replica of the Rock & Roll Hall of Fame:
Ramen Roast Chicken Flavor: 1372 bags
Black White Frets, short chicken cans, HyVee Brand: 56 cans
Tomato Paste, Hunts, Guitars: 272 cans
Brown Plaza Out front: 24 cans
Dark Blue Water, HyVee Brand sliced peaches: 200 cans
Light Blue Water, HyVee Brand Light sliced peaches: 115 cans
Green Grass, Pacific Friends Artichoke Hearts: 240 cans
Pyramid, Starkist Chunk Light Tuna in water: 2016 cans
White for Building, That's Smart Pineapple Chunks: 1561 cans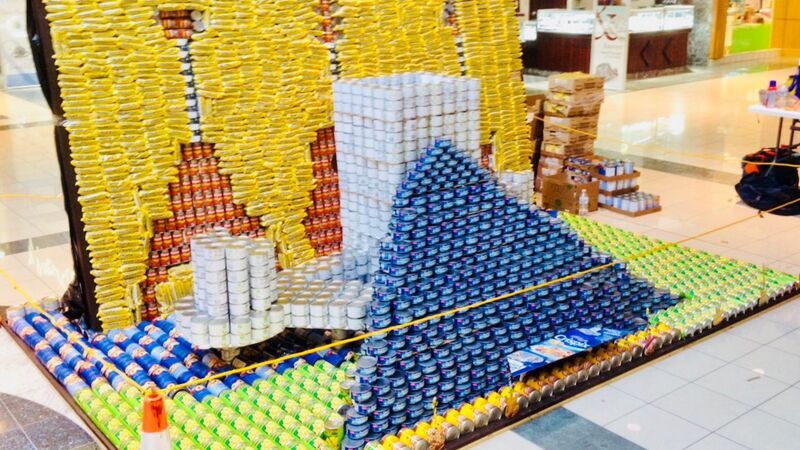 What is Canstruction Madison?
A community competition to end hunger, Canstruction Madison brings the community together to build imaginative structures out of canned goods and packaged food; after the event, the building blocks are donated to the MOM Food Pantry, one of the largest pantries in Dane County. In 2017, MOM distributed nearly 1.4 million pounds of food to people in our community. Make an impact on someone's life by giving to our largest food drive of the year!
How you CAN vote:
After the structures are built, the sculptures made entirely out of food go on display to the public as a giant art exhibition. The theme of Madison's 2018 Canstruction is: Rock CAN Roll, and the sculptures will be on display at the West Towne Mall from April 23 – 29. If you are local to Madison, head on over to check out the display. It's a great way to get some steps in over your lunch break!
To vote for your AEI's sculpture or to view other entries simply head over to Canstruction Madison, and vote on their Instagram or Facebook pages, or vote by texting "FAME" to 444222
"

Canstruction not only brings friends and colleagues together to give back while team building but is an opportunity for the community to see how people can come together to benefit those in need. Each can is food for families and another step towards ending hunger."
"

A huge thanks to AEI for funding this project. Not very long ago I proposed the idea and to see it come to fruition brings an indescribable joy. Everyone should be proud of the accomplishment and their volunteer efforts."