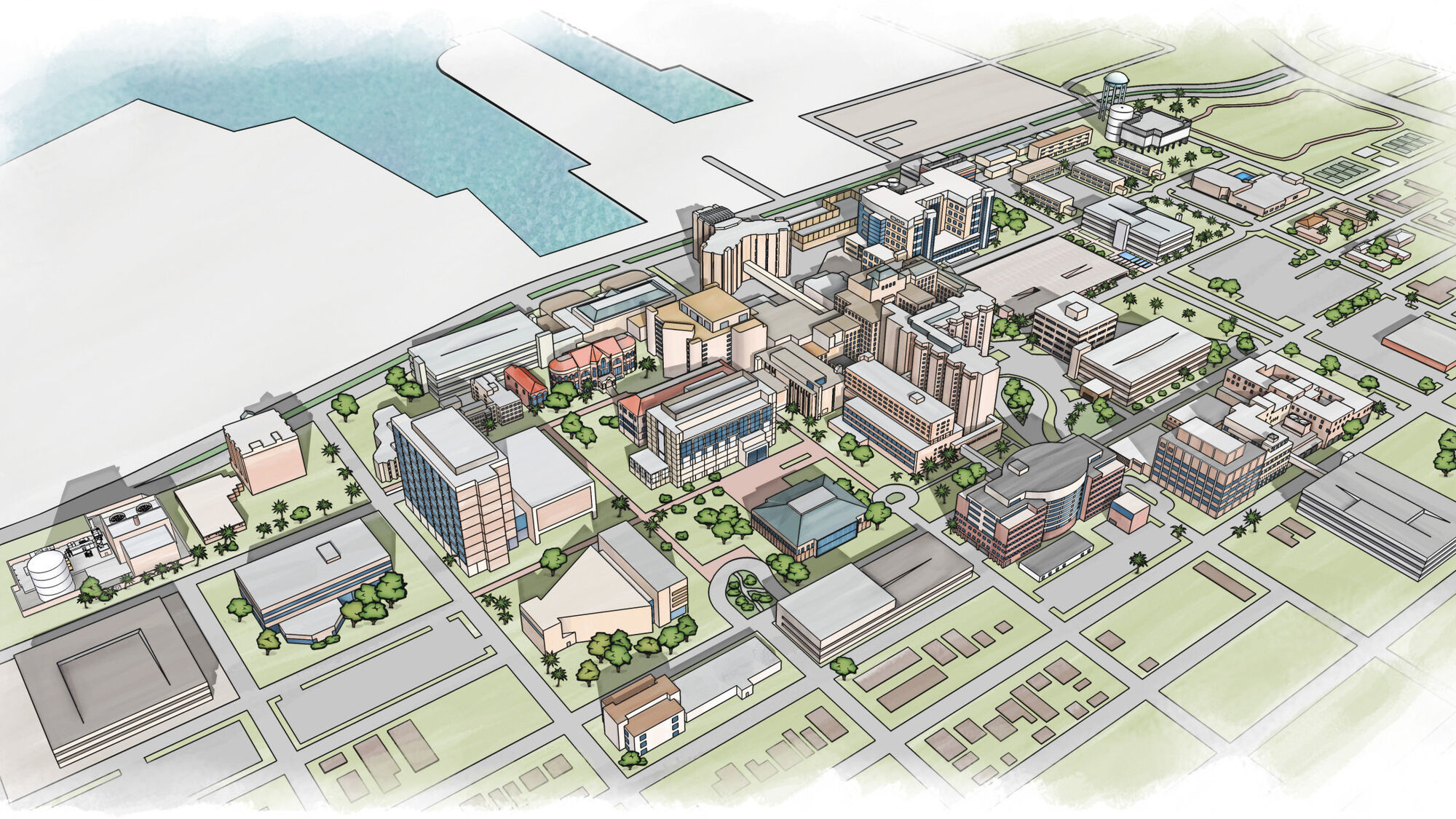 Articles & Presentations, Innovation
UTMB Galveston CHP System vs. Hurricane Harvey
As many of you already know, in 2008 Hurricane Ike devastated UTMB Galveston. The campus was flooded with eight feet of seawater which caused the chilled water and steam systems to go down. The underground steam system was a total loss. Electrical power, natural gas and city water were all lost.
AEI, working closely with UTMB, developed a three-step solution to ensure UTMB would remain resilient during a similar event:
Shift away from buried steam pipe.
Elevate or protect boilers and chillers.
Produce on-site electricity via combined heat and power.
Implementation of the three-step solution was about 97 percent complete when Hurricane Harvey struck on August 25, 2017.
The previous underground steam system had been replaced with overhead steam and underground heating hot water systems. A new elevated East Plant was in full operation, and the existing West Plant was protected by a new floodwall. 7.5 MW of CHP in the new East Plant was fully operational and commissioning was nearly complete on 7.5 MW of CHP at the West Plant.

In addition to the initial three-step solution, a dedicated high-pressure natural gas line had been installed, and two 2-million-gallon chilled water thermal energy storage tanks were in operation, one at the East Plant and one at the west.
So how did these $350 million in infrastructure improvements withstand Hurricane Harvey?
The new steam and how water systems thought it was just another day at the office. The new elevated East Plant said, is that all you've got? The West Plant floodwall gates were closed and held tight. When CenterPoint lost two electrical feeders the East Plant CHP system ran in Island Mode and produced chilled water and heating hot water for the campus. The thermal energy storage tanks helped mitigate the loss of cooling capacity.