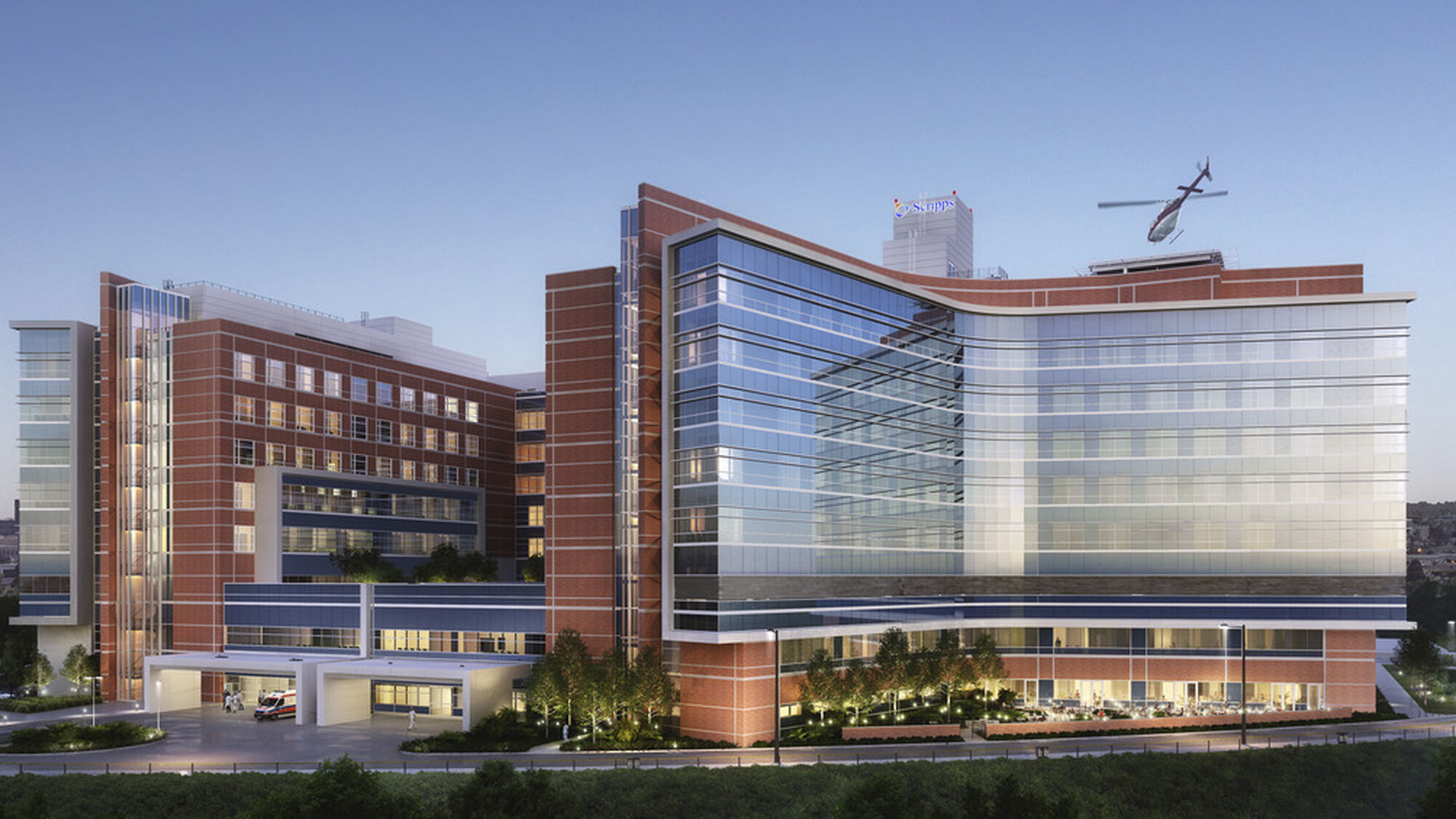 Scripps Health
La Jolla Tower II
An AEI Project in Construction.
Scripps Health is home to notable, trusted, socially responsible healthcare serving the San Diego area with a vision to improve community health and engage in meaningful clinical research.

AEI has been the engineer of record on the Scripps Health La Jolla campus since 2018 with the planning and design of this new, acute care patient tower (Tower II). Currently in the construction phase, the 430,000 square foot Tower II is underway and slated to be completed by November 2024.

AEI is providing mechanical, electrical, piping/plumbing (MEP), technology, architectural lighting, and security design for this project, which also included an additional chiller, cooling tower, and boiling capacity in the existing central energy plant. This new energy plant will allow for continued functionality of the hospital's Tower I and the surrounding facilities throughout construction for Tower II.
Operational since 2015, Tower I will connect with Tower II through a 19,000 square foot six-level bridge. The two, seven-story medical towers will mirror each other in a nearly identical, unique "V-shape" structure. This facility will house surgical patient rooms, a women's health center, labor and delivery units, postpartum beds, a nursery, obstetrical area, and neonatal care unit.
"

This addition to the Scripps La Jolla campus truly will reflect the future of medicine in ways that will benefit both patients and staff members and medical providers."
To plan for future resiliency in pandemic situations and smoke from increasingly larger wildfires, the project's air handling units include filter sections to accommodate high efficiency particulate air (HEPA) filters and carbon filters, to keep air quality high for both patients and staff. The campus was planned for future expansion, with energy-saving measures and resilient systems as key to the overall design. AEI's in-depth life cycle cost analysis helped achieve reduction in annual utility costs by $135,000 and optimize the envelope for higher thermal performance.
Built to meet state seismic safety laws and to last over 50 years, the new Scripps Health La Jolla Tower II will provide more than 200 new beds to incoming patients, keeping their safety and comfort at the forefront.