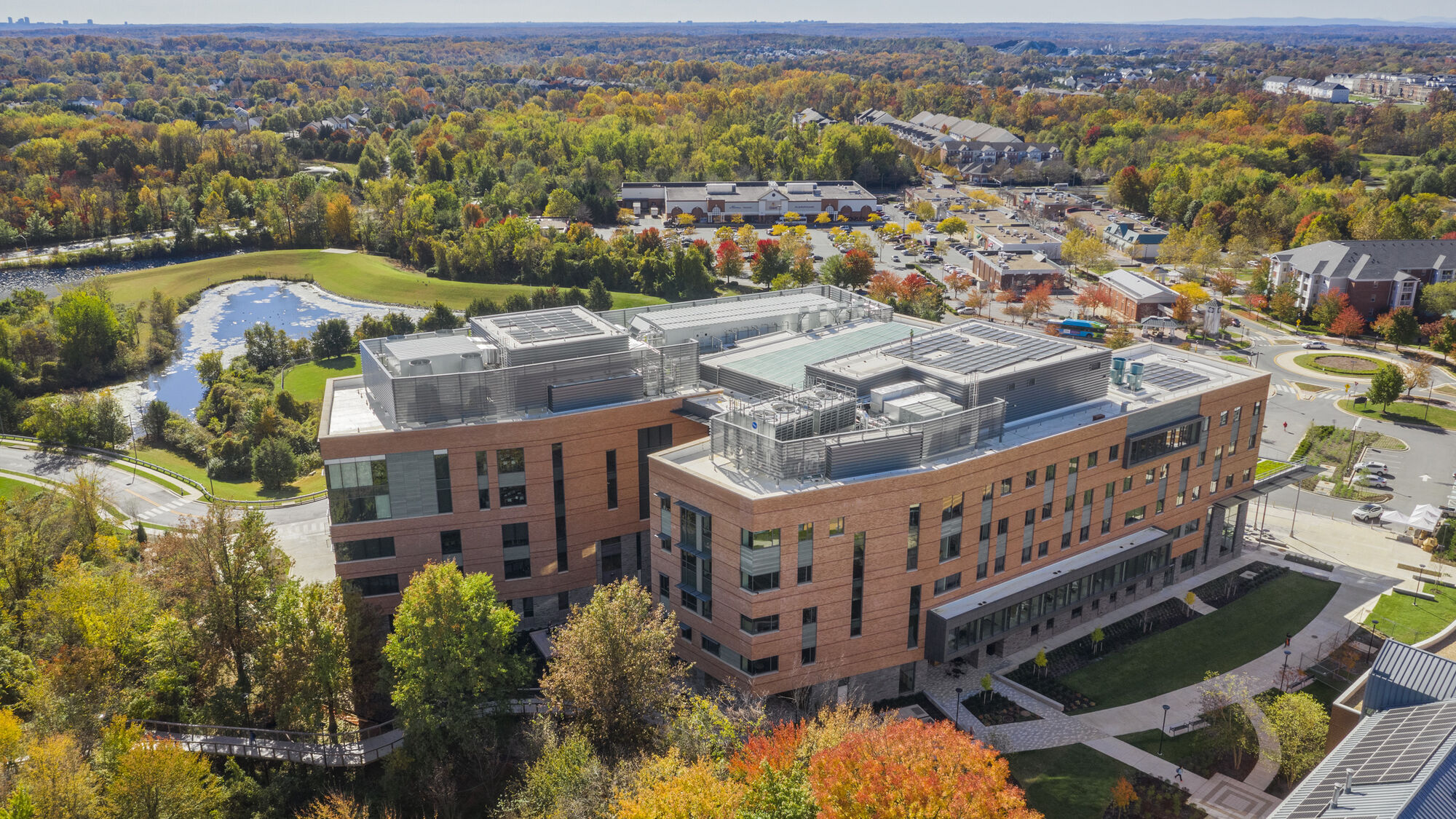 The Universities at Shady Grove
Biomedical Sciences and Engineering Education Facility (BSE)
Sustainably sourced. Diversity driven. 
An esteemed economic driver of the entire state, Montgomery County, Maryland, is widely recognized for its commitment to educational excellence and fiscal responsibility. Its premier institution, The Universities at Shady Grove (USG), serves as a centralized and regional academic hub — a convenient consortium of nine separate public university systems encompassing over eighty varying degree tracks across the state.
With an eye toward the future, USG envisioned a landmark facility that would not only augment its high-profile reputation as both a community and scholarship leader but establish a new global standard for diversity-driven, highly sustainable academic settings.
Spanning 220,000 square feet across six levels, the new Biomedical Sciences and Engineering Education Facility (BSE) is a direct reflection of this overarching campus mission. In addition to expanding the university's enrollment capacity and educational offerings — including specialized programming in the high-demand fields of science, technology, engineering, mathematics, and medical (STEMM) — the facility represents one of the most sustainably designed laboratory buildings in the country.

In addition to achieving LEED Platinum certification, the BSE has been honored with numerous industry awards and recognition from local chapters of the American Institute of Architects (AIA), the International Interior Design Association (IIDA), the International Institute for Sustainable Laboratories (I2SL), and the Commercial Real Estate Development Association.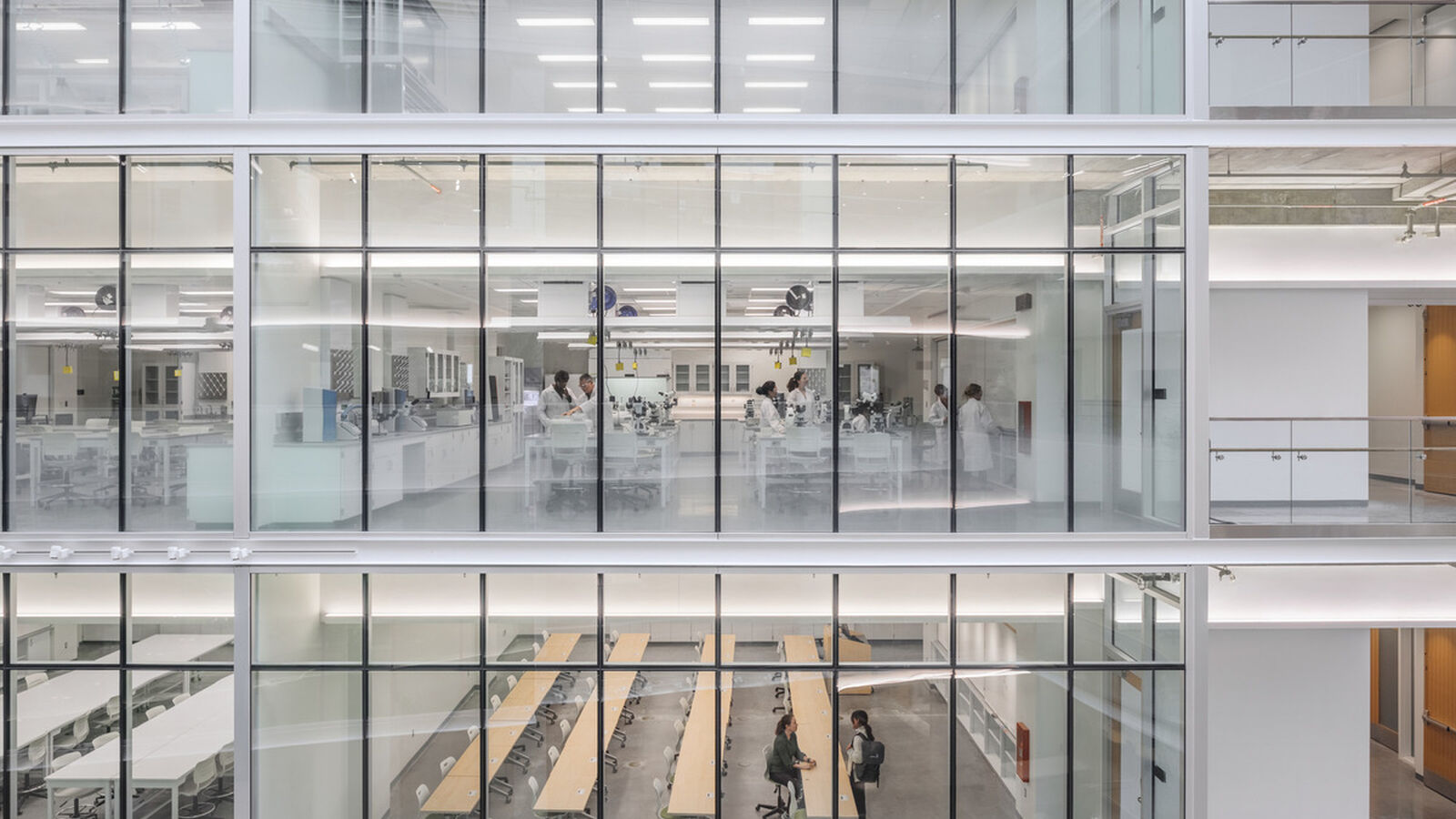 Addressing Diversity in Higher Education
Maintaining a dual focus on premier education and community impact, the BSE is built to foster diverse programming for a diverse student body — from healthcare, biomedical sciences, engineering, and computational sciences to cybersecurity, agriculture, and dentistry. USG Executive Director and Associate Vice Chancellor for Academic Affairs, Stew Edelstein, states:
Diversity is a tool for innovation; the more diverse your workforce is, the more effective it is.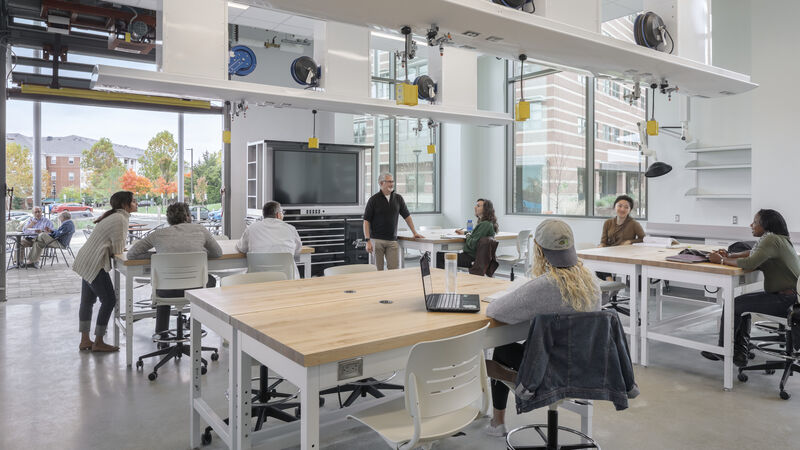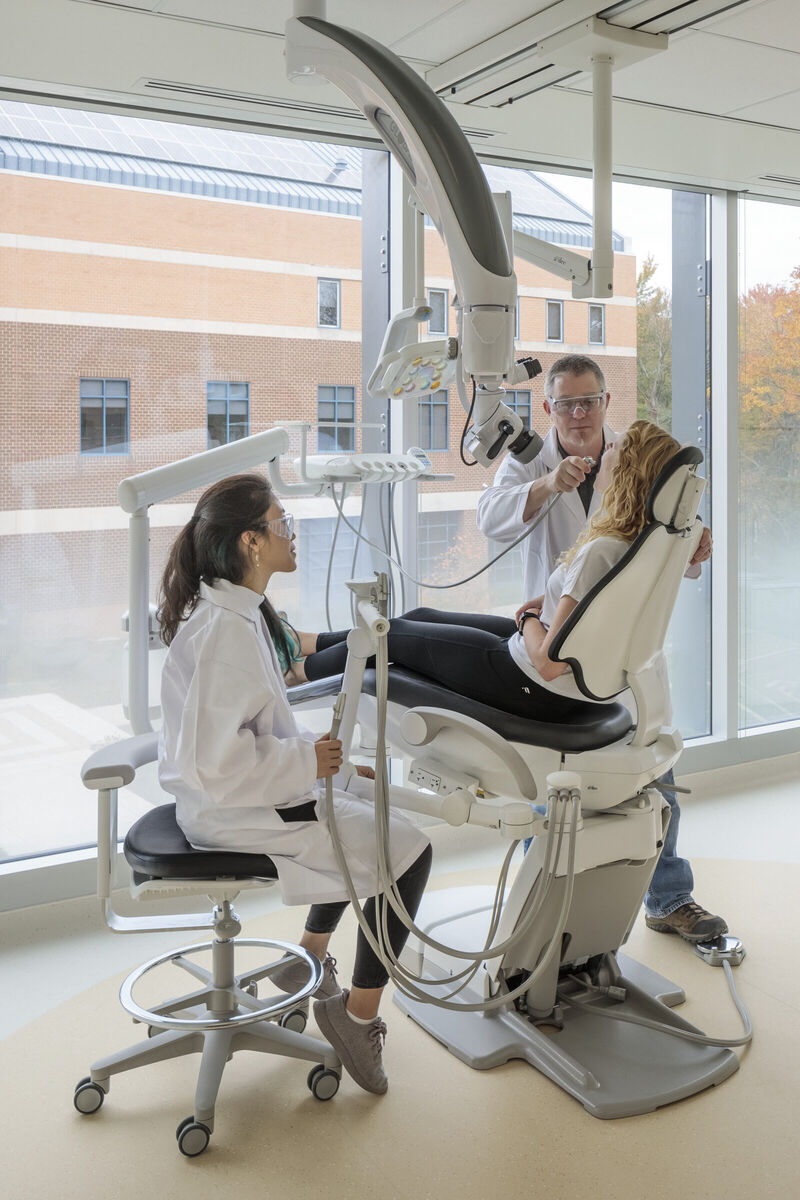 To support this elevated level of elevated education, AEI designed all mechanical and electrical systems to effectively respond to a complex and diverse range of multidisciplinary space types, including:
20 teaching laboratories — both wet and dry — featuring the latest equipment and technology.
Two lecture halls with capacity for more than 120 occupants.
12 active learning classrooms.
An interprofessional clinical training facility providing students real-time experience in healthcare settings, helping to improve patient care.
State-of-the-art dentistry offering clinical services to community patients, as well as hands-on teaching and learning experiences for students aspiring careers in this field.
Next-generation maker space and a product design laboratory that fosters discovery-based learning in both independent and guided student research activities.
Shared lab support and preparation areas, including an electrical and fabrication shop with 3D printing capabilities.
A dedicated Center for Innovation and Entrepreneurship fostering collaboration among students, mentors, and local businesses. This not only encourages critical thinking and problem-solving but provides real-time engagement opportunities with companies and talent recruiters comprising the Washington D.C. metropolitan area.
Creating a Catalyst for Sustainable Design
Certified LEED Platinum, the BSE's overarching goal for addressing sustainable design reflects a two-fold strategy:
Maximize high-performance design through a holistic approach — from building materials and engineered systems to user experience.
Reinforce core sustainability values and practices across USG's academic programs and curriculum.
Designed to meet the USGBC's most stringent criteria comprising the LEED certification program, AEI collaborated extensively with the project's key architectural designers, Cooper Carry and Lake | Flato, as well as lead piping/plumbing engineer Global Engineering Solutions, Inc. (GES), to identify and incorporate a robust array of sustainable design features across five key areas.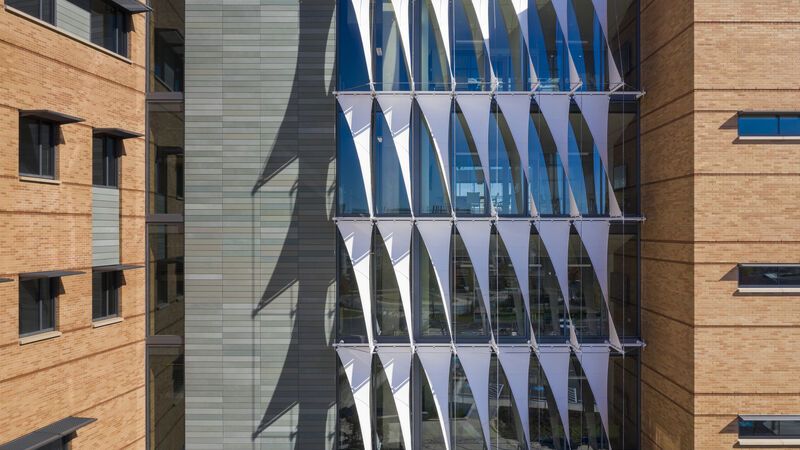 Indoor Air Quality
With an emphasis on optimizing overall occupant comfort and energy savings, AEI implemented advanced HVAC systems designed to maximize natural ventilation and minimize pollutants, ensuring healthy, clean indoor air quality. Building users enjoy abundant access to natural daylighting and exterior views, which make up 87 percent of occupied spaces. Additional indoor environmental features of the BSE include:
High-efficiency air filters and walk-off entry mats to block incoming pollutants
Motorized window systems that enhance natural ventilation
Living green wall for increased biodiversity and air quality
Low-VOC finishes, products, and equipment
Water Efficiency
Designed to reduce overall water use by 79 percent compared to baseline predictions, AEI collaborated with GES to ensure synergy between all mechanical/electrical systems and the building's varying conservation strategies — including rainwater capture, HVAC system condensation recovery, and collection from the foundation and under-slab dewatering systems. All greywater output is funneled through a 20,000-gallon cistern and repurposed for flushing toilets throughout the facility while the corresponding 10,000-gallon cistern irrigates the surrounding site landscape.

79

%

less water than baseline predictions
36

%

less energy than typical lab building
Energy Use
Targeting a goal of 36 percent reduced energy use, reduction is achieved through several AEI-implemented, high-performance solutions:
Air handling unit energy recovery in laboratory spaces
High-efficiency LED lighting and daylight controls
High-efficiency heat recovery chillers
101 kW rooftop photovoltaic arrays
Two-pipe active chilled beams
Condensing hot water boilers
Air-side economizers

Passive solar shading
Occupancy sensors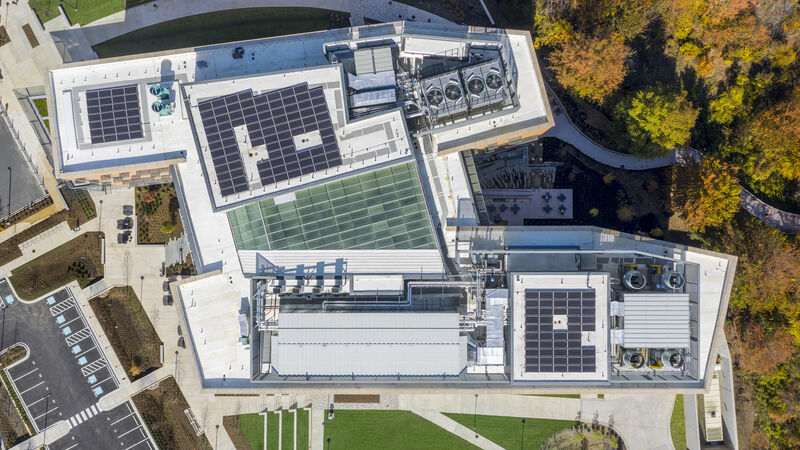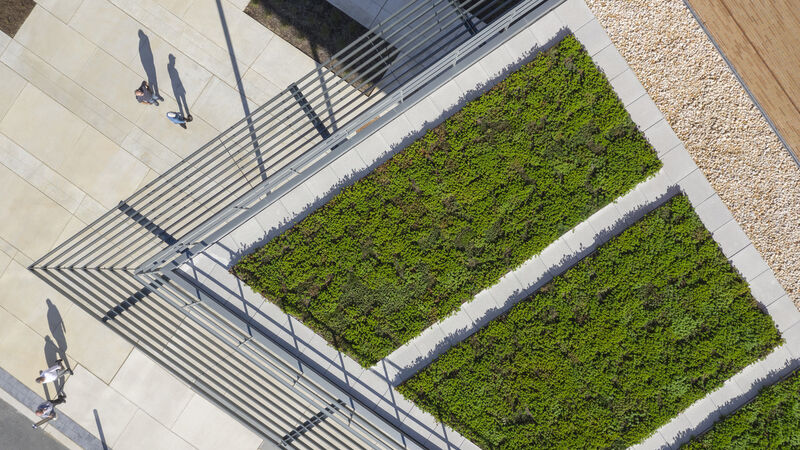 To maintain and ensure optimal energy performance throughout the life of the building, the BSE engages ongoing commissioning services in combination with automated measurement and verification systems that monitor system-wide operations daily.
Further supporting the project's energy goals, the BSE — in addition to an adjacent building and associated parking structure — incorporates rooftop photovoltaic arrays that provide 19 percent of the facility's electrical requirements. The design can further accommodate the addition of wind turbines for greater on-site electrical power, should USG wish to incorporate this technology in the future.
Local Ecology
Situated alongside natural wetlands and local watershed, AEI collaborated with the project's specialty consultants to preserve the integrity of this natural landscape and mitigate overall campus impact. To achieve this, the BSE was built atop an existing parking lot, conserving area green fields. Landscape design strategies accentuate native plant species and provide abundant open space, which comprises 43 percent of the total site area. Further aiding in USG's efforts to maximize water efficiency, all surface water is diverted away from the wetlands and naturally filtered through micro-bioswales, reducing stormwater runoff by nearly 30 percent.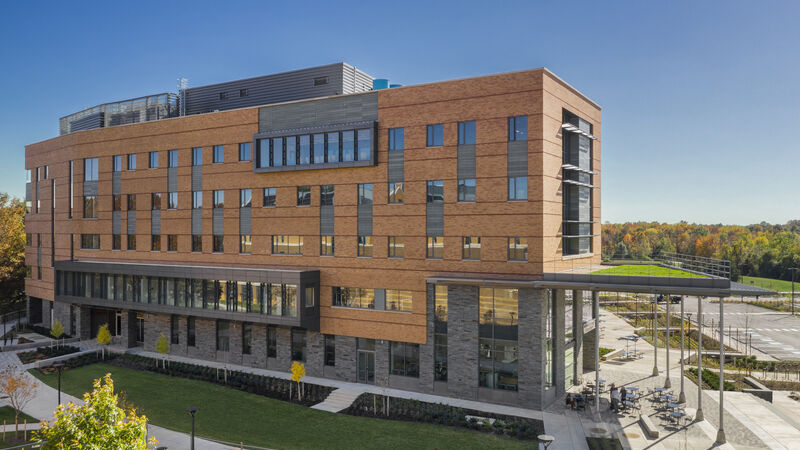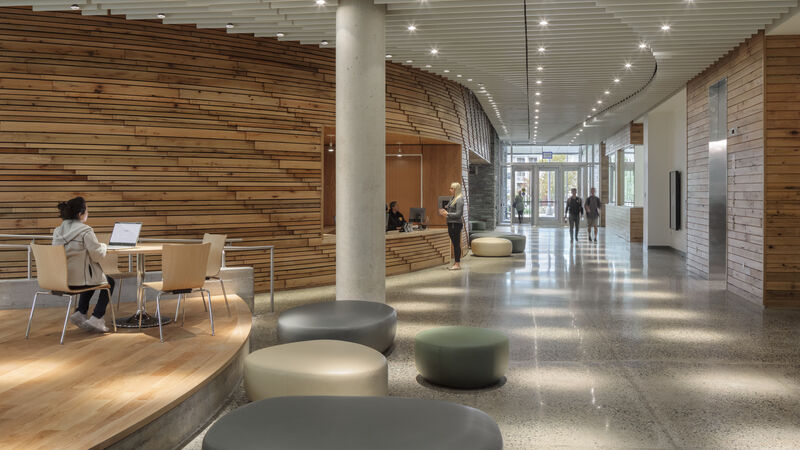 Building Materials
Building and construction materials play a significant role in reducing environmental impact. In addition to reducing building materials usage overall, the project:
Recycled more than 95 percent of construction waste
Sourced 20 percent of construction materials from local suppliers
Utilized 20 percent recycled content building materials
Lasting Impact
As USG's fourth addition and vital campus asset, the BSE raises the bar in diversity-driven educational excellence, sustainably sourced academic settings, and community-inspired design — paving a purposeful path for future STEMM-related research and discovery that has the potential to change the world. University System of Maryland Chancellor Robert L. Caret states:
In many ways, this new Biomedical Sciences and Engineering education facility at USG represents the best of the USM regional center model—providing students with access to an affordable education, businesses with innovation partners and a highly trained workforce, and communities with enhancements to the local quality of life.