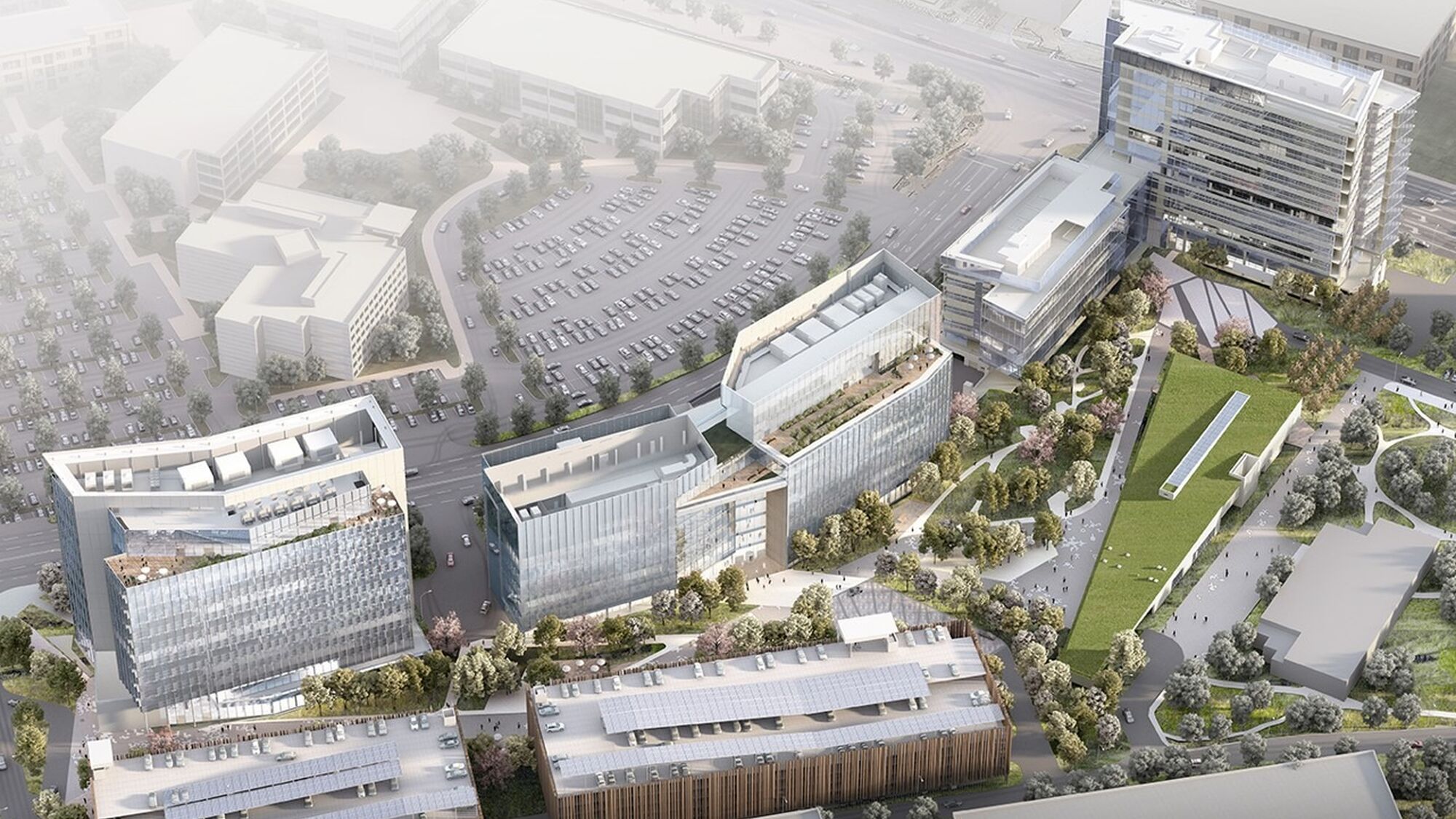 BioMed Realty
Gateway of Pacific
World-class campus dedicated to life science discovery and workplace innovation.
With the goal of creating a landmark destination for life science discovery and workplace innovation, BioMed Realty's new, multi-phase, multi-year campus development — Gateway of Pacific — provides nearly 1.4 million square feet of premium real estate in the heart of South San Francisco's booming biotech metropolis.
Envisioned to serve as a new front door into the city, Gateway of Pacific includes stringent design criteria to uphold the elevated stature of the Bay Area's robust life science community and high-profile clientele.
AEI was selected to provide full mechanical, electrical, piping/plumbing (MEP), technology, and high-performance engineering design services for all five phases, comprised of multiple high-rise buildings spanning the 22.6-acre campus.
AEI's holistic design effectively balances function with form to create high-performance and sustainable engineered systems that carefully blend into the structural fabric of each facility while maintaining the overarching aesthetic of the campus at large. Adapting to varying project delivery methods for each phase, AEI's consistent design approach optimizes floor plate efficiency and building systems flexibility to support a wide range of client and prospective tenant research needs.
"

As we continue advancing future phases of Gateway of Pacific, we look forward to welcoming more of the leading life science companies to the front door of South San Francisco, helping them establish a premier location to advance their research and attract talent. The expansions of these world-class tenants within our Bay Area portfolio is not only a testament to the region's reputation as a leading life science, tech, and healthcare center of excellence, but also to the importance [these] companies place on access to unmatched facilities in innovative and collaborative environments. "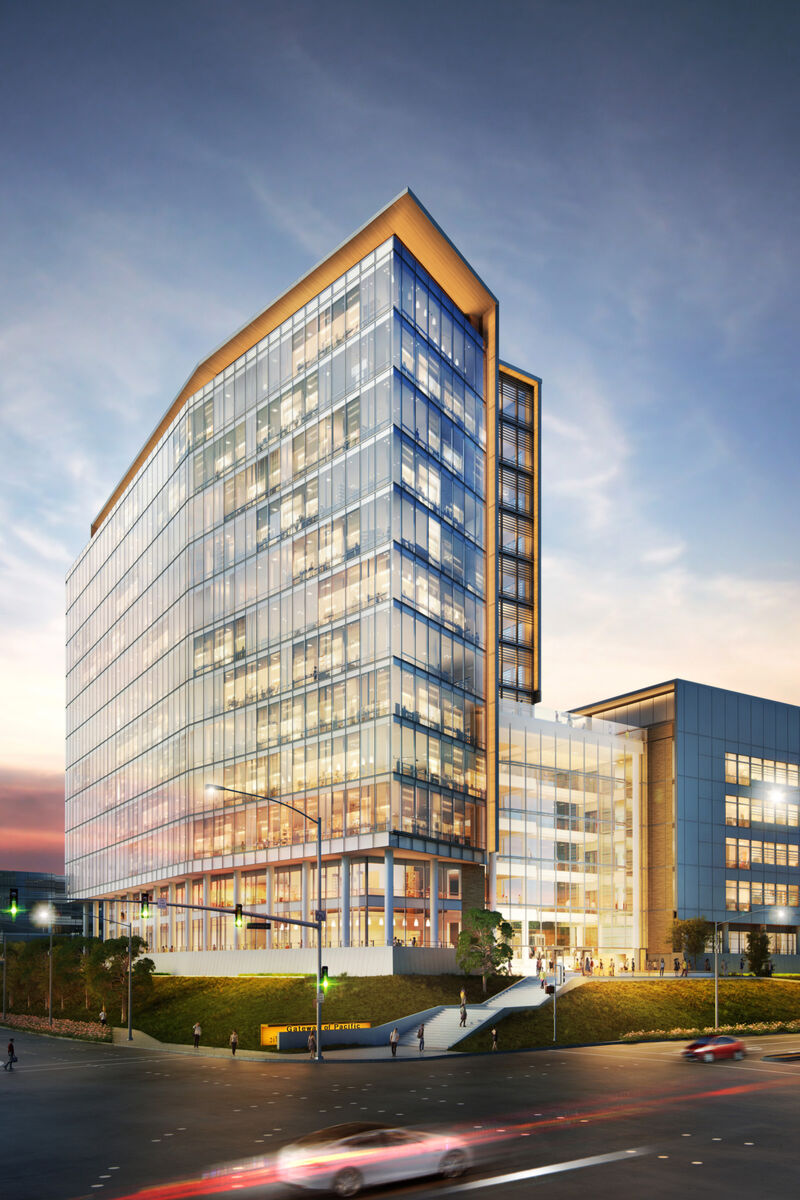 Given the complex nature of high-rise building design — specifically for the purposes of science — the diverse laboratory environments of each building presented several unique challenges, both from the client perspective as well as meeting the complex and highly specific requirements of California's L-Occupancy code classification.

Intended for leased occupancy by numerous life science tenants, all campus facilities boast a mix of laboratory and office space, thus requiring a significant amount of airflow. AEI's design consolidates laboratory and office ventilation systems, providing minimum ventilation for office spaces, utilizing recirculating fan coil units and chilled beams. Not only does this reduce the size of air handling equipment and distribution but provides the floor-plate flexibility needed for high-rise, multi-tenant environments.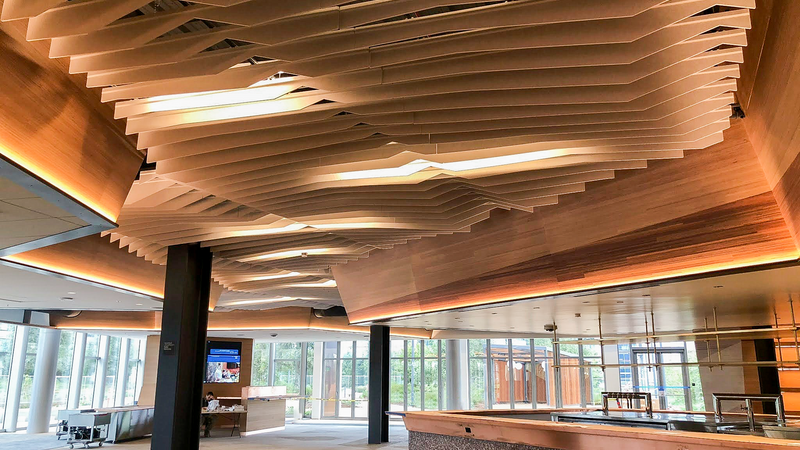 Navigating these challenges alongside diverse stakeholder requirements — including state, municipal, owner, tenant — high-performance design measures were evaluated based on detailed analysis and implemented in a highly cost-effective manner. Supporting strict sustainability and LEED certification goals across all phases, key building features campus-wide include:
Radiant floor heating/cooling for the common atrium
Simplified, low-pressure HVAC distribution
Rainwater recovery and re-use system
High-efficiency building façade
High-efficiency central plant
Heat recovery chillers
Solar photovoltaics
Phase 1 Complex and Amenity Building
The first phase of this five-phase development establishes a foundational, twelve-story complex positioned at the intersection of Gateway and Oyster Point Boulevards, creating a striking prominence on a highly visible site. It also establishes the campus' signature amenity center — TRAVERSE — a freestanding, two-story, centrally located campus hub offering a wide array of culinary, fitness, and social experiences.
Referencing the goal of preserving Gateway of Pacific's elevated campus aesthetic, AEI designed the amenity building's sloped, green roof to maximize sustainability and minimize facilities maintenance activities from public view. While most high-rise buildings can typically accommodate the larger mechanical equipment needed on the roof, roofscape is a key attractor in South San Francisco's competitive life science market. AEI collaborated extensively with the designers to strategically position mechanical systems in alternate areas of the building, preserving the rooftop from any equipment. Through innovative solutions, the roof boasts a glistening array of solar photovoltaic panels and vegetated greenery visible from neighboring phase towers nearby.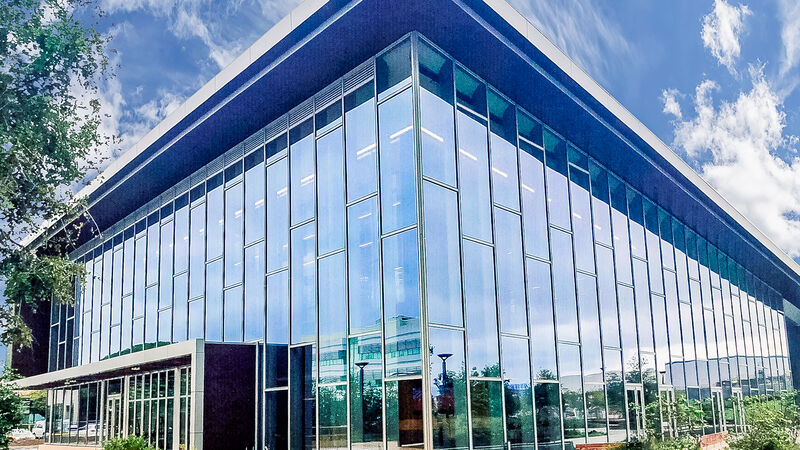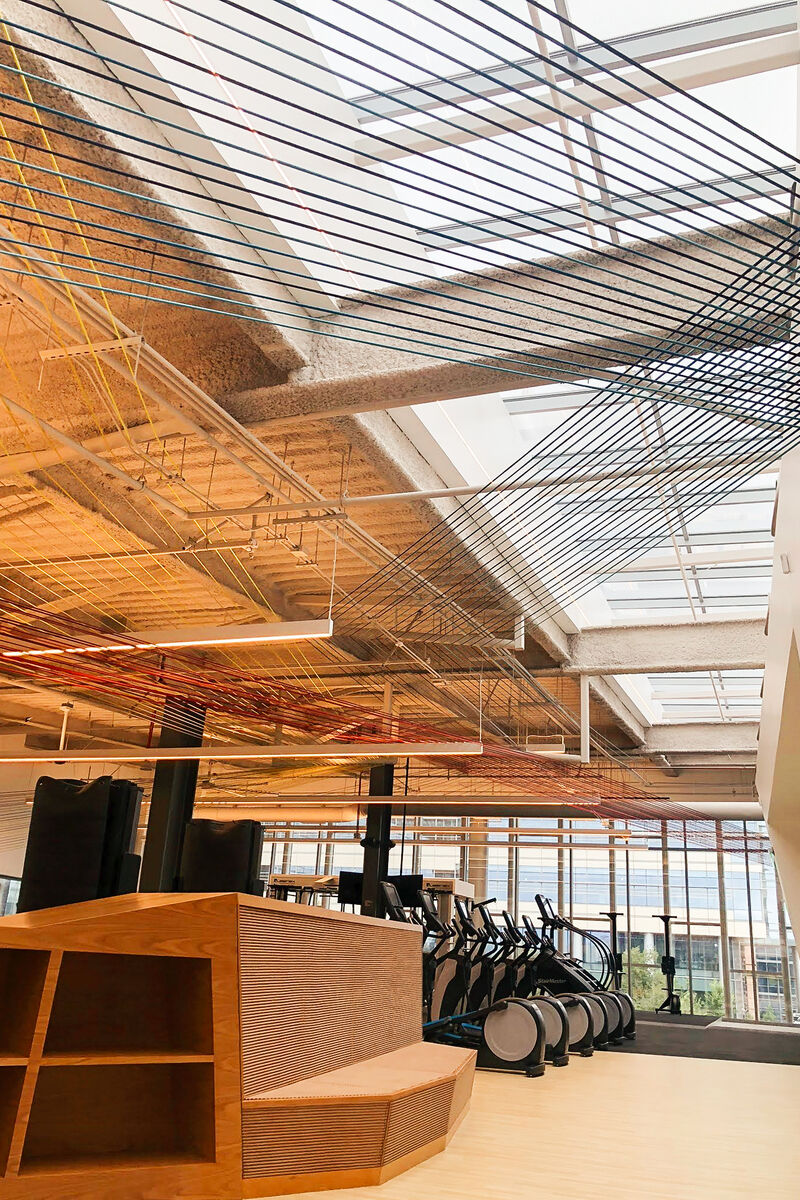 Many of the plumbing systems serving the kitchen and lounge facilities were run within the slab, requiring extensive BIM modeling and team coordination. High-efficiency condensing water heaters and compact distribution meet the high hot water demands characteristic of dining and health club establishments while decreasing overall energy costs.
Providing full MEP engineering design and energy modeling services for the cold shell design and interior build-out of TRAVERSE, AEI's services resulted in a significant contribution to the building's LEED Platinum certification. The amenity building achieves more than a 35 percent reduction in carbon emissions over the ASHRAE 90.1-2010 baseline through a combination of high-performance, sustainable design measures, including:
On-site energy generation from a 120kW solar photovoltaic array integrating seamlessly into the sloping green roof structure.
High-efficiency condensing boilers and centrifugal chillers.
Heat recovery ventilators for outside air ventilation.
Radiant floor heating/cooling serving facility atrium.
Rainwater capture and greywater collection.
All-electric VRF heating/cooling system.
Low static pressure HVAC distribution.
High-performance building envelope.
Fan array technology.
Further reflecting the building's sustainable design efforts and environmental impact, TRAVERSE achieved a Fitwel 2 Star Rating for its elevated, human-centric design that supports both occupant and community-wide health and wellness. Widely recognized for its focus on a broad range of health behaviors and risks, the Fitwel program utilizes evidence-based design and operational strategies to analyze how buildings address health as an interconnected system.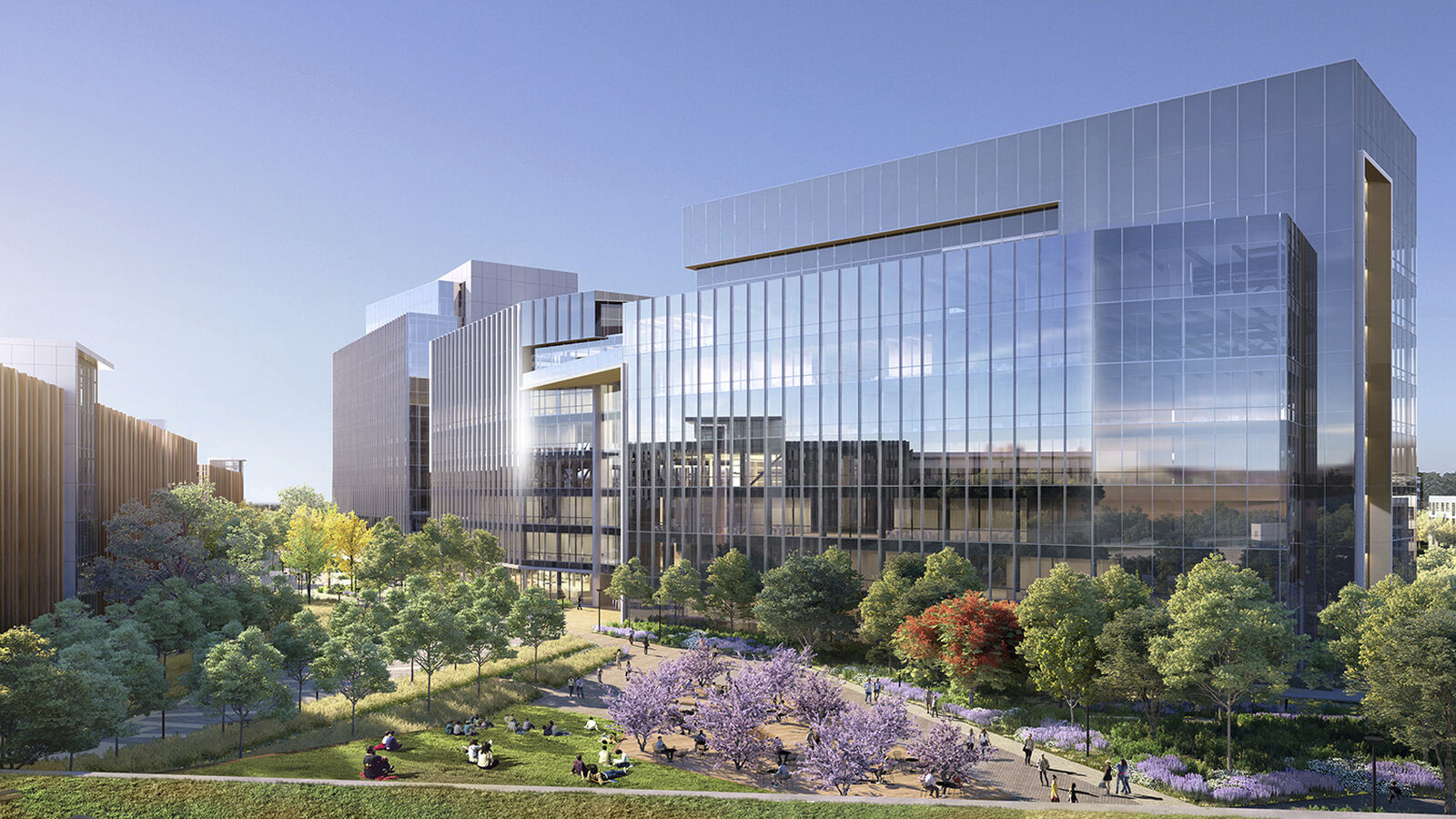 Phases 2 and 3
Building upon the elevated design aesthetic and high-performance engineered systems established by the phase one development, phases two and three add two additional buildings encompassing nearly 700,000 square feet total.
Comprised of premium life science workplace environments, approximately 60 percent of the floor plate is designated for laboratory functions with the remainder assigned to office spaces for both phases. Each facility features independent, advanced utility and services systems to support flexible laboratory operations while meeting stringent sustainability and high-rise design requirements.

Seeking LEEDv4 Core and Shell Gold certification, both projects were awarded additional points because of AEI's high-performance design measures, which have resulted in:

26 percent energy reduction over ASHRAE 90.1-2010
40 percent indoor water use reduction
Cooling tower water use reduction by achieving greater than 10 cycles of concentration
Enhanced indoor air quality with greater than 30 percent ASHRAE 62.1 ventilation
60

%

laboratory space
40

%

office space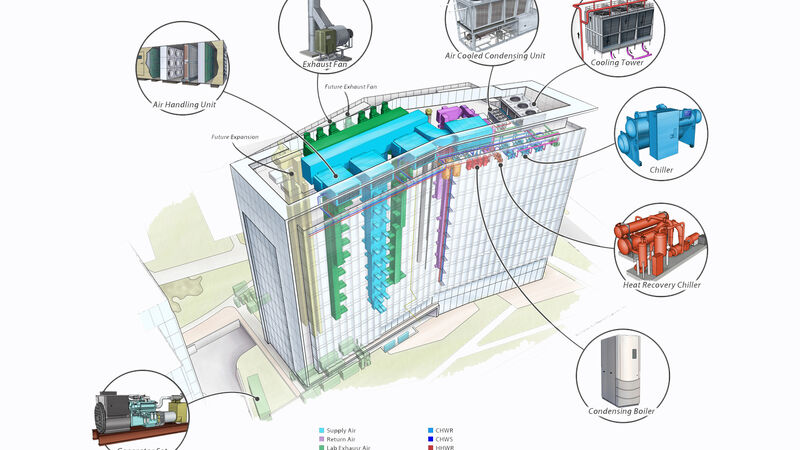 Phases 4 and 5

Bringing the Gateway of Pacific campus full circle, phases four and five represent the latest phases of BioMed Realty's landmark life science destination. Positioned behind the buildings comprising phases one through three — front-facing Eccles Avenue — phase five adds an additional two buildings featuring independent services. Mechanical equipment is located at the roof level with air handling units and exhaust fans open to the sky but fully screened from public view.
As part of the design (in progress), AEI is exploring new and advanced technologies designed to maximize energy and water savings and significantly reduce carbon emissions.
"

The fundamentals of the Bay Area life science industry are stronger than ever as we continue to provide real estate solutions to fit the needs of top-tier companies."