Duke University
Wilkinson Building
Maximum flexibility. Superior sustainability.
Duke University's new, five-story, interdisciplinary engineering education and research facility — the Wilkinson Building — is designed to accommodate modern pedagogy and evolving research needs across several high-impact programs at the Pratt School of Engineering:
Environmental/Civil Engineering
Electrical and Computer Engineering
Biomedical Engineering
Providing mechanical, electrical, piping/plumbing (MEP), and architectural lighting services, AEI designed the building's engineered systems and infrastructure for maximum flexibility while aligning with Duke University budget parameters and staying within the typical MEP costs associated with advanced laboratory facilities.
Flexible MEP Infrastructure
Encompassing 150,000 square feet of varying space types — including three floors of dedicated research neighborhoods focusing on health and environmental innovation, sustainability, and computing and intelligent systems — the facility includes wet and dry research labs, active-learning classrooms and makerspaces, modern offices, conference rooms, and a tiered lecture hall.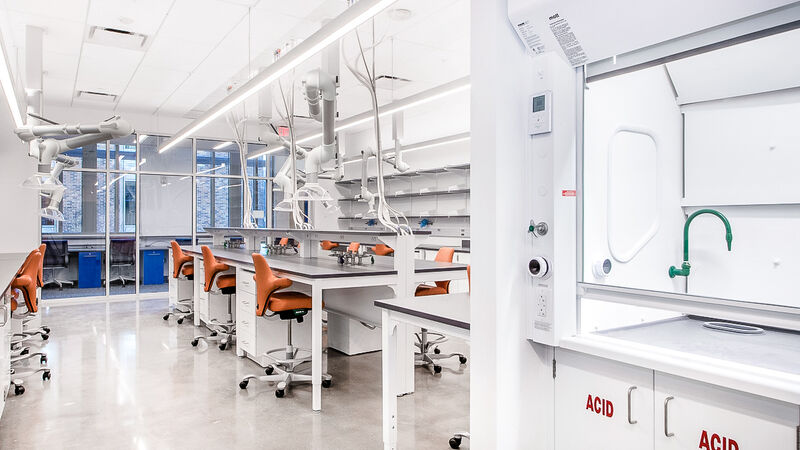 Achieving optimal operational functionality while enhancing occupant safety, the super-efficient HVAC system also contributes to the building's LEED Gold certification through its high-performance design.
Consisting of a dedicated outside air system, the unit utilizes an advanced, run-around loop system coupled with either traditional air delivery or decoupled active chilled beams depending on the needs of each space type. A facility-wide environmental monitoring system automatically resets based on air changes in the lab spaces, maintaining safe ventilation levels while ensuring maximum performance of the overall lab exhaust system.

Reinforcing the concept of flexibility, AEI's electrical design includes two independent substations and distribution systems to ensure maximum building resiliency. The dual service system — highly unique to academic settings — provides a dedicated back-up power source allowing for sustained operations during unexpected events, such as severe weather or maintenance activities.
The AEI team also provided engineering leadership to reroute and enhance the 15 KV electric distribution, steam, chilled water, water storm, and sanitary systems, including the addition of a separate walkable utility tunnel.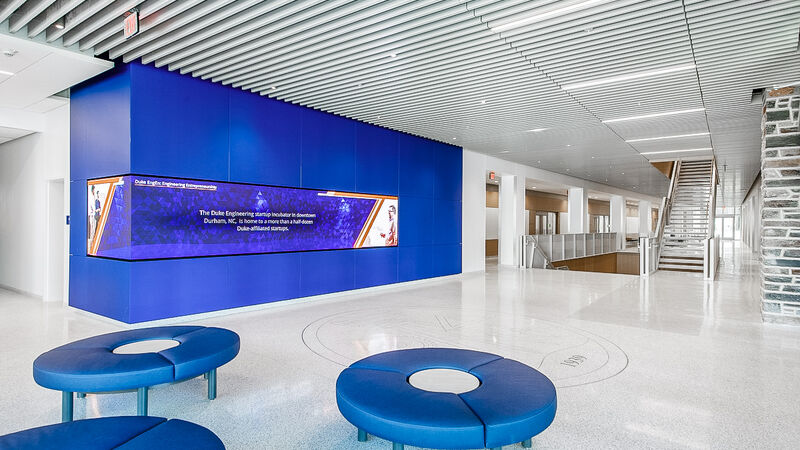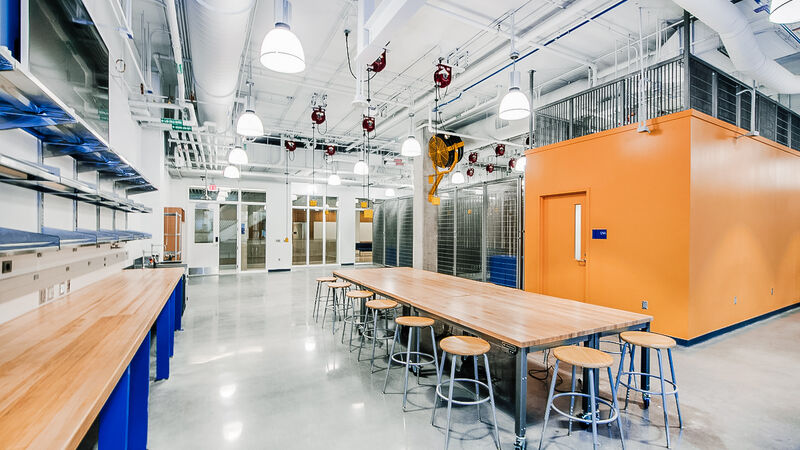 "

This is a transformational project that will help catapult Duke Engineering to the next level of impact in education and research."
Emphasizing Sustainability
Certified LEED Gold, the Wilkinson Building sets a high standard for sustainable design at Duke University and the larger academic community. Incorporating a wide range of high-performance design measures and strategies, the facility creates an elevated academic experience while reducing water use and energy consumption — top to bottom and across all systems.
An integral component in meeting project sustainability goals, the AEI-designed, high-performance HVAC system utilizes chilled beam technology. Chilled beams provide a myriad of benefits, including flexibility among space types, energy efficiency, and enhanced occupant comfort.
Through detailed planning and intensive modeling, the complex lab exhaust system — located on the roof — was designed in accordance with data on the lowest safe velocity to optimize indoor air ventilation and reduce overall electrical energy use.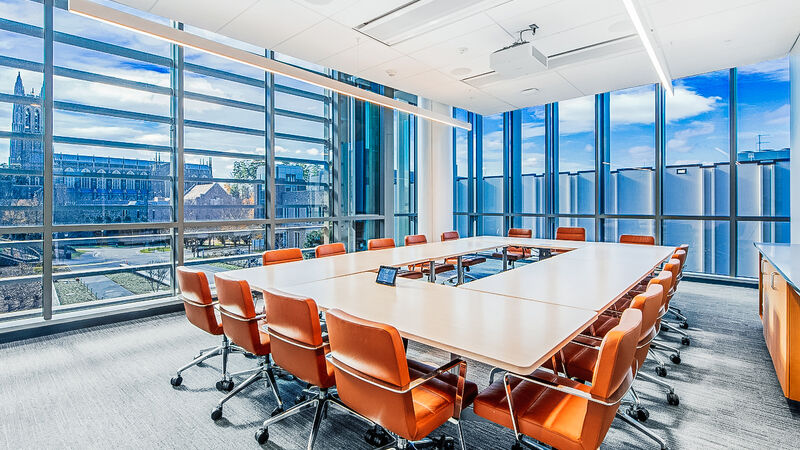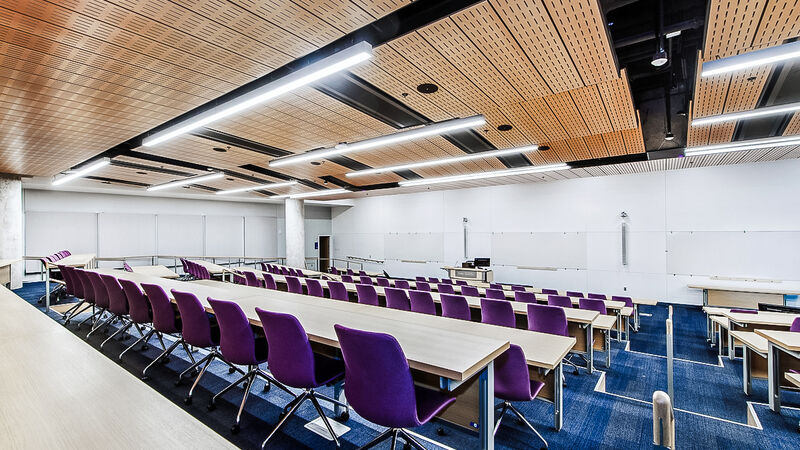 "

The New Engineering Building was designed to support Duke Engineering's innovations in education, research and service to society, but it also matches up with our longtime commitment to sustainability—particularly reducing waste and energy consumption."
25

%

water-use reduction
30

%

energy reduction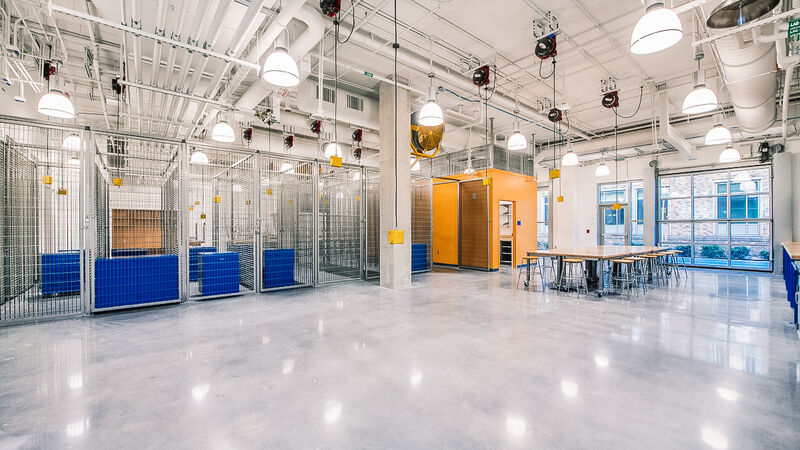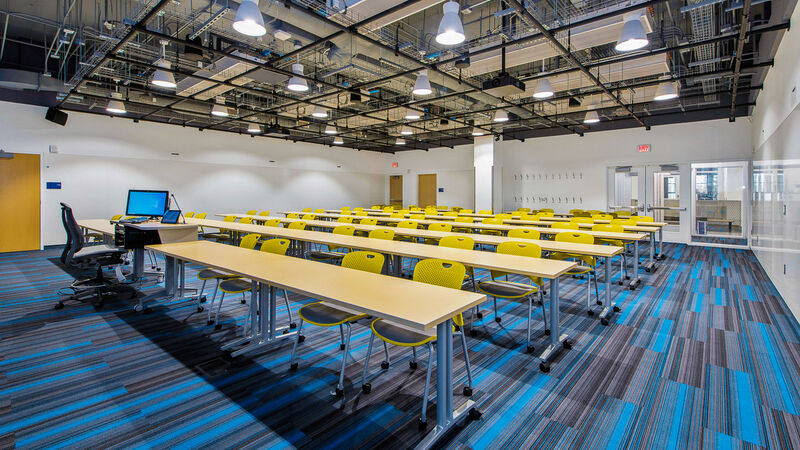 Designed by AEI's in-house architectural studio, Pivotal Lighting Design, the facility deploys high-efficiency, LED light fixtures that collectively consume less than one watt of electrical energy per square foot.
Complementing the lighting design, the building features an energy-efficient, glass-window façade, allowing natural daylight to penetrate deep into the building — offsetting the need for constant electrical-powered interior illumination.
High-efficiency piping and plumbing solutions contribute to reduced water use by 25 percent, exceeding code requirements.
When combining the various sustainable design strategies utilized in the project, the building exceeds energy performance requirements by 30 percent.
During construction, an emphasis was made to utilize sustainable, locally sourced, and recycled building materials. Additionally, over 75 percent of all waste associated with the construction process was recycled or salvaged to mitigate environmental impact and reduce energy consumption.
"

The new Wilkinson Building is much more than a cutting-edge facility—it's the physical expression of our vision to reimagine engineering education and dissolve research silos to bring people together to solve real-world problems. The building was designed to further the purpose of Duke Engineering—preparing students to do creative, meaningful work to shape the world."