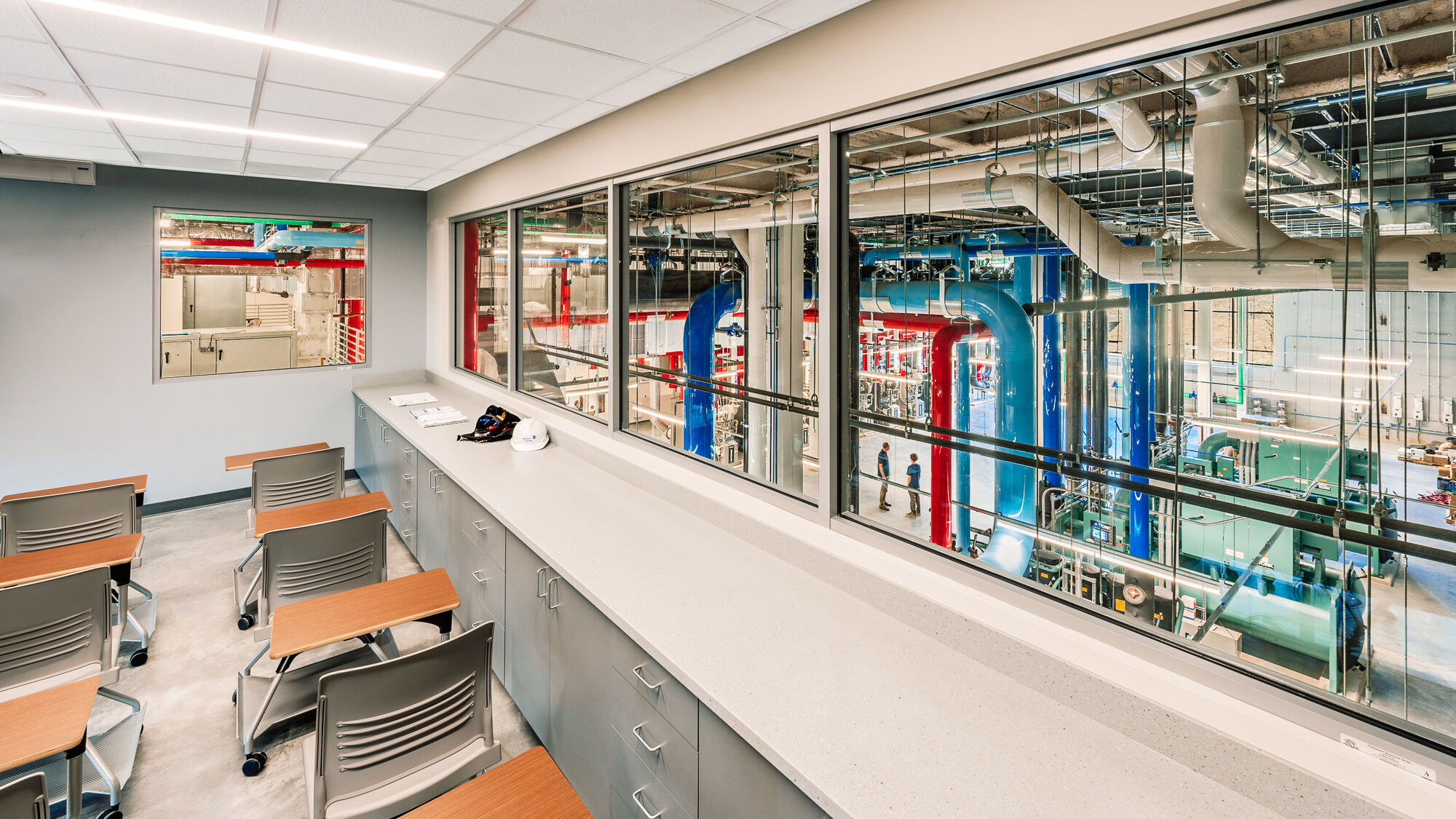 University of Kansas
Central District Redevelopment Project
Dynamic delivery. Exceptional education.
Dedicated to educational excellence and advancing its mission to serve as a flagship research institution, the University of Kansas (KU) embarked on a $350 million comprehensive redevelopment of its Central District.
Addressing the immediate needs of multiple university assets and program demands — including obsolete and unsafe science buildings, outdated utilities and infrastructure, and the need for enhanced student services and campus resources — the project creates a new hub for education and research.
Collaborative, technology-driven academic environments enhance the student experience while state-of-the-art, energy-efficient engineered systems optimize and streamline overall campus operations.
Utilizing a public-private partnership (P3) project approach, AEI was selected to join an integrated private design team, providing mechanical, electrical, piping/plumbing, and fire protection engineering services, as well as energy modeling for the new science building, student union, parking garage, and satellite utility plant.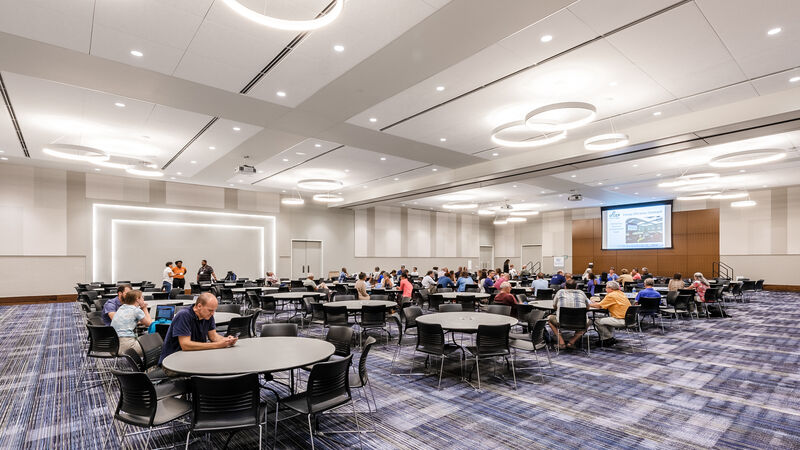 Progressive P3 Delivery
Given the time-sensitive nature of the Central District's upgrades and ongoing challenges with limited government-sponsored funding, accomplishing a large-scale project in a short timeframe required a new approach.
Growing in popularity with public universities nationwide, financing through a P3 delivery model enabled KU to undertake the many individual projects comprising the overarching redevelopment immediately and cost-effectively — without the need for additional state funding.
Student-Centered Updates
The new Integrated Science Building— encompassing 285,000 square feet of academic and interdisciplinary research space — supports chemistry, physics, molecular biosciences, and related fields. Associated infrastructure and technology components were also incorporated to accommodate flexible teaching and research laboratories, classrooms, offices, and a 350-seat auditorium.
The Frank R. Burge Student Union comprising 26,000 square feet is designed to support services and study needs for students, faculty, and staff. The building includes a large ballroom and meeting rooms with flexible configurations, an event kitchen, and the latest technology and telecommunications systems to expand university capabilities related to campus-hosted events and conferences.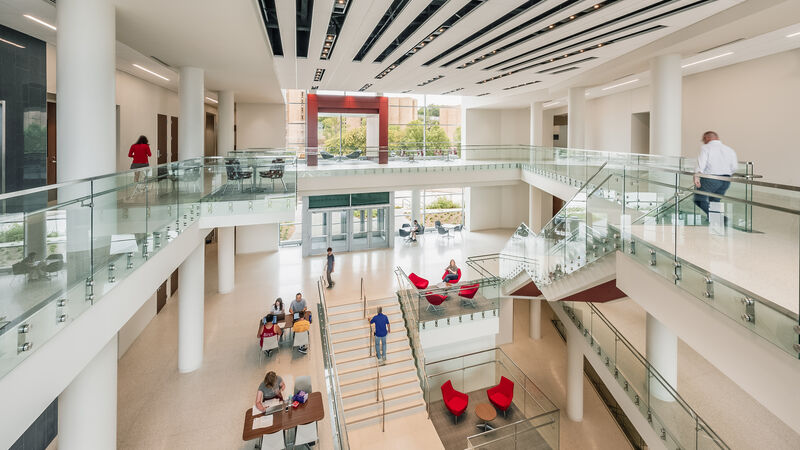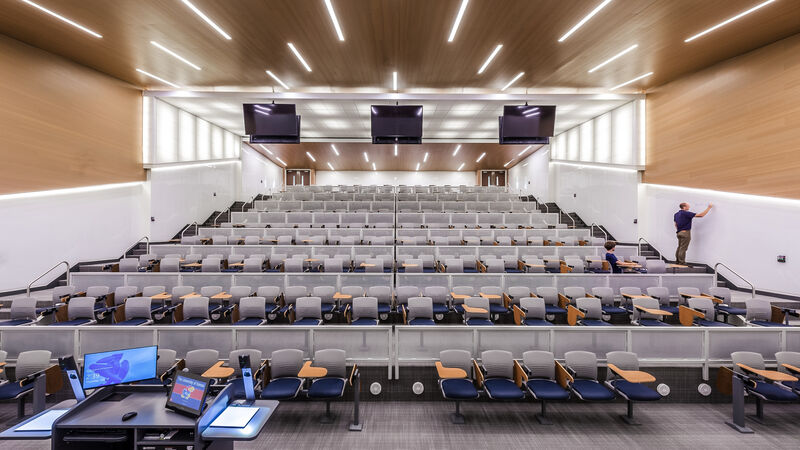 350

auditorium seat capacity
Utilities and Infrastructure
With the existing, sole campus utility plant lacking system-wide redundancy to meet the needs of KU's growing campus, AEI designed a new Central District Utility Plant as part of the overarching redevelopment project. The new utility plant features 1800 tons of day one cooling capacity with provisions for a total plant cooling capacity of 3600 tons, as well as a 25 MMBTU of day one heating capacity with provisions for a total plant heating capacity of 35.75 MMBTU.
Plant heating capacity is provided by modular, high-efficiency condensing boilers. In addition to supporting the new buildings in the Central District, this plant feeds directly to the Measurement, Materials, and Sustainable Environment Center; Earth, Energy, and Environment Center; and the Learned Engineering Expansion Phase 2 buildings — also designed by AEI — providing operational support campus-wide while ensuring optimal occupant comfort for students, faculty, and staff.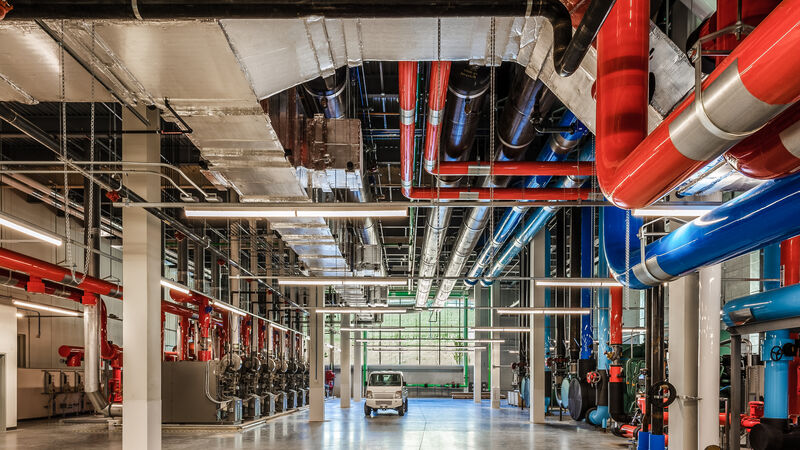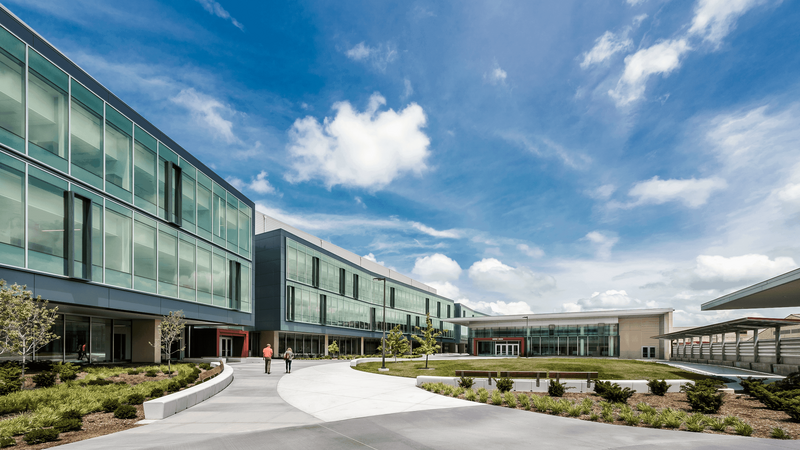 In addition, the central utility plant includes integrated space for classroom and instruction offering a direct line of sight into the utility plant — an incredibly unique feature given the highly complex, technical nature of these facility types. This discovery-based space offers KU School of Engineering students an immersive, hands-on learning experience, giving them exposure to real-time engineering practices and equipment — knowledge they can later translate into potential future careers.
As one of University of Kansas' vintage campus assets, the 1960s-era North District Utility Plant supports the northern district of campus with heating utilities as well as distribution to existing central district buildings. Its renovation included reconstructing of two existing steam boilers (160,000 PPH), replacement of the existing deaerator with larger equipment and a boiler feed pump, reconfiguring the boiler feed system, and the addition of a reverse osmosis water treatment system.
With sustainability and operational efficiency in mind, AEI's design encompassed diverse systems to support total energy savings and ongoing flexibility throughout, including the following solutions:

Total energy recovery wheels for air systems serving the auditorium and student learning spaces
Aircuity® demand control ventilation technology in select lab spaces
Sensible heat recovery via runaround coils for laboratory air systems

Lab module utilities built from the ceiling for easy reconfiguration
Demand control response ventilation for kitchen exhaust systems
Adjacent to the central utility plant, a new parking garage features photovoltaic panels on its upper deck to generate electricity. Integrated with building facilities management functions, information is routed to an interactive dashboard in a nearby classroom, engaging students and providing additional hands-on learning opportunities.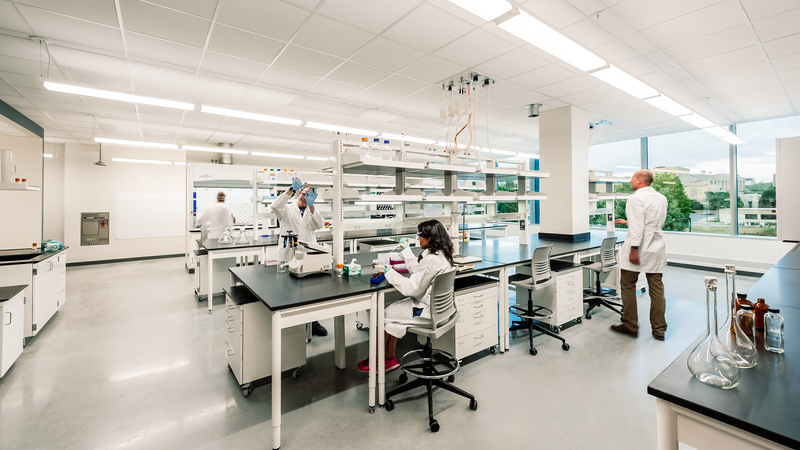 Total Campus Transformation

Working collaboratively under the P3 structure, this project was completed ahead of schedule. KU University Architect, Jim Modig, states, "We just wrapped up our second year, and all of a sudden we've saved 24 days. That's a significant opportunity for the university."
Committed to cutting-edge research and discovery, the revitalized central district creates a new campus home for interdisciplinary instruction and educational excellence that will serve the University of Kansas for generations to come.
"

I've spoken often about our mission…to be recognized among the nation's top public research universities. The [optimized] Central District gives us the resources to continue that mission…like never before."