Sarasota Memorial Hospital
Radiation Oncology Center and Oncology Tower
Comprehensive cancer care. Holistic patient healing.
Representing one of the largest public health networks spanning the state of Florida, Sarasota Memorial Health Care System (SMHCS) maintains an organizational mission rooted in providing exceptional, high-quality, holistic healthcare services that continually elevate the human experience.
Spanning multiple locations and specialties, SMHCS strives to expand healthcare accessibility — across both Sarasota and Manatee counties and beyond — bringing advanced clinical and hospital-based services to traditionally underserved areas.
Its signature, full-service community asset — Sarasota Memorial Hospital (SMH) — is currently the only local healthcare facility throughout Sarasota County offering level two trauma services as well as obstetrical, pediatrics, level three neonatal intensive care, and psychiatric services.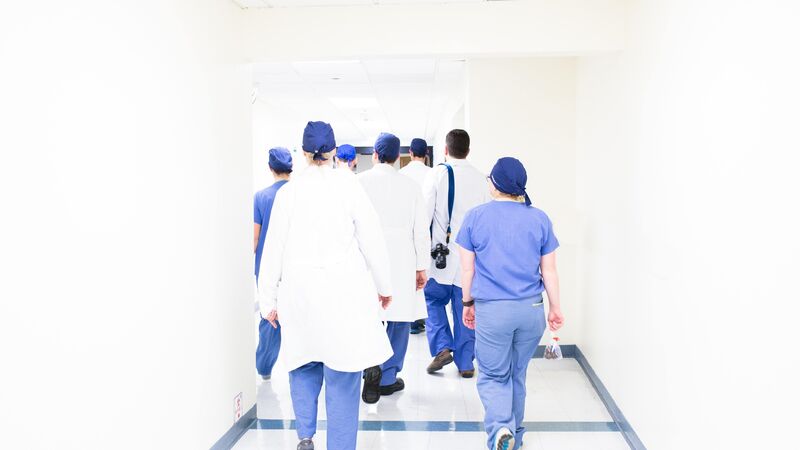 In an effort to continue building upon this locally established presence and growing reputation as a top-tier healthcare provider — both regionally and nationally — SMH embarked on a multi-phase, multi-year effort to transform cancer-related treatment and care through the addition of two new major facilities:
Characteristic of SMH's holistic, integrated approach to healthcare services, each building is designed to carefully consider and respond to the entire patient journey — from prevention, screening and diagnosis, comprehensive treatment types, and clinical trials to ongoing follow-up, emotional healing, and support post-treatment and throughout recovery and survivorship.

Radiation Oncology Center
Completed in 2020, the free-standing, 17,000 square foot Radiation Oncology Center — part of Sarasota Memorial's Brian D. Jellison Cancer Institute — features a progressive suite of cancer-related services and treatment technologies, including two Varian RapidArc TrueBeam linear accelerators.

Widely recognized as the industry gold standard, this advanced radiotherapy system provides external high-beam radiation designed to selectively retain the health and integrity of normal cells while destroying cancerous cells and tumors. Additional facility features include:
CT simulator system technology that targets the precise location, shape, and size of treatment areas
Integrative care services and patient-centric amenities that contribute to SMH's holistic approach
Modern offices and administrative space for radiation oncology physicians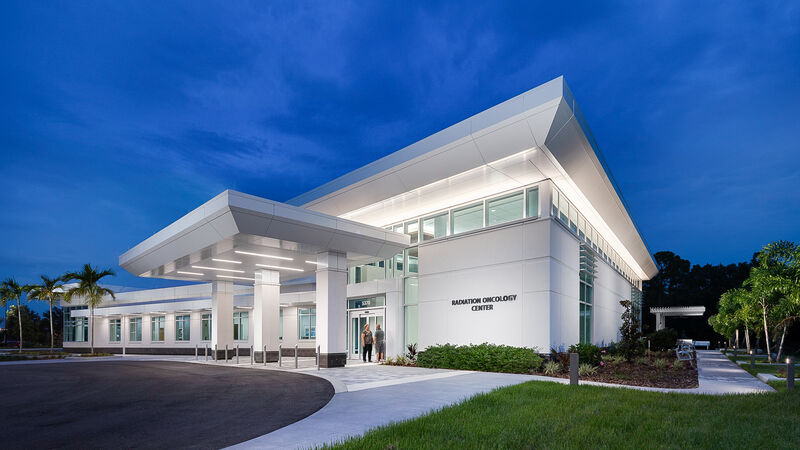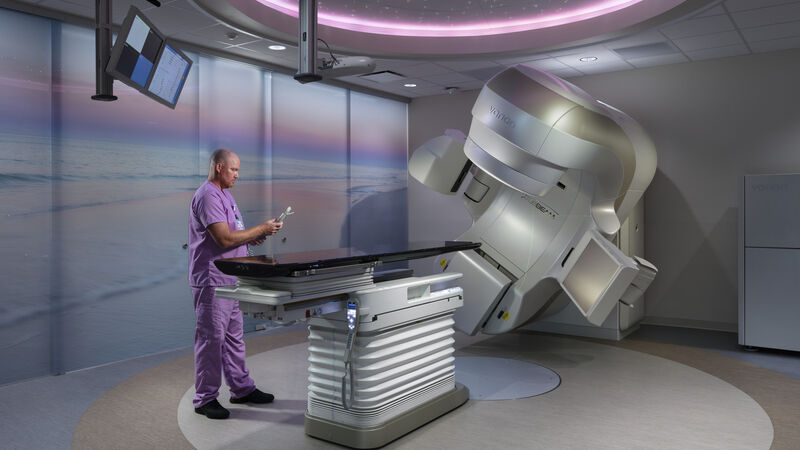 High-Performance Engineered Systems
AEI provided mechanical, electrical, and piping/plumbing (MEP) services for this landmark SMH structure. To support the facility's specialized equipment — including LinAc and CT Sim machines — AEI designed a dedicated, fully redundant air-cooled chiller (Arctic Chill) unit. Protecting these systems and their associated operations, AEI also implemented a domestic cold-water backup of the process cooling loop in place of the air-cooled chiller.
The LinAc vaults feature lead-lined sliding doors to maximize space utilization while providing protection from any radiation that may exist outside of the controlled environments. This required highly specialized MEP design elements to protect incoming ducting, pipes, electrical, and communication system connections.

While resiliency is often regarded as less significant in outpatient facility design, AEI's electrical design houses provisions for a docking station — strategically located for quick and convenient emergency backup power generation.
Given the building's southern locale and vulnerability to the impacts of severe tropical weather, the design team worked interactively with relevant SMH user groups to analyze these scenarios, concluding the long-term effects of hurricane-level events typically last much longer than the actual storms themselves.
AEI advised this scale of backup — a portable diesel generator — would allow scheduled treatments to continue after a hurricane has left the area, but before normal power is restored.
Get a glimpse inside the Radiation Oncology Tower in this exclusive video tour, courtesy of SMH.
"

We're focused on patient well-being and the emotional experience just as much as the physical experience. This is a very challenging time for individuals, and we need to make sure that we're able to provide them with the compassion, understanding, and empathy that they deserve.""
With an emphasis on creating interior environments sensitive to patient healing, AEI collaborated closely with Flad Architects to infuse all engineered systems into the overarching design. To achieve the desired patient experience — both physiologically and psychologically — and ensure optimal building performance and operational capacity, a variety of engineering solutions and design features were employed.
Modern HVAC systems optimize indoor air quality for enhanced occupant comfort across varying space types.
Advanced mechanical systems integrate with modern technology to support highly complex, cancer-related, medical-grade equipment.
Extensive analysis of the acoustics associated with the air distribution system and mitigation of noise generation from supply air boxes and diffusers.
Selective lighting fixtures and controls based on patient sensitivities, psychological impact, and provider functionality requirements.
A dedicated IT room with automation controls for ongoing facility performance monitoring.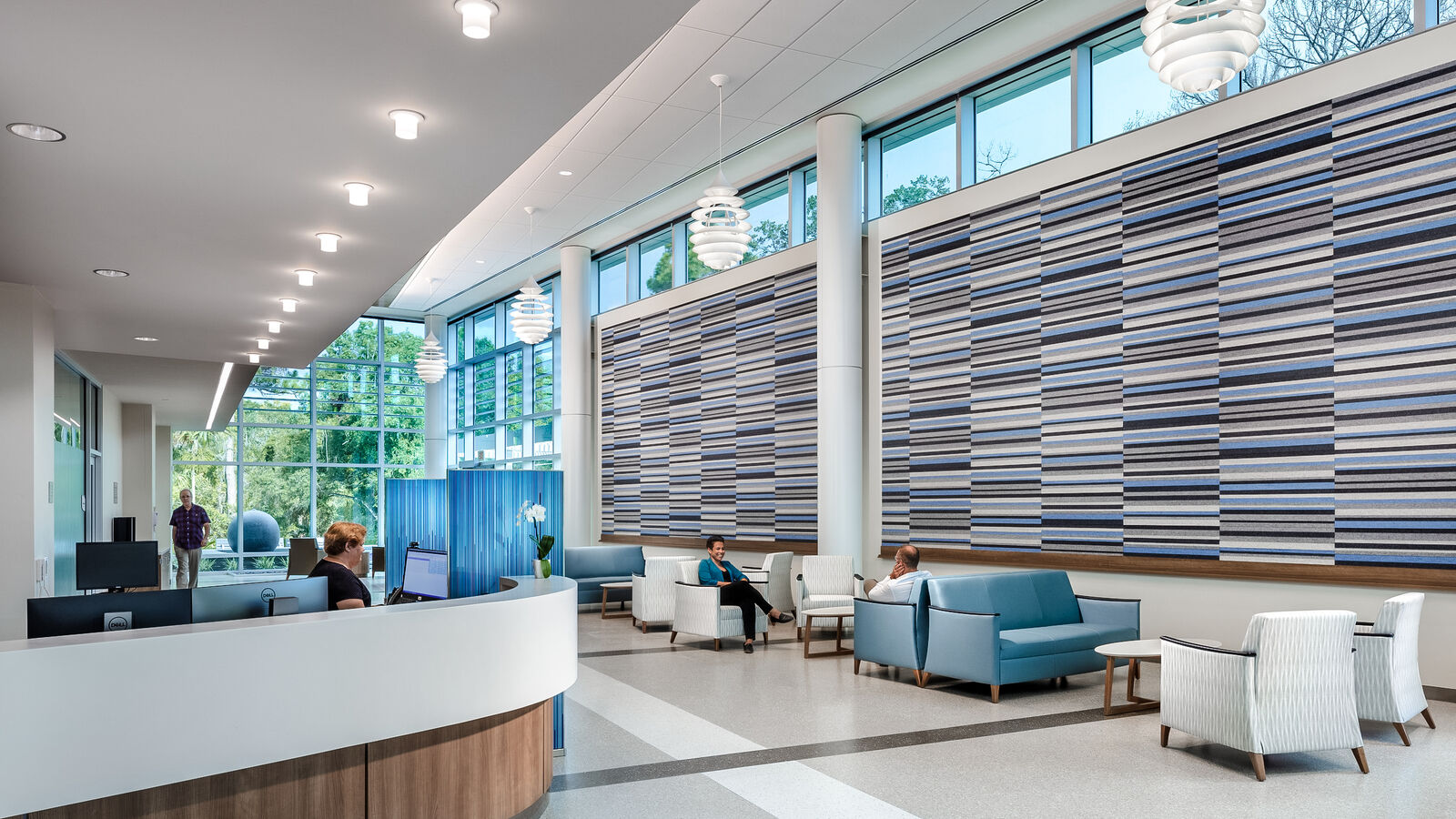 Oncology Tower
As part of the second-phase updates to the Brian D. Jellison Cancer Institute, a new oncology tower on SMH's main campus — encompassing eight stories and 175,000 square feet — further expands community access to comprehensive cancer care. Reflecting the same core values characteristic of SMH facilities system-wide, this new campus asset features:
Innovative lighting solutions based on occupant comfort — a collaboration with AEI's in-house architectural studio — Pivotal Lighting Design
Increased capacity for hospitalized patients, including 56 private rooms spanning two floors.
New operating rooms, dedicated robotic surgery suites, and post-anesthesia care units.
Dedicated public spaces and modern, health-focused amenities
To accommodate the complex mechanical requirements of the tower's varying facility space types, the project includes an enabling phase of running new utilities across the campus. AEI's scope further encompassed upgrades to the existing central energy plant, which now features double-ended normal and emergency gear as well as redundant air systems. A new, 2500-ton chiller and 2000-kW generator were also added to ensure optimal performance and operational efficiency.

"

Cancer care is far more than facilities, treatments and technology. It takes tremendous coordination and collaboration across multiple subspecialties and disciplines to accurately diagnose and develop targeted treatments. That's where a comprehensive cancer center like Sarasota Memorial's Jellison Cancer Institute can really make a difference."
Paving the Path for Next-Generation Cancer Care
Transcending the traditional perception of hospital-based settings, the Radiation Oncology Center and Oncology Tower establish an elevated standard for next-generation healthcare facility design.
Through high-performance engineered systems enabling advanced treatment technologies and equipment, each facility plays a pivotal role in transforming the SMH system, contributing to a vibrant, multidisciplinary medical community dedicated to improving cancer-related patient outcomes through world-class care.

Project stakeholders take turns writing messages of hope during a "faux topping out" ceremony celebrating construction progress on the new Oncology Tower — considered the "Cornerstone of the Brian D. Jellison Cancer Institute."