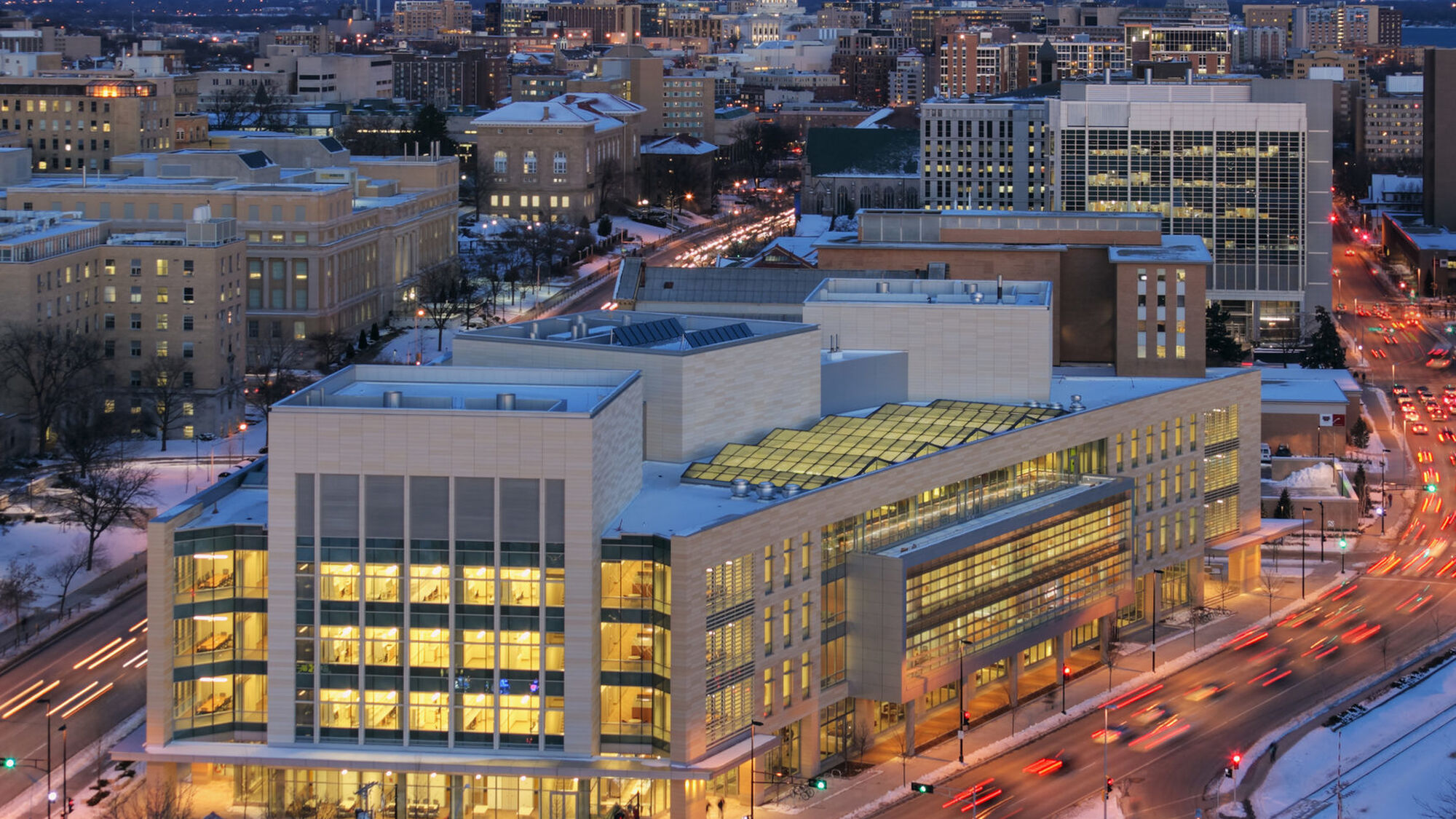 University of Wisconsin-Madison
Wisconsin Institutes for Discovery
The new paradigm for flexible, sustainable, interdisciplinary research.
The organization of spaces in the 300,000 square foot Wisconsin Institutes for Discovery (WID) research building ("Discovery") – collocating the Wisconsin Institute for Discovery and the Morgridge Institute for Research – simultaneously serves energy efficiency, functional long-term flexibility, interdisciplinary collaboration, and public transparency.

Hybrid Geothermal Heating & Cooling

Ground-coupled heat pump, with 75 bores, 300 ft deep.


Highly flexible research neighborhoods – with reconfigurable overhead utility drops and "plug and-play" accommodations for hoods and chilled beams – contain nested pods of focused lab spaces, surrounded by support space and offices, creating concentric thermal buffers, in turn surrounded by public spaces. Because research innovation happens at the interfaces of disciplines, these areas offer incidental gathering points and other means to foster creative collaboration.
Energy-saving measures include natural ventilation of the public ground floor/atrium zones, a geothermal heating & cooling system, aggressive heat recovery, and chilled beam technology, with the goal of consuming 50% less energy than comparable UW facilities.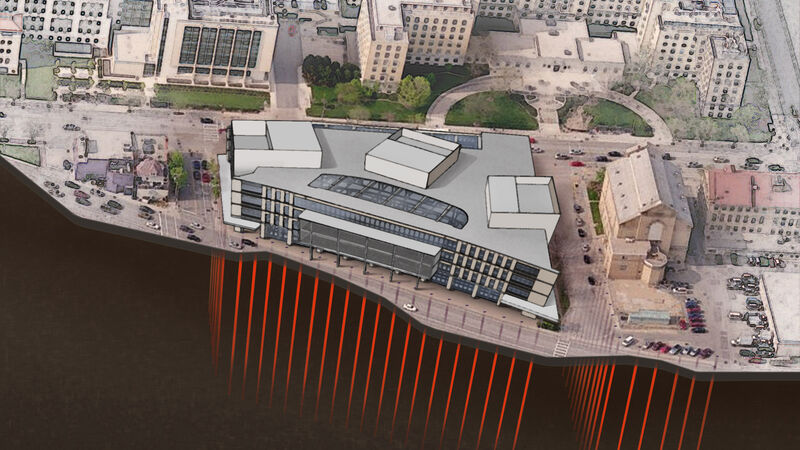 "

We established an ambitious goal to use 50% less energy and water than other laboratory facilities on the Madison campus. Through the innovation and expertise of the people at AEI, we are exceeding this goal and setting a new standard for the campus."
To study and verify the anticipated energy savings as well as the new technologies incorporated into the facility, the project deployed the most extensive metering and recording capability of any large lab building in the country at that point in time, achieved through the application of the Intelligent Building Architecture (IBA). This systems integration technology monitors the building's systems energy and resource use. AEI teamed with the IBA technology integrator to provide a turnkey solution for WID, combining over 20 disparate systems into one platform.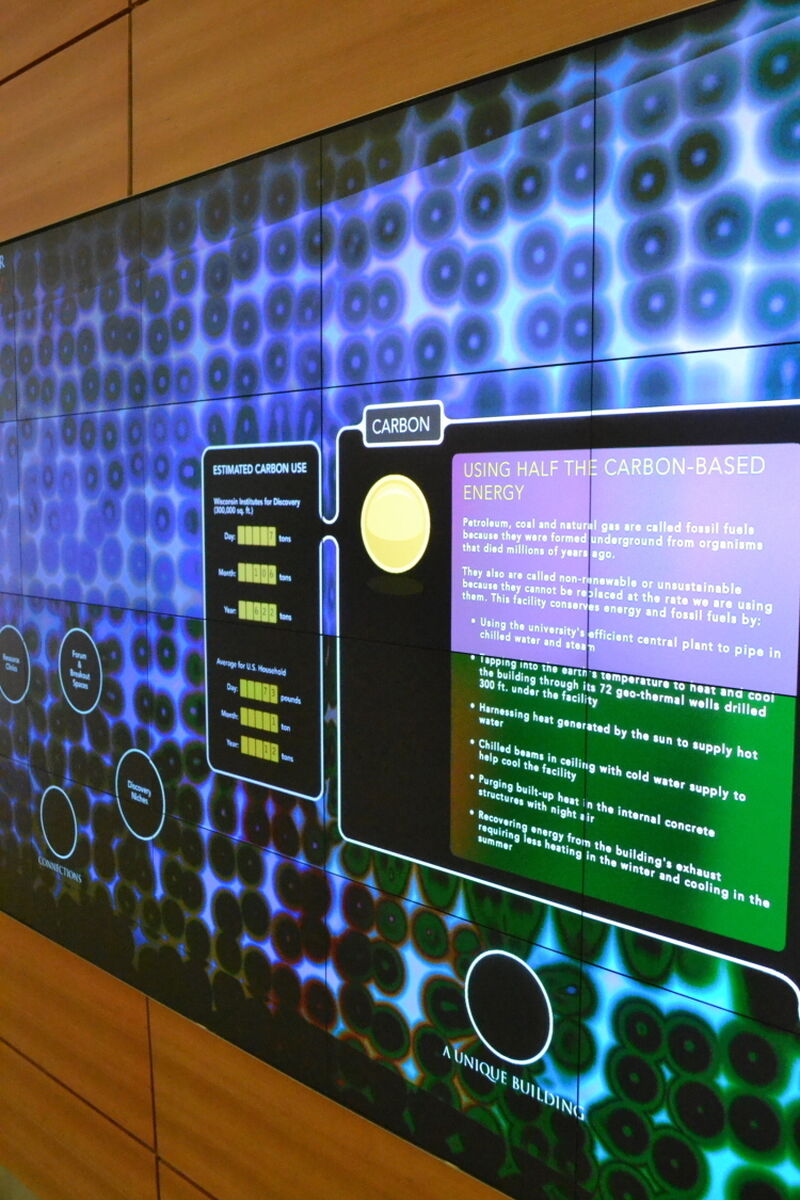 All electrical consumption, natural gas, water, lighting, sustainability features, and HVAC components are instrumented, and all systems interactions are metered. The IBA is used as a single access point to monitor all building systems simplifying use and energy analysis. Building occupants can access systems information relevant to their own areas, such as lab equipment monitoring, and the public can view building information at public computer kiosks.
Operating more than 10 years on the IBA system, it operates efficienctly, yet still has challenges. WID was on the frontline of Intelligent Buildings, thus offering many lessons learned for integration of systems to the entire industry. Today, achieving the same goal is much easier with the advent of API's and common industry communications protocols that enable seamless communication between disparate devices and systems. WID is still a premier example of the achievements of integration and public knowledge sharing with building occupants.
Delivered using Integrated Project Delivery, the Discovery building opened in December 2010, estimated to have been a year sooner than would have been possible using a design-bid-build approach. Discovery's mission is accelerating new knowledge to improve human health and well-being.
+50

%

(less use of energy and water)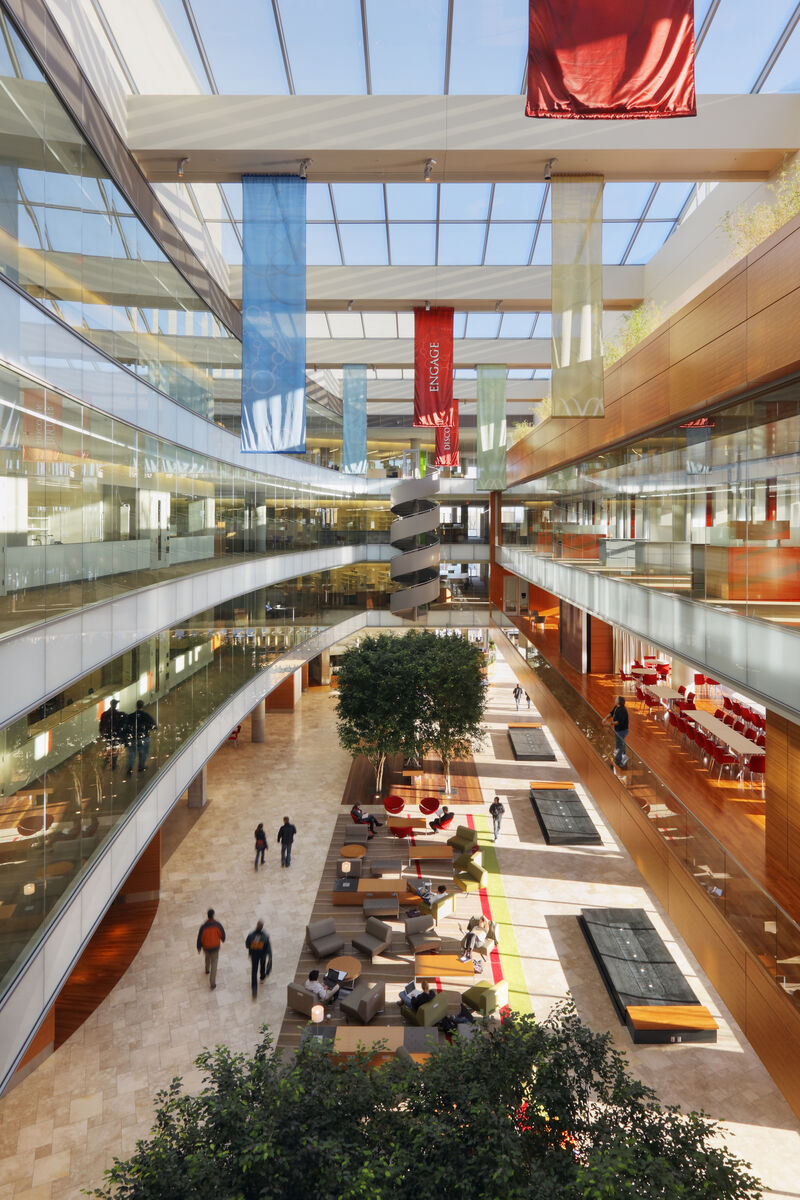 1 year

(time save by integrated delivery)