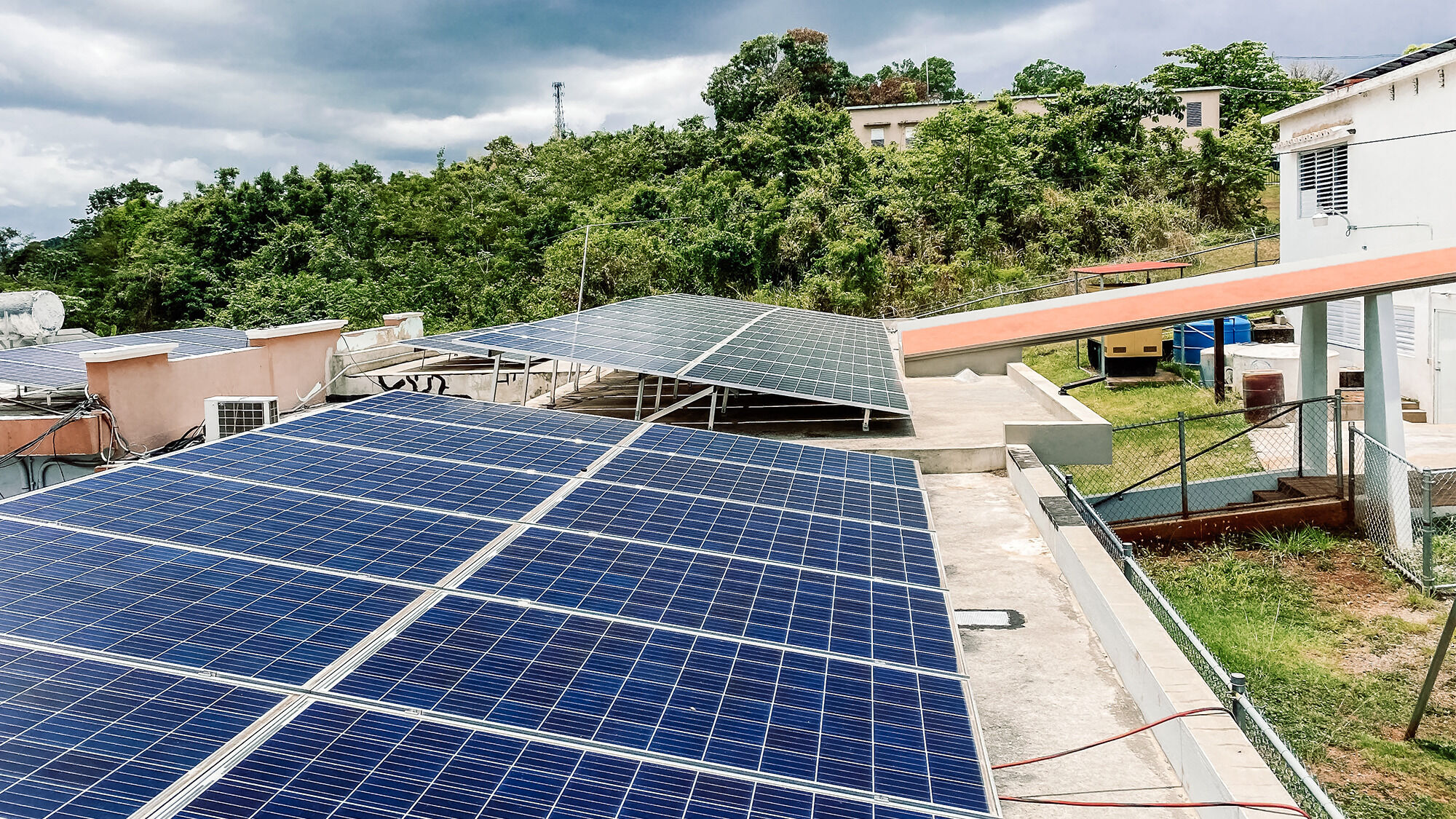 News & Announcements, Professional Culture
Engineers Without Borders Returns to Puerto Rico
After more than two years of travel bans and postponed trips, members of the University of Wisconsin–Madison Engineers Without Borders chapter (EWB-UW) and the Community Engineering Corps (CEC) were thrilled to return to Puerto Rico and continue their project work this summer.
In May, Electrical Engineers Alberto Cordero and Amanda Pustis, EWB/CEC mentors, and five engineering students — including an intern with AEI's Madison office — embarked on the long-awaited trip with two key goals:
Initiate an assessment for a new Community Resiliency Center in the eastern mountain region of Benítez.

Follow-up on the recently completed EWB project in Mayagüez on the island's west side.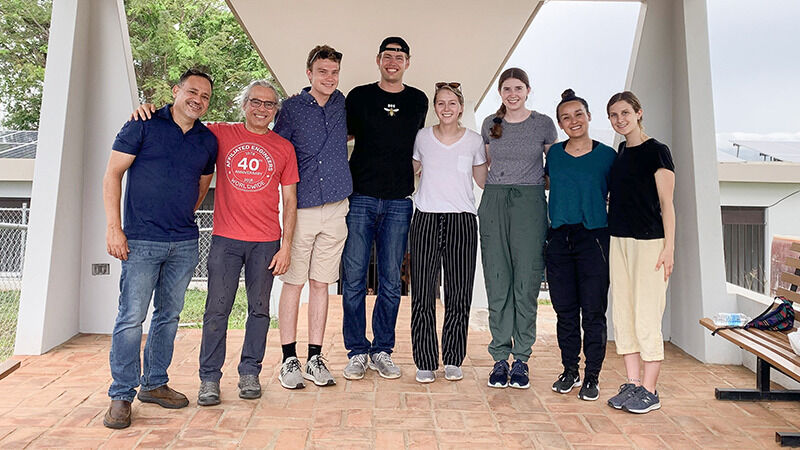 New Project in Benítez
In the wake of Hurricane Maria — the Category 5 hurricane that devastated much of the northeastern Caribbean in 2017 — this remote community remained heavily isolated. In addition to ongoing mudslides, residents went seven months without electricity and two months without water in the aftermath of the storm.
To prepare the community for potential natural disasters in the future, the team's Community Resilience Center project implements a 15kW solar photovoltaic (PV) microgrid system to provide power for refrigerators, medical machines, and equipment charging stations, as well as a roof drain rainwater collection system to filter and store potable water during extended power and water outages.

Completed Project in Mayagüez
In addition to their work in Benítez — and as part of EWB's five-year post-implementation commitment to ensure self-sustaining communities — the team also visited its first completed project site on the island's west coast.
Designed in 2019 and implemented remotely during the pandemic in 2020, this project established a 25kW solar PV microgrid system to support a local shelter for displaced children — Hogar Albergue para Niños Jesús de Nazaret. In addition to providing a reliable and resilient source of electric power, this project was designed to help reduce or eliminate the shelter's monthly electricity bill typically ranging from $800-$1,000.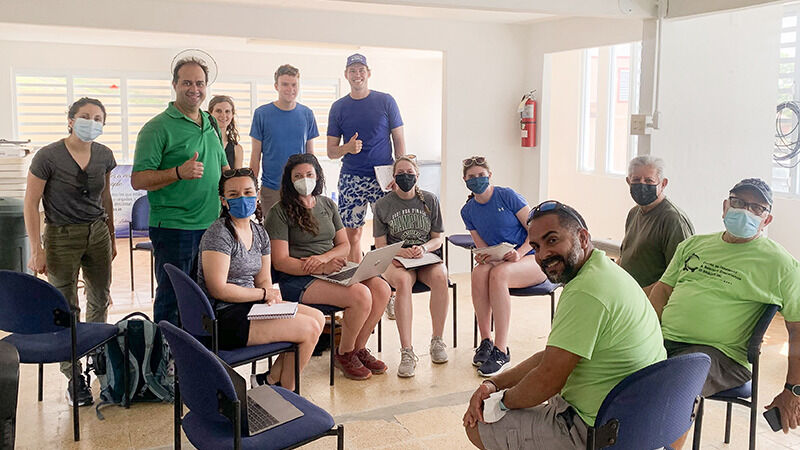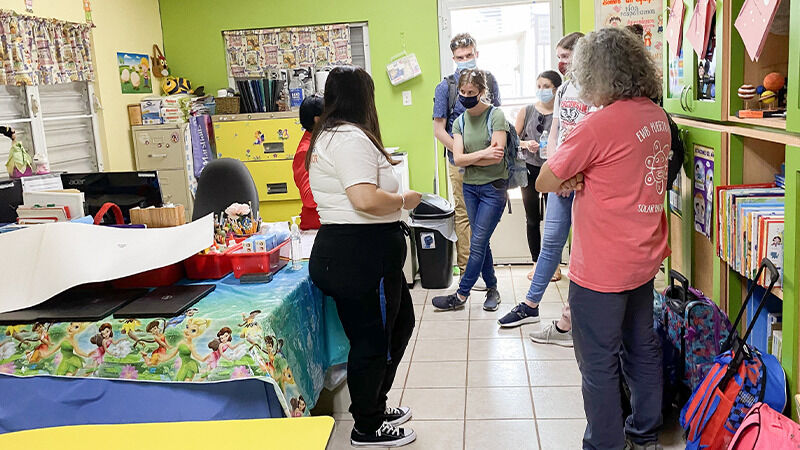 The team was excited to see the project come to fruition and meet with community members, technicians, and installers to perform the functional acceptance test and final commissioning of the system. They also spent time playing with the children and hosting fun workshops teaching them how to make lava lamps with oil, water, food coloring, and Alka Seltzer®.
Tracking and supporting these ongoing efforts, project leaders from EWB and CEC's Colorado-based headquarters also came to visit the completed project, sharing praise and encouragement for the team's successful work, organization, and preparation.

"

Our trip exceeded all expectations. It was a privilege to see the UW students' hard work and effort — they led the design, planned assessment trips, and organized meetings with our community partners throughout the year. "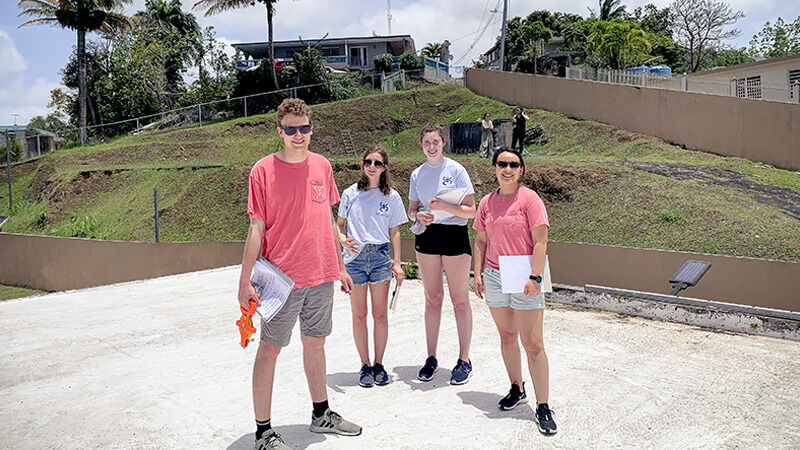 Looking to the Future
During the fall semester, EWB-UW students will work on design details for the new Community Resiliency Center while providing ongoing support for the completed microgrid project.
For more information on the EWB-UW and CEC efforts, please visit: