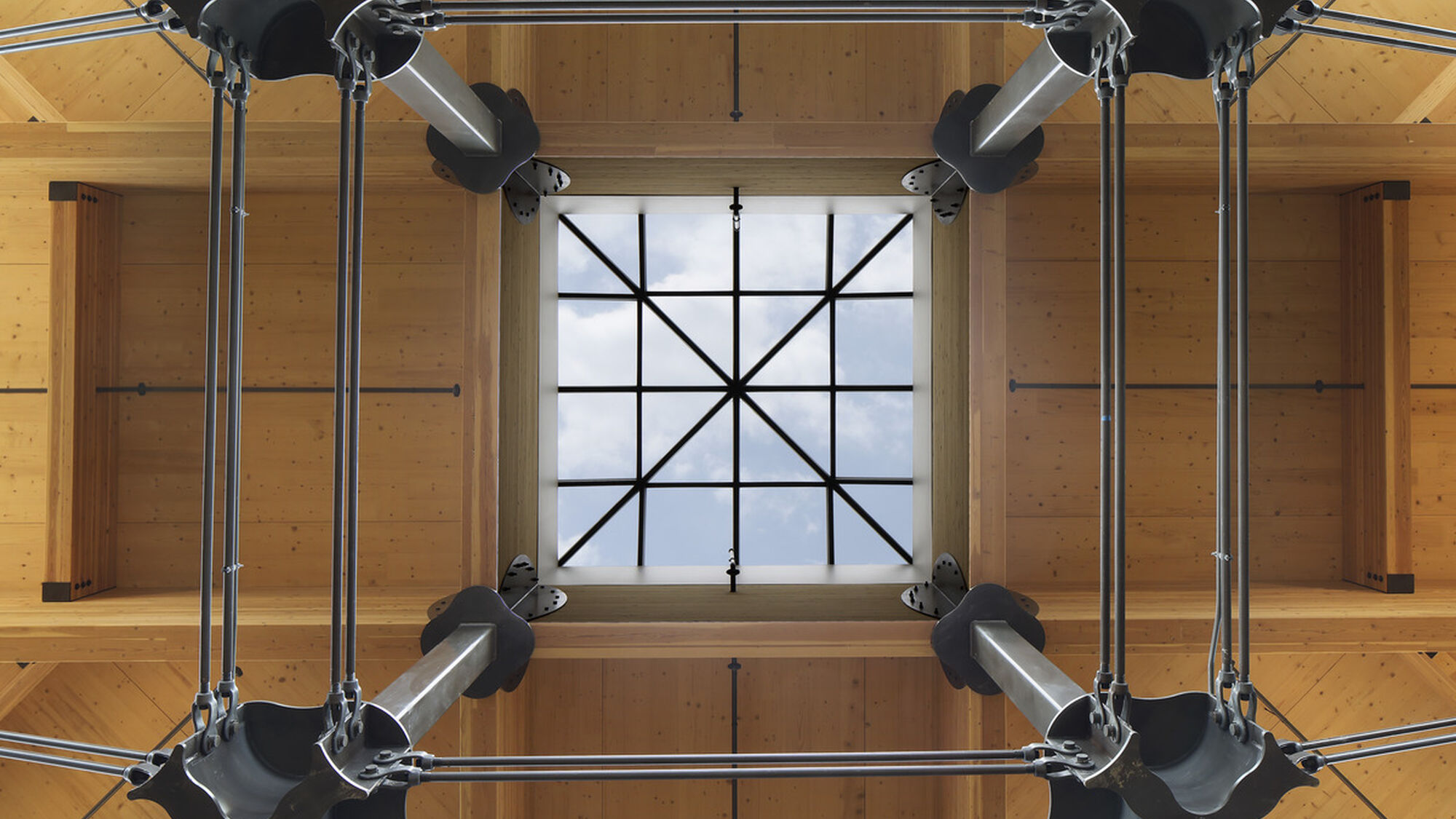 Innovation
Exploring the Mass Timber Revolution
Innovative. Sustainable. Durable. Fire Resistant. Biophilic.
Mass timber is a naturally occurring, sustainable structural solution with the potential to transform the architectural, engineering, and construction (AEC) industry. Mass timber combines multiple layers of engineered wood products – including dowel-laminated timber (DLT), nail-laminated timber (NLT), glued-laminated timber (glulam), and cross-laminated timber (CLT) – into a solid panel of load-bearing lumber, providing the durability, resiliency, and fire safety of traditional building materials while dramatically reducing carbon emissions.

Mass timber has the potential to change the AEC industry in the following five ways:
1. Enhanced Sustainability
Wood is a natural, rapidly renewable, environmentally friendly building material with a lower carbon footprint than concrete and steel.
While structural steel and concrete are popular building materials – known for their strength and fire resiliency – mass timber is less energy-intensive to manufacture and gaining industry-wide traction. With a high carbon footprint, concrete and steel manufacturing account for approximately 16 percent of global CO2 emissions – 8 percent and 7-9 percent, respectively.
To think big picture, evaluating the whole life cycle of building materials – production, construction, use, and deconstruction – is essential to analyzing environmental impacts.
For example, let's consider overall forestry management, tree restoration, and deconstructed mass timber materials. As trees grow, they remove carbon dioxide (CO2) from the atmosphere, acting as a carbon sink. However, once burned, mass timber releases CO2 back into the environment.
Recent studies analyzing mass timber's entire life cycle impact and the overall embodied carbon suggest that CLT commercial structures could reduce global warming by 26.5 percent.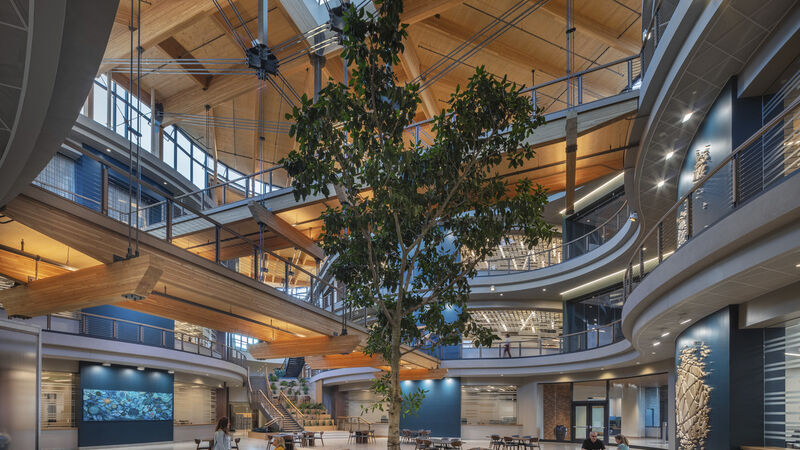 "

One of the sections of WELL includes enhanced access to nature. And, while it doesn't specifically state mass timber, I think there's a pretty strong argument that could be included in the list among plants, water features, and a natural view."
2. Increased Job Site Efficiency & Materials
Mass timber is a renewable building material engineered for high-strength ratings and weighs less than its concrete and steel counterparts. According to How We Engineered Incredible Wooden Buildings by Undecided with Matt Ferrell, glulam is one-sixth the weight of concrete and one-tenth the weight of steel.
Building materials can be prefabricated offsite, minimizing labor, reducing materials inventory and waste, and lowering disruptions throughout the construction process – streamlining delivery, accelerating project schedules, and decreasing overall cost.
Using building modeling software, a 3D blueprint can inform manufacturers of the project's precise dimensions to ensure the timber is cut to the correct size before delivery to the job site. However, if a section breaks or gets lost, project teams must place a new order to replace the broken or missing piece.
3. Diverse Project Applications
With high strength-to-weight ratios, mass timber design and construction are applicable to many industries and facility types. AEI's mass timber profile is extensive – encompassing a wide range of education, healthcare, and scientific research facilities across North America. Our expertise spans the full spectrum of mass timber products, including CLT, NLT, DLT, glulam, and structural composite lumber.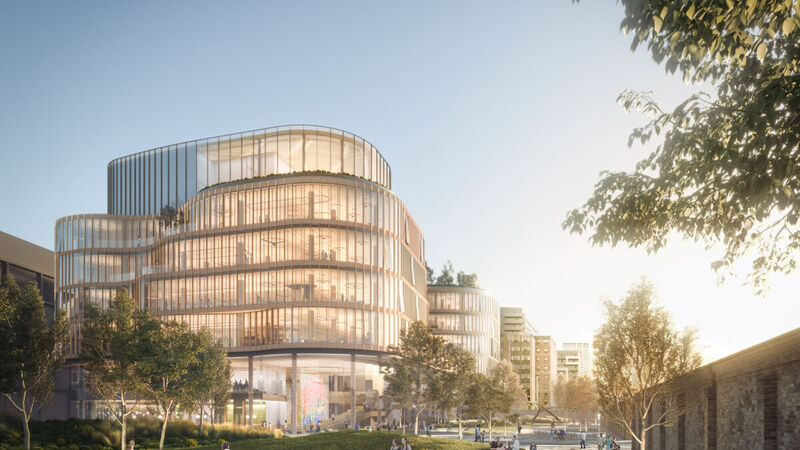 Centre for Addiction and Mental Health (CAMH) | Research & Discovery Centre
AEI is the mechanical, electrical, and piping/plumbing engineer of record for this new 330,500-square-foot composite wood/concrete healthcare research facility focused on holistic care. Mass timber was used to reach CAMH's LEED Platinum certification goals and is the first major research building in Canada made of mass timber.
AEI's early engagement in planning and programming helped integrate architectural and engineering design. The quantity of carbon encapsulated by the timber is predicted to reduce CO2 emissions by 2,000 tons. The warm, organic quality of the wood is effectively proven in stress reduction and creativity – appealing to CAMH's brain science researchers. AEI's design also included geothermal and energy recovery systems and a double façade to further reduce CAMH's carbon footprint.
Oregon State University (OSU) | College of Forestry | Forest Science Complex
AEI is the engineering consultant for the LEED Silver Peavy Hall replacement building and the new Advanced Wood Product Laboratory at OSU. Utilizing prefabricated CLT made in Oregon, CLT penetrations were planned in advance, saving time and project costs. AEI coordinated channels and gaps in the wood structure construction to better conceal utility routings while promoting architectural design showcasing OSU and the state of Oregon's strong connection to the forestry industry.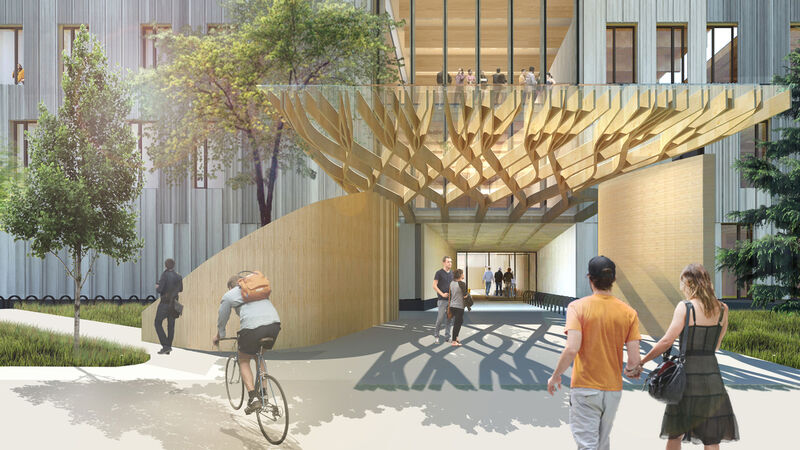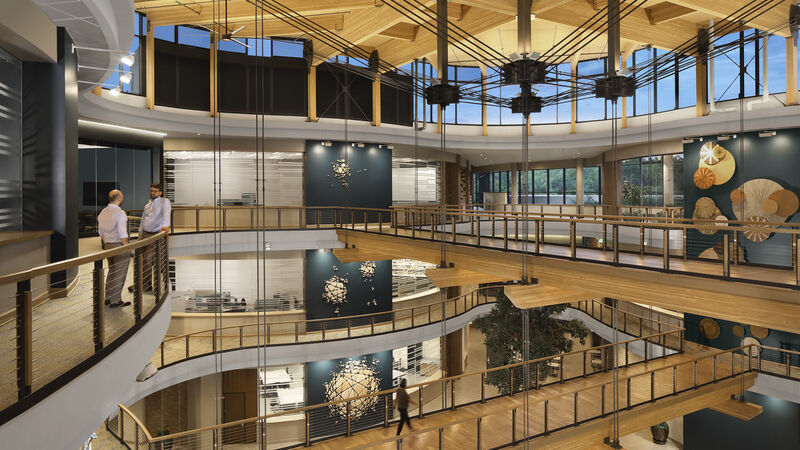 Internationally recognized in the biotechnology community, Promega provides the life science industry with molecular-based product applications and unparalleled technical support. Promega's new research and development facility expansion project focuses on sustainability, building performance, and user-experience.
Understanding the critical connection between the workplace environment and employee productivity, human-centric design elements – including mass timber, office ergonomics, and lighting – are incorporated throughout the research facility, contributing to building sustainability and overall aesthetic.
Colorado's first all-mass timber construction project, the University of Denver's Burwell Center for Career Achievement, is a centralized hub for student development, employer engagement, and alums activities. The LEED Platinum building features an all-electric design, serving as a flagship facility for future projects targeting energy performance goals. The wood used for this mass timber project comes from a species of tree that takes less than three days to regrow.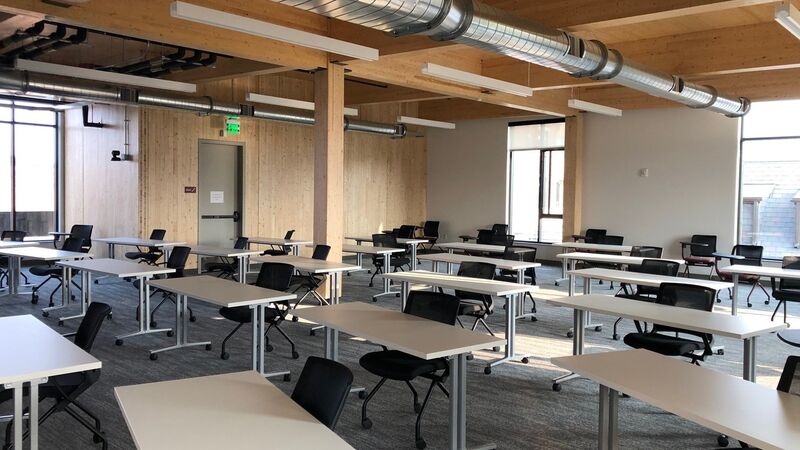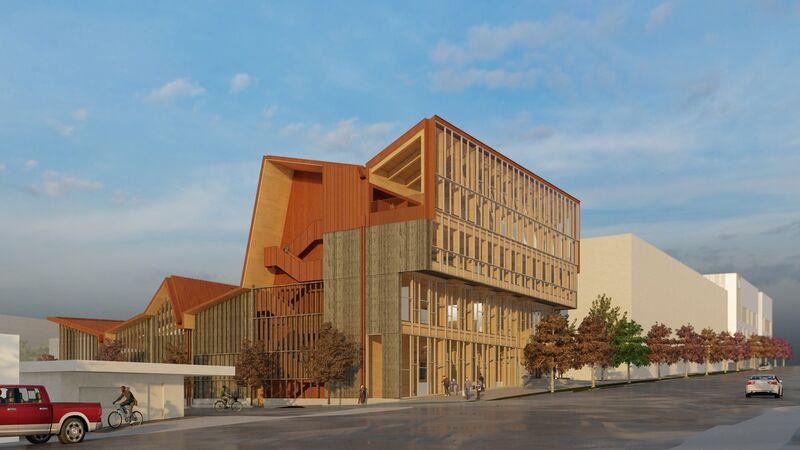 University of Arkansas-Fayetteville | Anthony Timberlands Center for Design and Materials Innovation
At 50,000 square feet, this applied research center at the University of Arkansas-Fayetteville is the epicenter for multiple timber and wood design initiatives and houses an expanded design-build program and fabrication technologies laboratories.
4. Reliable Fire Resistance & Verified Safety
Unlike timber of the past, current studies indicate mass timber performs well when tested for fire-resistance ratings and inherent fire resistance. It burns in a slow and predictable manner and forms a protective char layer, preventing oxygen from reaching the center.
Recent North American manufacturing standard (ANSI-APA PRF-320) updates specify CLT adhesive requirements that enhance overall panel fire resistance and performance. Incorporating fire retardant coatings or sacrificial layers in a facility's design also increases fire resistance, promoting structural integrity.
With new provisions and construction types permitting the use of mass timber in buildings up to 18 stories, the 2021 edition of the International Building Code (IBC) provides updated regulations to ensure the highest design and construction standards for future facilities.
"

Buildings are for people, and sometimes it's easy to forget that…but they [buildings] need to support people holistically as well."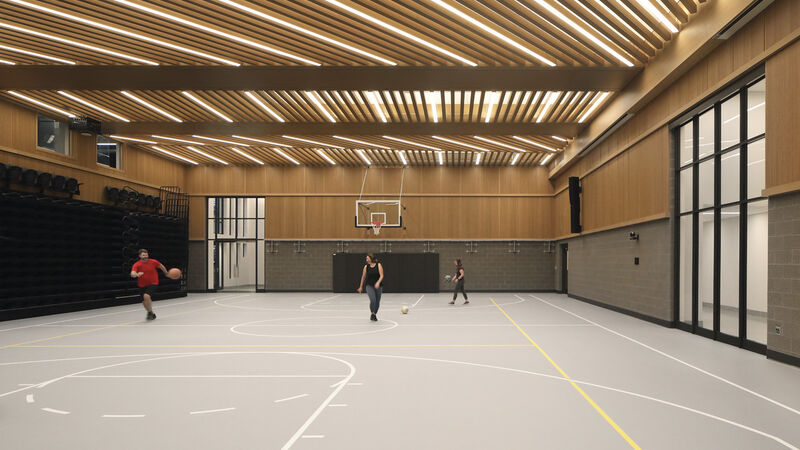 5. Improved Human Health & Biophilic Design
Mass timber is often used in the built environment to achieve biophilic design goals – effectively connecting building occupants with nature and the organic world.
Research indicates incorporating biophilic or nature-inspired design elements – including mass timber – may positively impact human health, such as lowered stress levels, increased motivation and comfort, enhanced concentration skills, improved problem-solving, and more.
In alignment with biophilic design attributes, mass timber may remind building occupants of the natural world through exposed wood beams, panels, and other design elements – evoking positive associations between the built environment and nature. When incorporated into the built environment, natural materials can serve as a visual testament of resiliency and strength for occupants.
Beyond its aesthetic appeal, mass timber application may benefit those pursuing WELL Building Standard certification – a system that measures the built environment's impact on overall human health, emphasizing people-first places.
Used in an array of AEC applications, from high- and mid-rise structures to interior finishes, mass timber enhances the overall built environment with a sustainable, renewable alternative and nature-inspired aesthetic.
AEI is committed to mitigating the impacts of climate change and advancing the world toward carbon neutrality through a holistic approach to sustainability that addresses greenhouse gas emissions throughout the design and construction process.
The innovative high-strength building material, mass timber, is revolutionizing opportunities in the AEC industry to reduce carbon emissions dramatically.