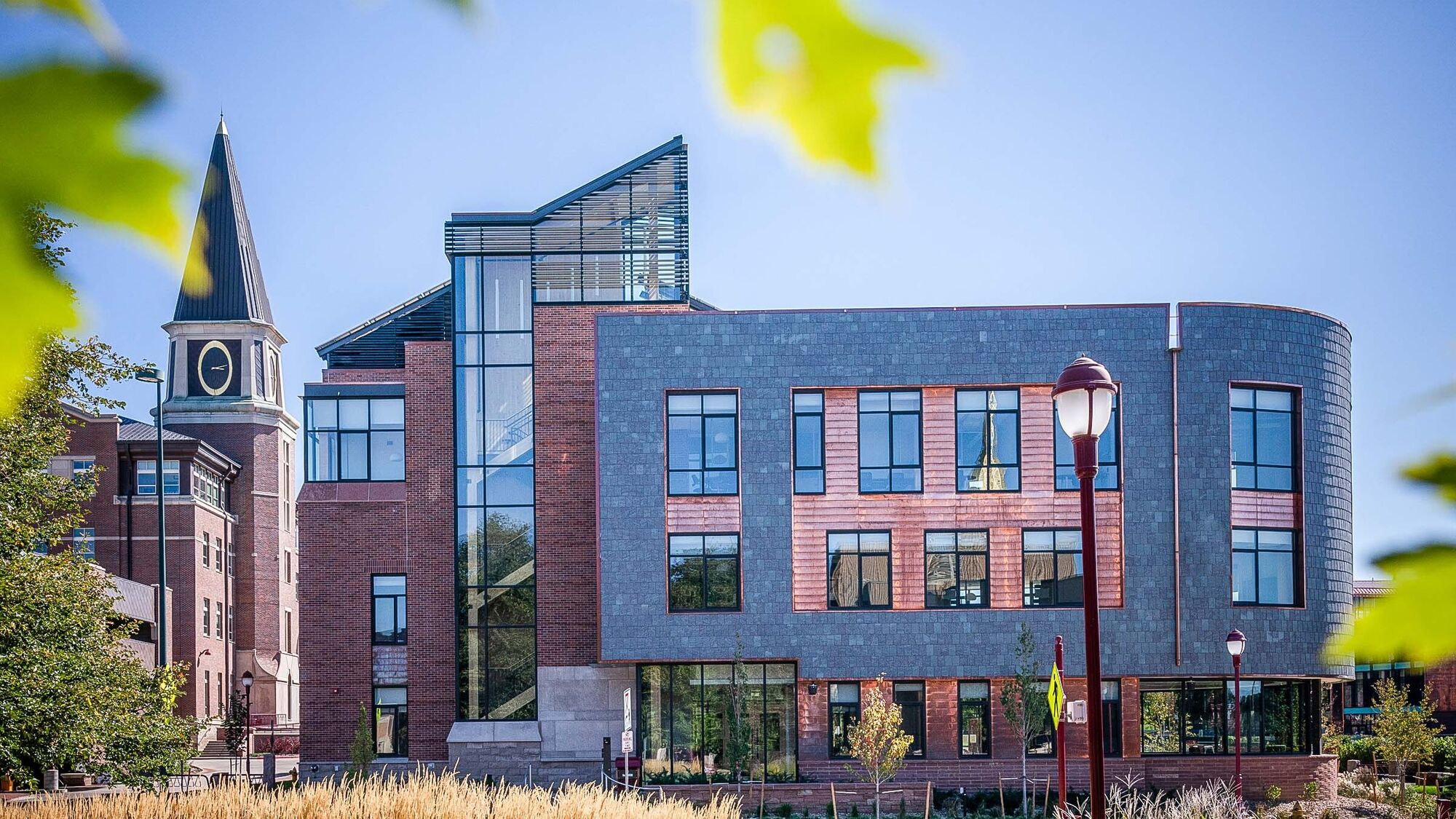 News & Announcements
University of Denver Burwell Center for Career Achievement Wins AIA Colorado Award of Merit
A testament to outstanding engineering and design, AEI is pleased to announce the University of Denver's Burwell Center for Career Achievement has been honored with an Award of Merit in AIA Colorado's 2021 Design + Honor Awards program.
Designed to foster connection and stimulate interaction among the University of Denver's (DU) diverse and varying user groups, the Burwell Center for Career Achievement creates a centralized academic hub on a highly visible site — complete with views of the Rocky Mountains and adjacent city core.
As a beacon of sustainability — from programming to infrastructure — this flagship facility is designed to meet stringent high-performance criteria and energy targets while optimizing overall occupant experience, comfort, and resource utilization.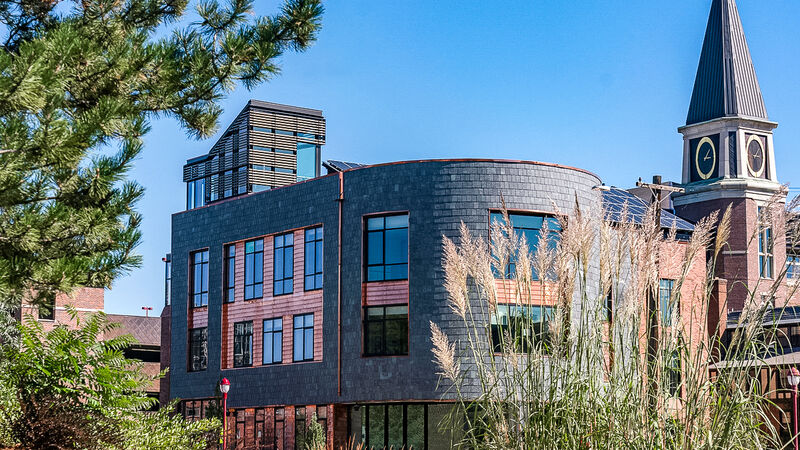 Focusing on varying design considerations — such as operative temperature, humidity, air speed, local thermal comfort, and long-term temperature variations — the all-electric building incorporates a robust suite of sustainably driven engineered systems and measures, including:
Dedicated outdoor air systems with CO2 demand control ventilation
Indirect and direct evaporative cooling
Reduced lighting power density
Rooftop photovoltaic array
Variable refrigerant flow
Sensible heat recovery
AEI provided mechanical, electrical, piping/plumbing (MEP), fire protection, sustainable, and architectural lighting design services for this landmark project, incorporating selective MEP enhancements that specifically respond to and optimize the building's unique cross-laminated mass timber structure.
Mass Timber Structural Solutions

Gaining industry-wide traction, mass timber structural solutions combine state-of-the-art technology with high-strength engineered wood products to create innovative, low-carbon buildings and systems that provide long-term durability and significantly reduce environmental impact.

As global efforts to mitigate the impacts of climate change continue to rise, the architecture, engineering, and construction industry plays a pivotal role in advancing this goal. Through collaboration with clients and industry partners, we can help offset carbon footprint through landmark projects such as the Burwell Center — incorporating high-performance engineered systems and climate-sensitive building materials that benefit both local communities and our planet.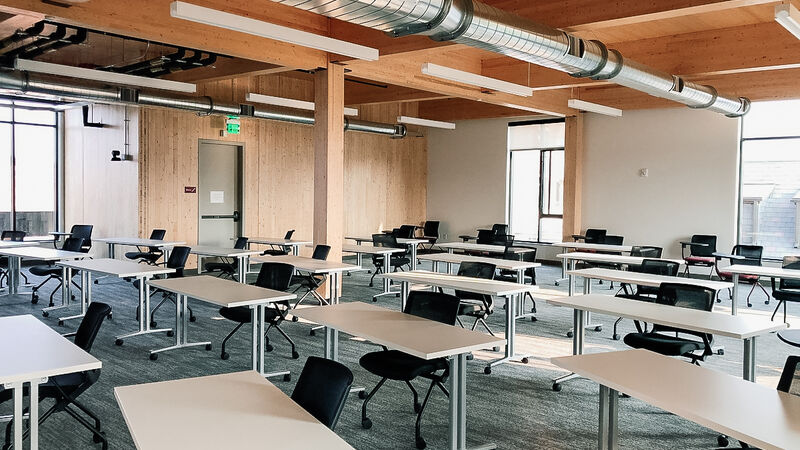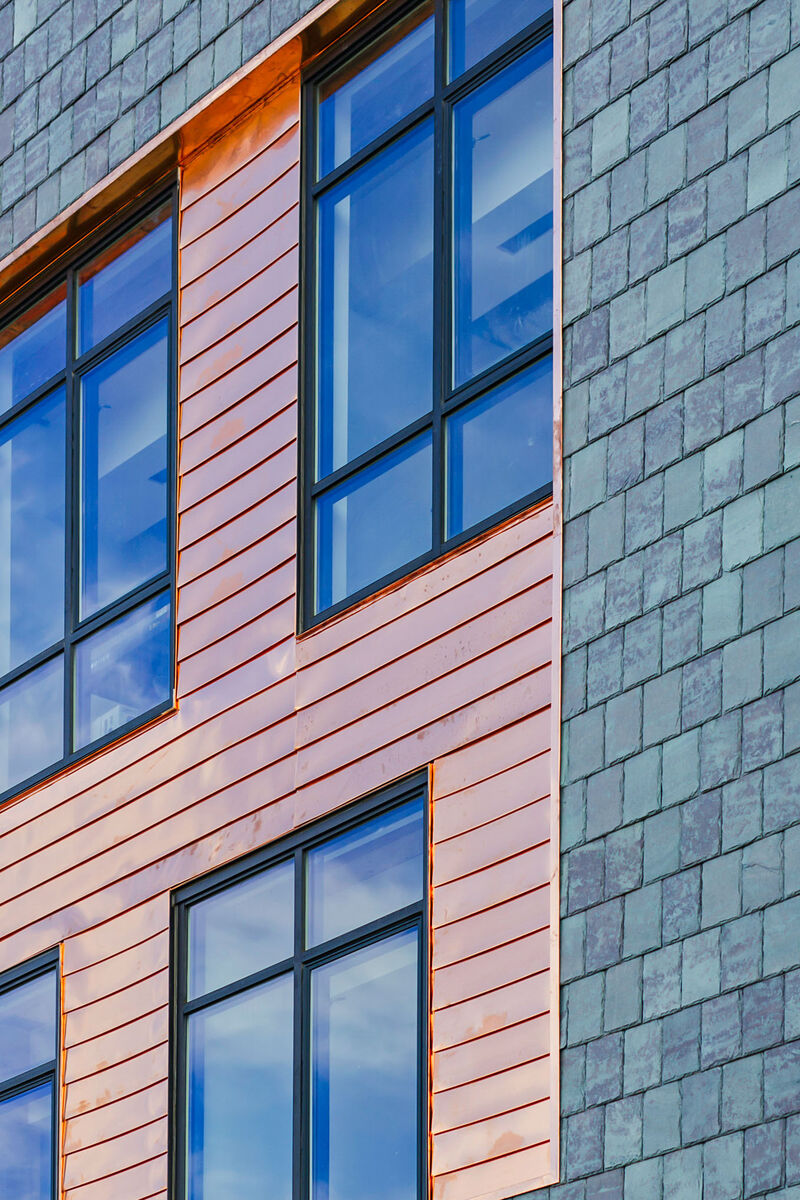 "

Our work in creating an inspired, human-centric built environment is teaching the next generation how to reshape the world with thoughtfulness, grace, and artistry. We are grateful to have worked with such a strong selection of design talent to bring these important new facilities to life for the benefit of our students."
With the goal of transforming the educational experience, the Burwell Center for Career Achievement joins two additional buildings — a visionary campus trifecta — in welcoming students for the 2021 fall semester, a milestone event as universities gradually shift back toward in-person instruction after months of pandemic-induced virtual learning arrangements.
As a long-standing partner of Denver University, AEI is thrilled to see the project come to fruition. In addition to establishing a new campus core, the Burwell Center for Career Achievement provides an elevated platform for continued student growth and career development, networking and engagement opportunities, and alumni activities that will serve the institution long into the future.

Congratulations to AEI Denver and all project teams — including Lake|Flato, Shears Adkins Rockmore (SAR+), KL&A, Inc., and Martin/Martin, Inc. — on this noteworthy achievement.