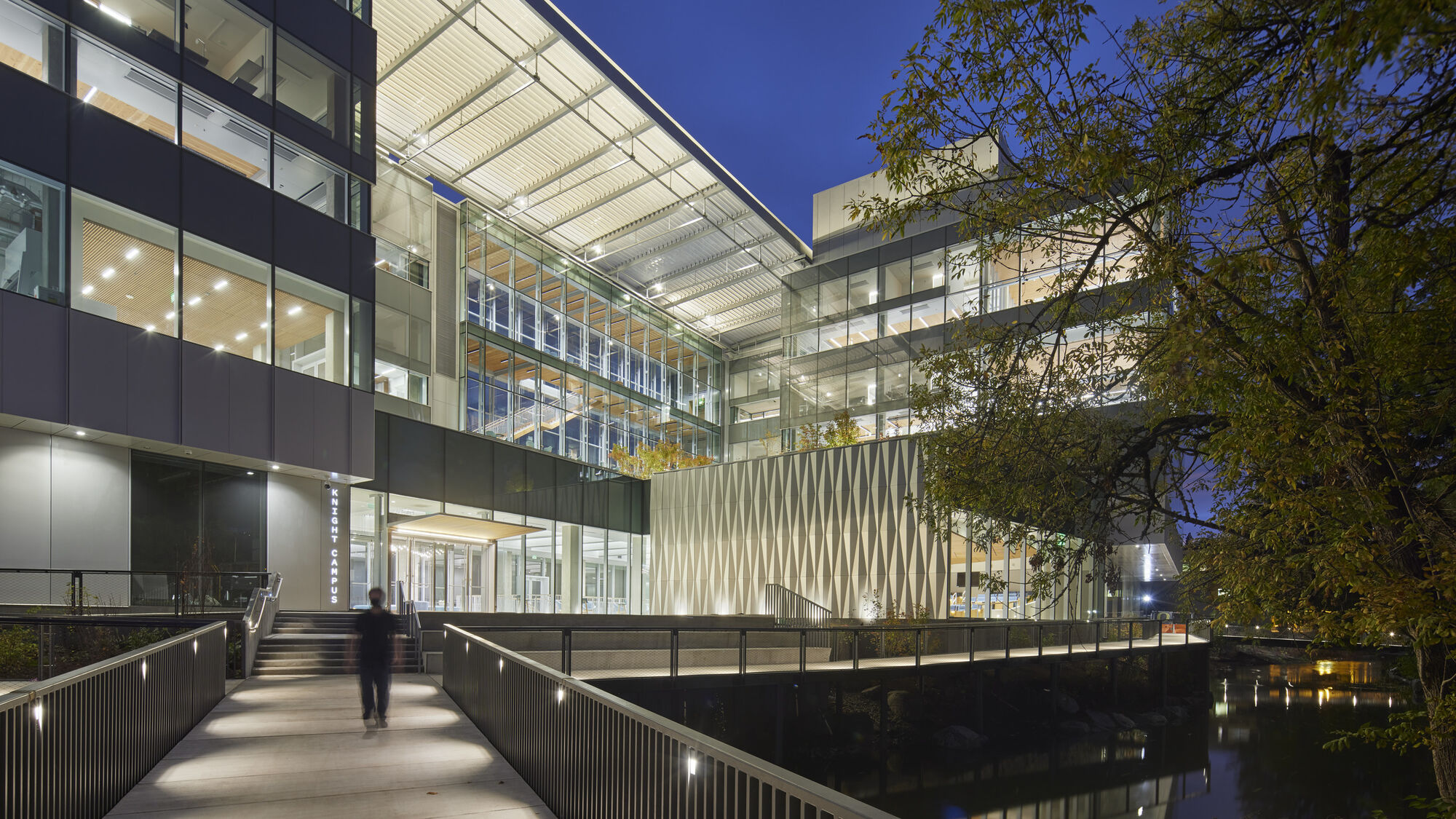 University of Oregon
Knight Campus for Accelerating Scientific Impact, Phase I
Creating an innovation ecosystem for accelerated scientific progress.
Opened in 2020, the Phil and Penny Knight Campus for Accelerating Scientific Impact (Knight Campus) establishes a vibrant and dynamic new hub for interdisciplinary research and scientific innovation at the University of Oregon (UO) campus.
With an emphasis on reshaping the state's public higher education landscape, Knight Campus provides cutting-edge core facilities designed to drastically reduce the time it takes for translating scientific discoveries into innovative technological applications that benefit society.
The first phase of three planned campus additions, this ambitious UO expansion maximizes sustainability and performance-driven engineered systems design — from locally sourced mass timber to flexible infrastructure — to create a state-of-the-art new facility comprising two main, four-story towers. Emphasizing creativity and team-based collaboration, the building houses an array of modern teaching and research environments, including labs, classrooms, mezzanines, offices, meeting and training rooms, study spaces, and public areas.
A collaboration with Ennead Architects, Bora Architects, and Pivotal Lighting Design, AEI provided mechanical, electrical, piping/plumbing (MEP), information technology, and architectural lighting design services for the first phase of the Knight Campus — an iconic academic research facility that raises the bar for sustainably driven laboratory design and construction worldwide.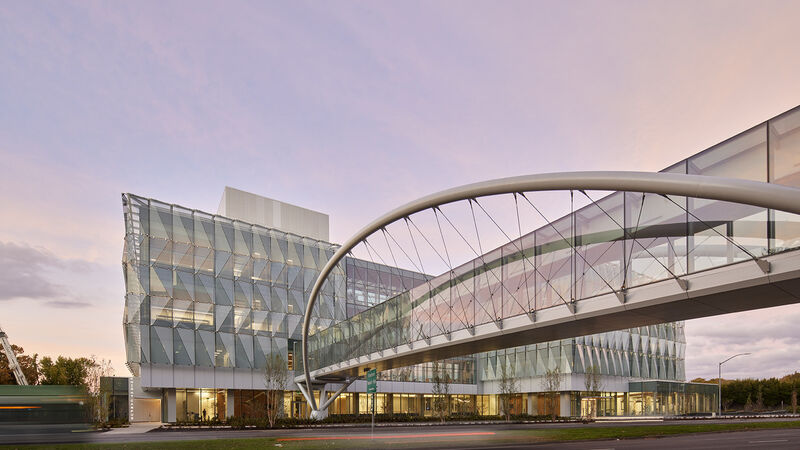 "

The Knight Campus serves as a hub for new partnerships, inspiring discovery and innovation across campus, the region, and the country. We're creating an ecosystem of collaboration, supporting diverse perspectives dedicated to the pursuit of breakthroughs that improve people's lives."
Advanced Academic Research
Organized into four main research neighborhoods, Knight Campus collocates diverse teams of students and researchers into a centralized facility to encourage the cross-pollination of ideas and interdisciplinary collaboration while reinforcing a sense of community.
The building maximizes spatial diversity and design flexibility to accommodate evolving teaching methods, program needs, and varying individual research preferences. In addition to a Class 1000 cleanroom — the first publicly owned cleanroom of its kind in the state — its core facilities incorporate state-of-the-art equipment and technology for imaging, 3D printing, and rapid prototyping, fostering enhanced opportunities for innovation and scientific discovery.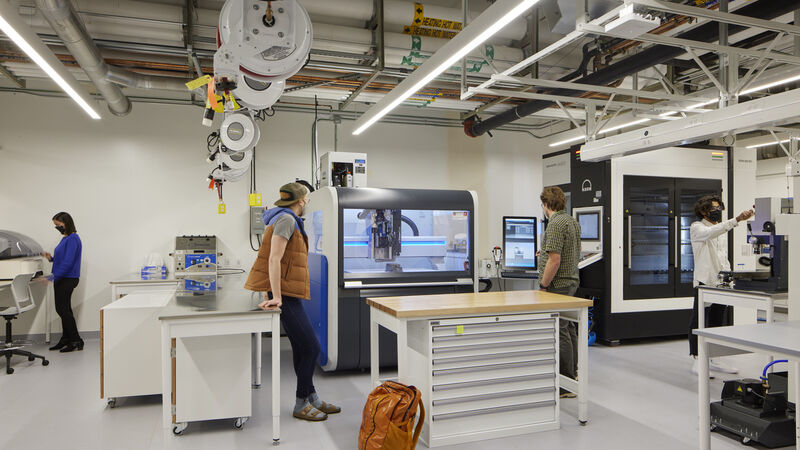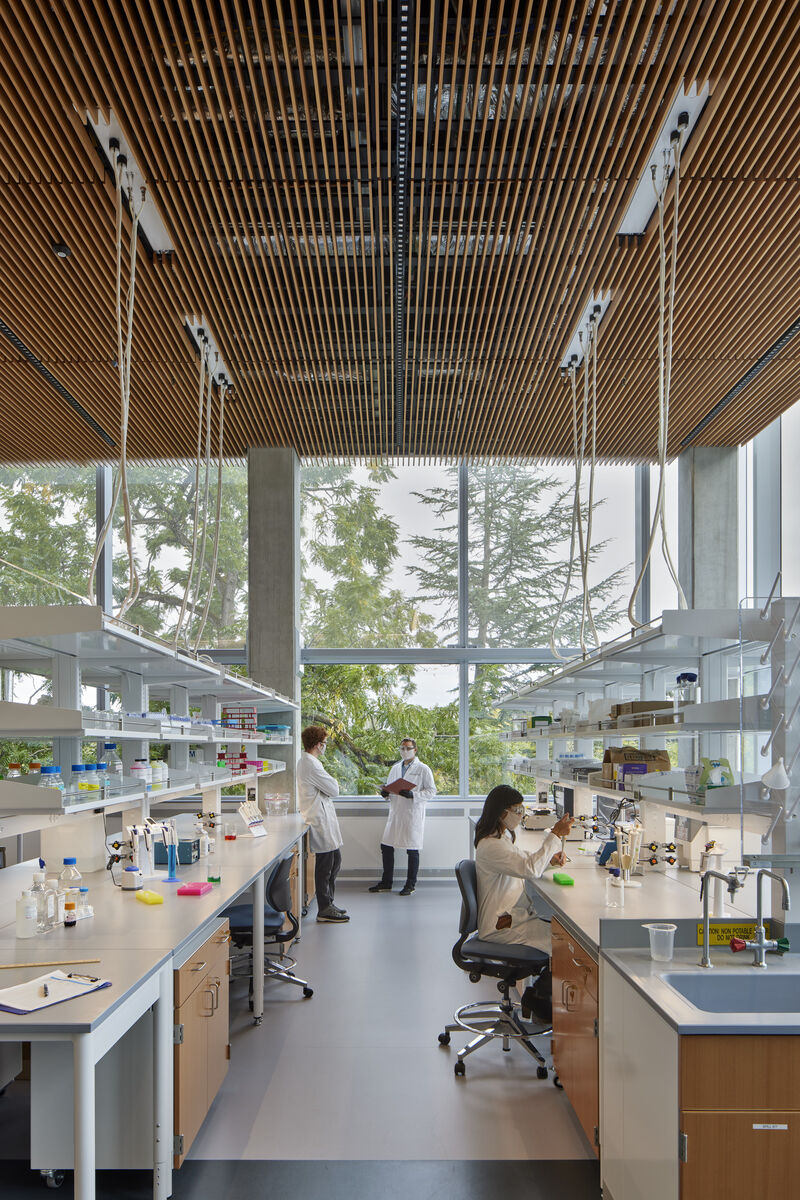 High-Performance Engineering

The culmination of an integrated project team and the highest levels of collaboration and design ingenuity, the Knight Campus is characterized by an array of high-performance MEP systems and design measures contributing to its LEED Gold certification.
Chilled beam technology increases overall energy efficiency, maximizes ceiling space utilization, enhances thermal range, and increases occupant comfort.
A heat recovery chiller captures waste heat rejected from the laboratory spaces, electrical utilities, and information technology equipment — along with heat from the chilled beams — and redirects it to provide general space heating and hot water in lab areas.
Stormwater management and innovative water solutions improve overall water quality and oxygenation by cleansing and repurposing rainwater runoff.
A high-performance, double skin facade reduces solar heat gain and glare for increased energy efficiency and occupant comfort.
Floor-to-ceiling windows and double-height lab spaces — a distinguishing and unique feature for laboratory research environments — allow abundant natural daylighting to penetrate deep into the building interior.
Sustainable Building Materials

Locally sourced directly from the Pacific Northwest, Knight Campus maximizes the use of mass timber — specifically, cross-laminated timber (CLT) and laminated beam construction — structurally connecting the two towers, mezzanine levels, and select stairwells while maximizing biophilic design.
Widely recognized as a sustainable, natural construction material, the use of wood/mass timber has a biophilic effect on humans — connecting building occupants to the organic world for enhanced user experience and improved overall health and wellness. Linear wood ceilings further augment a variety of interior spaces and building materials, such as the open bench research labs, evoking an innovation-inspired, engaging environment for enriched scientific discovery.

20,500

sq. ft. mass timber
180

cross-laminated timber (CLT) panels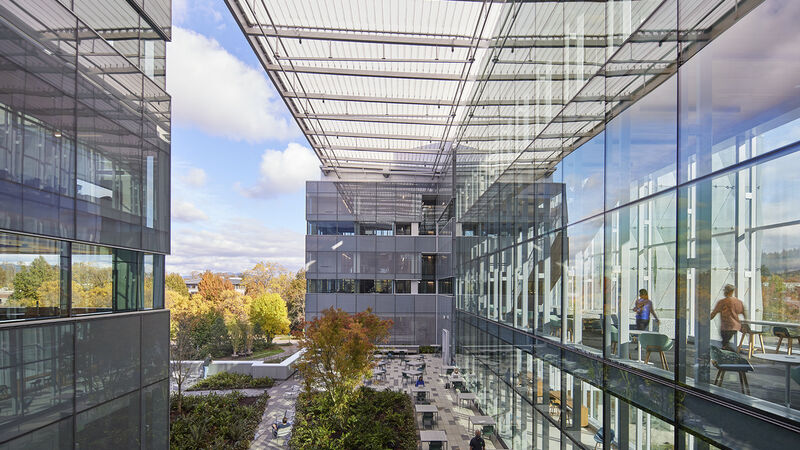 Modern Innovation Ecosystem
The project also includes a large, terraced area with an overhead protective canopy and landmark skybridge that not only connects the building with existing research facilities — including the Lewis Integrated Science Building across Franklin Boulevard — but serves as a symbolic gateway to the larger UO campus.

The culmination of a holistic design approach and performance-driven engineered systems, Knight Campus serves as a new campus landmark for world-class research and education — an innovation ecosystem dedicated to accelerating scientific discovery and global progress.
"

Operating at the intersection of science and society, the Knight Campus will serve as a biotech incubator that will push the frontiers of science and inspire and accelerate global problem-solving. "
Managing Director - Portland