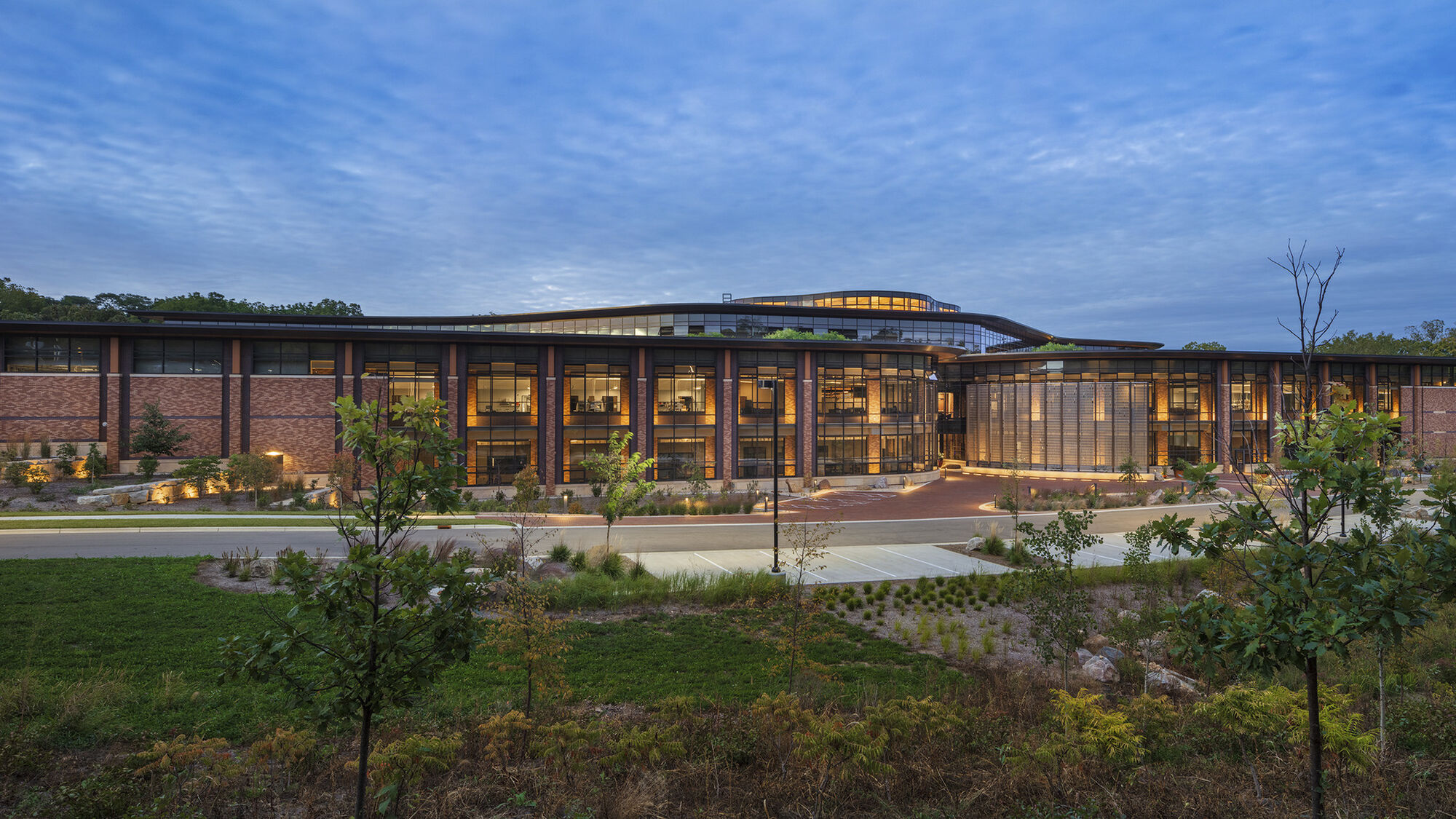 Promega Corporation
Kornberg Center
Supporting next-generation science and sustainability.
Promega Corporation (Promega) is a leader in providing innovative life science solutions and technical support to scientists and technicians in the pharmaceutical and biotechnology industries; clinical, molecular diagnostics, forensics, paternity, academic, and government research laboratories; and agricultural and environmental testing.
To support its mission and continued organizational growth, Promega embarked on a comprehensive expansion of its primary headquarters location, significantly increasing operational capacity through a state-of-the-art research and development (R&D) facility comprising 280,000 square feet of new construction, as well as an expansion of the campus' primary central utility plant.
Maintaining an emphasis on occupant comfort, building performance, and energy conservation, AEI provided mechanical, electrical, and piping/plumbing engineering; fire protection; technology; instrumentation and controls systems design; architectural lighting; construction administration; and sustainability engineering/energy modeling services.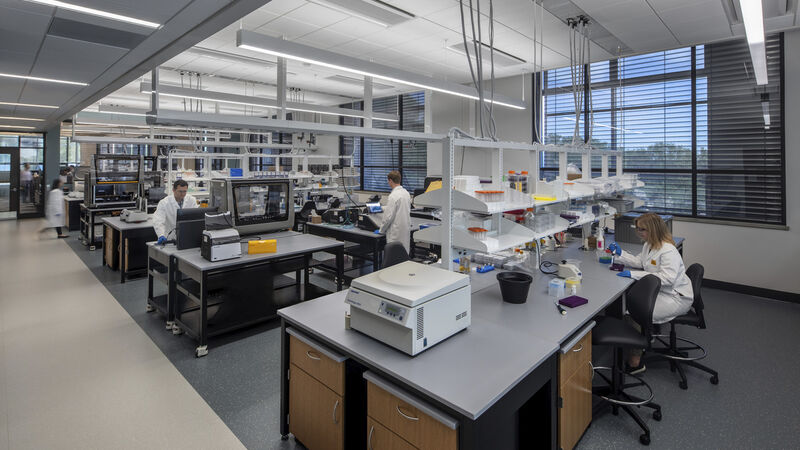 Advanced Laboratory Research Environments
With staff previously dispersed across the existing campus, the new facility effectively consolidates seven R&D teams while incorporating approximately 30 percent designated shell/open space to accommodate future growth.
Space types include dedicated cell culture hoods, integrated instrument rooms, specific core facilities, internal meeting spaces for in-lab meetings, and an open area for a future build-out. The structure also provides space for the use of virtual reality technology, which can help accelerate molecular-related research and discovery.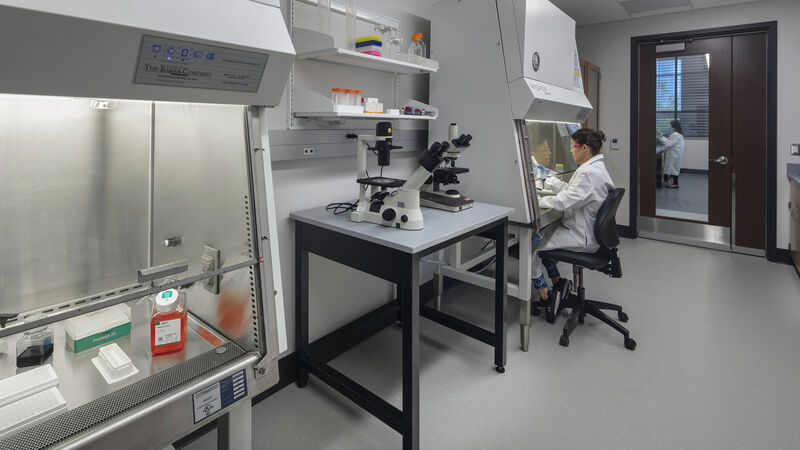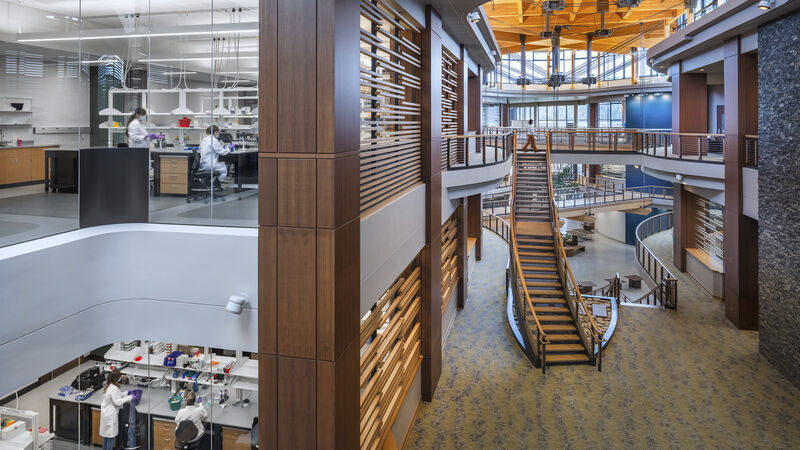 Referencing a core goal to elevate overall user experience, the building maximizes transparency through the use of open work environments across key areas — including laboratories and associated support spaces, workstations and office areas, collaboration hubs and conference rooms, fitness/wellness facilities, café/kitchen areas, and the primary atrium.
Direct lines of sight among multidisciplinary research functions and teams further enhance visual continuity among varying facility space types — fostering passion, connection, and a sense of purpose among staff.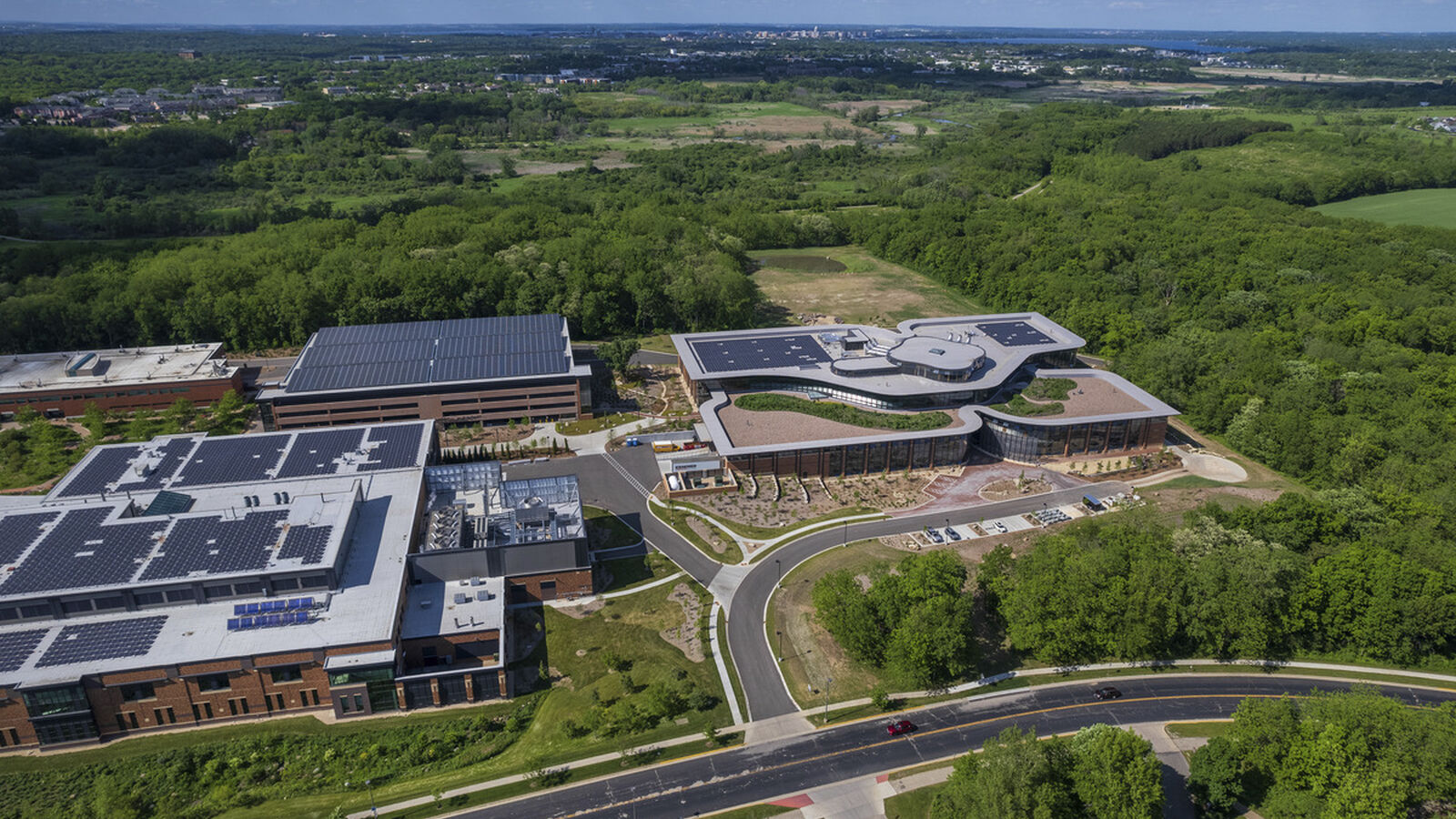 High-Efficiency Central Utility Plant Operations
Stemming from a previous utility master plan — also completed by AEI — this project includes an expansion of the existing central utility plant (CUP).
Centralizing primary utility operations from a single location, the expansion doubles existing CUP thermal capacity and associated distribution systems, ensuring optimal heating and cooling of all existing, new, and future campus buildings.

672

photovoltaic panels
313,000

kilowatts per hour generated annually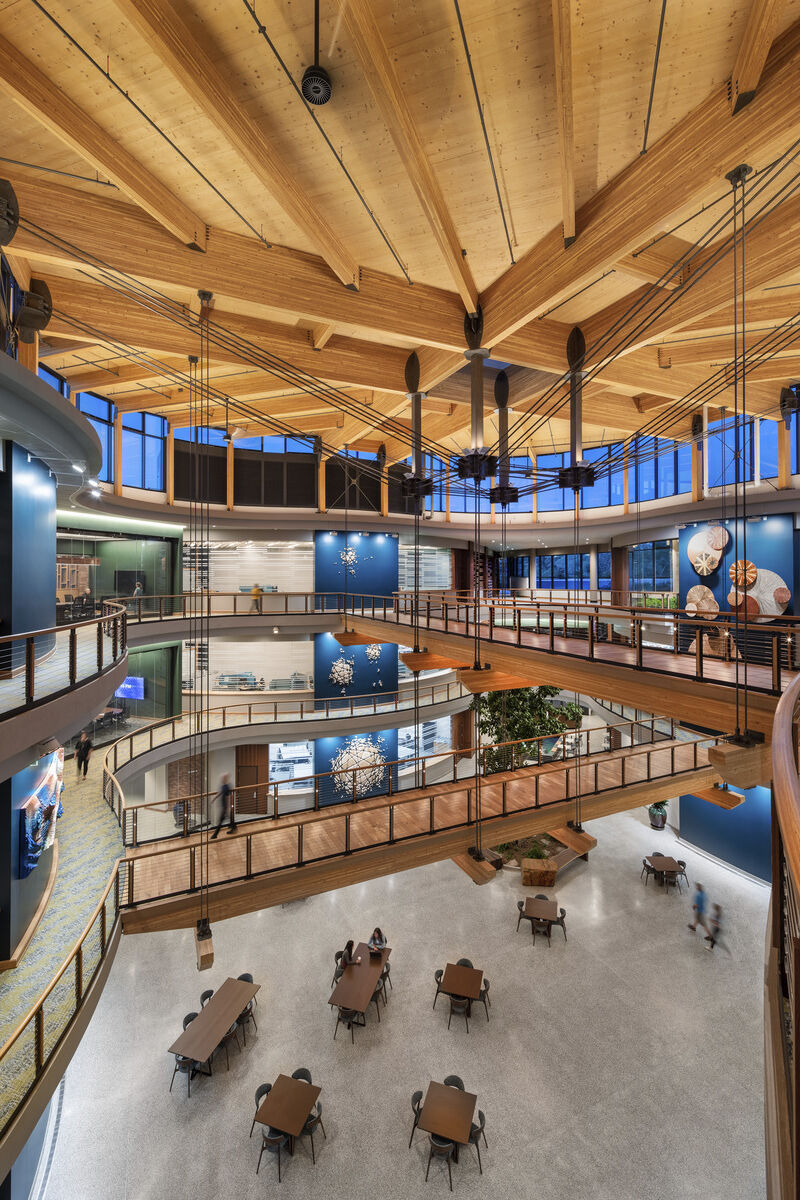 Sustainable Design Measures
Maintaining a dual focus on user experience and environmental stewardship — contributing to a 65 percent reduction in overall energy use in comparison to similar campus facilities — AEI collaborated with the project team to implement a wide range of high-performance design measures, including:

Double skin facade
Radiant heating and cooling
Geothermal heating and cooling
Water use
Double Skin Facade
Through an innovative double skin facade — double-walled construction featuring an exterior wall comprised of storefront glass and an interior wall separated by a three-foot air space — the design significantly improves thermal comfort while enhancing energy efficiency through reduced solar heat gain to internal spaces.
Floor-to-ceiling glass walls with an automated shading control system allow natural daylight to penetrate deep into the building, optimizing both occupant experience and energy efficiency. The control system utilizes roof-mounted sensors to track sun movement, adjusting window shades accordingly and thus reducing solar heat gain and glare.
Radiant Heating & Cooling
To reduce the overall energy required for facility-wide thermal distribution, radiant heating and cooling technologies were deployed. This strategy effectively separates thermal loads from building ventilation requirements through embedded piping in the concrete structure (radiant mass floors/ceilings), suspended ceiling radiant panels, and active chilled beams.
In addition, the entire facility is ventilated utilizing 100 percent outside air — improving overall indoor air quality. The integration of total energy recovery wheels is used to recover both sensible and latent energy from exhaust air, which is then used to pre-condition the incoming outside air.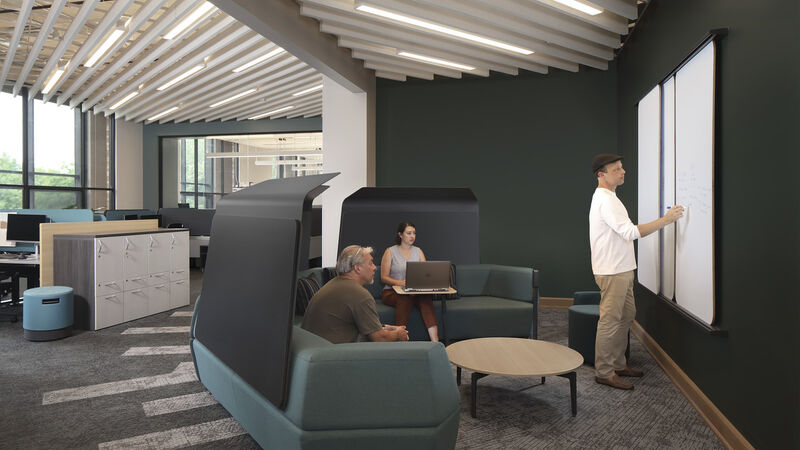 22 miles

in-floor tubing for radiant heating & cooling
Geothermal Heating & Cooling
Supporting the campus' central utility plant and overall thermal capacity for the new R&D facility, AEI also implemented a geothermal heating and cooling system — designed to extract energy from the Earth through 56 closed-loop, vertical boreholes, each extending 450 feet deep.
Widely recognized as a clean, renewable source of energy, this high-efficiency system allows for simultaneous heating and cooling — providing heat during cooler months and transferring heat to the ground in warmer months — while significantly reducing total energy costs.
Water Use
Water-efficient technologies incorporated include a dedicated rainwater collection system, which captures, distributes, stores, and repurposes rainwater for alternative use.
Comprising two, 25,000-gallon underground storage tanks, approximately one million gallons of rainwater can be harvested annually. Once collected, filtered, and treated, the water is redirected to either the Kornberg Center for toilet flushing purposes or the CUP and used as make-up water for the cooling towers.

1,000,000

gallons reclaimed water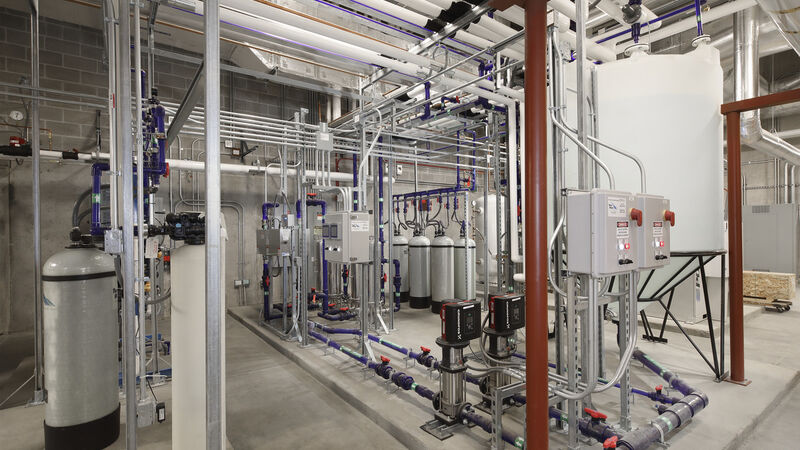 Working toward a targeted energy use intensity (EUI) of 115 kBtu/sf/yr, additional sustainable design strategies include:
Naturally ventilated open workspaces, atria, and non-laboratory areas utilizing the double skin facade
Reduced ventilation rates for open laboratory spaces operating at 4/2 air changes per hour (ACH)
Green roof with photovoltaic array generating approximately 313,000 kWh annually
Displacement ventilation with thermally activated slabs in open workspace areas
Expanded thermal comfort range in non-laboratory areas
Active chilled beams in laboratory areas
Radiant mass floor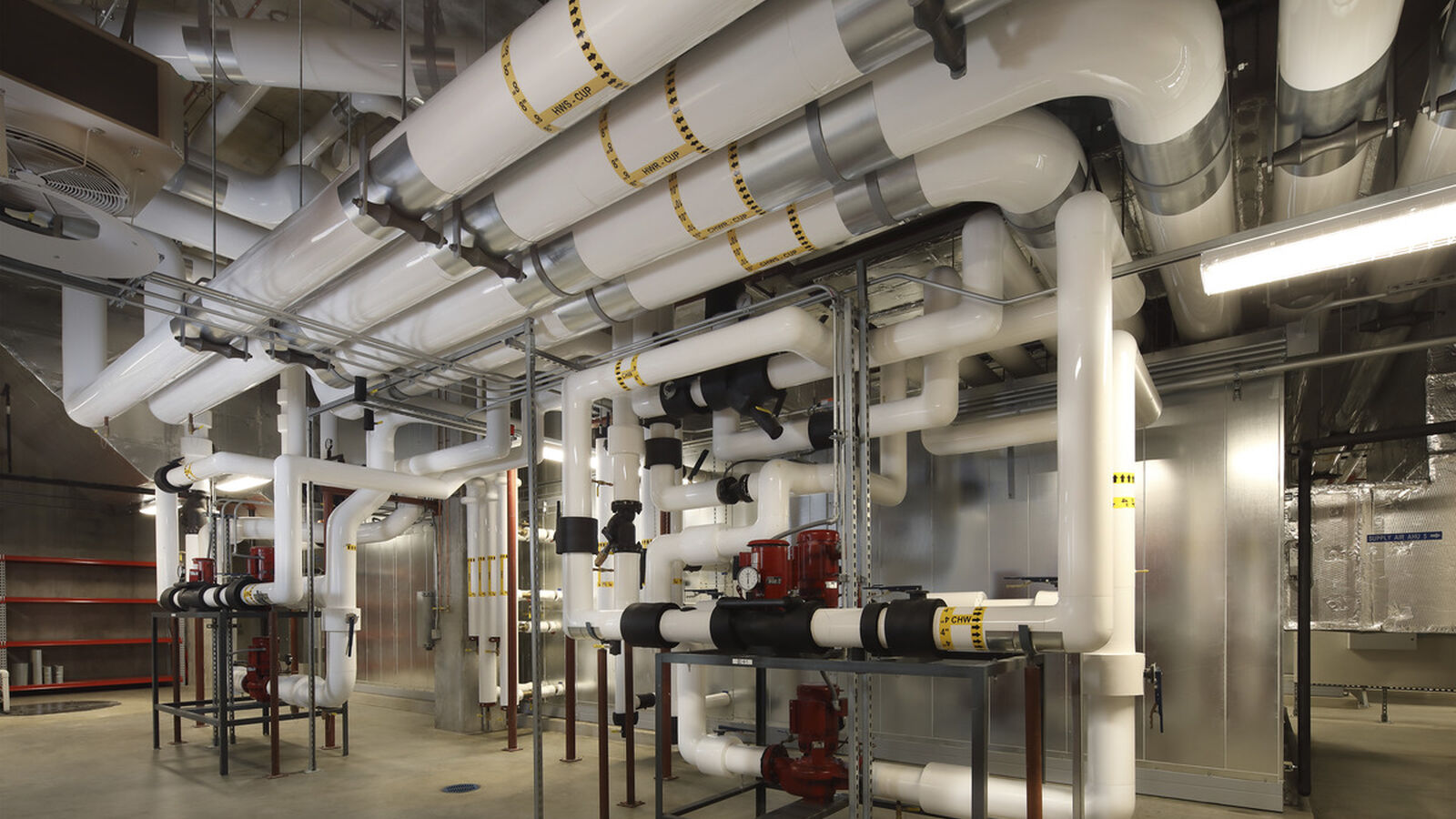 Biophilic Design & Lighting
A distinguishing feature of the Kornberg Center, an emphasis on biophilic design connects occupants with the natural world outside while contributing to building sustainability goals. Mass timber is used throughout, providing a durable, cost-effective, low-carbon alternative to traditional construction materials.
Augmenting a commitment to human-centric design, the new R&D facility also emphasizes the use of lighting. Natural daylighting permeates the perimeter spaces through the building's energy-efficient, double skin facade — simultaneously pouring into the grand central atrium through a 360-degree clerestory and skylight.
Warm, 2700K lighting implemented throughout the varying public spaces and office areas further complements the rich mass timber structure and wood-inspired materials. In critical research and laboratory spaces, 3500K lighting enhances visual acuity, contributing to an elevated user experience and increased productivity.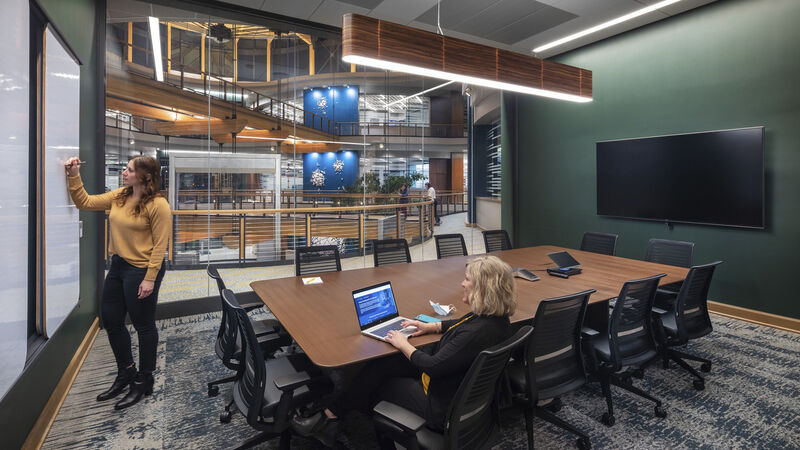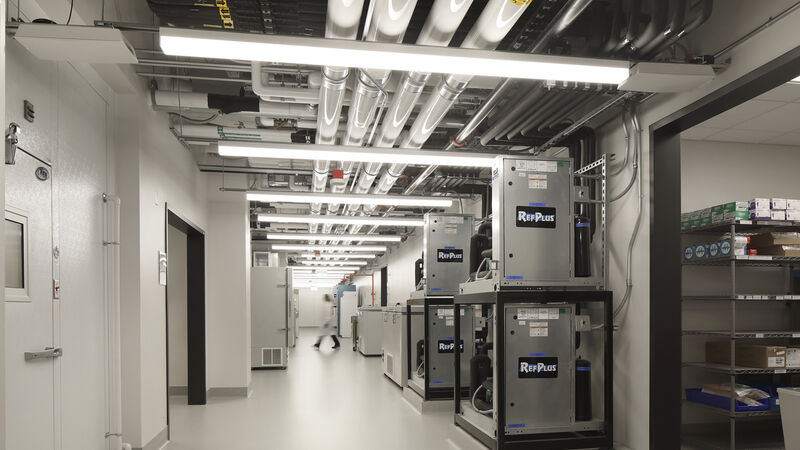 "

Kornberg Center is a catalyst to innovation. Along with the advanced technology, the building design itself inspires inventive thinking. "