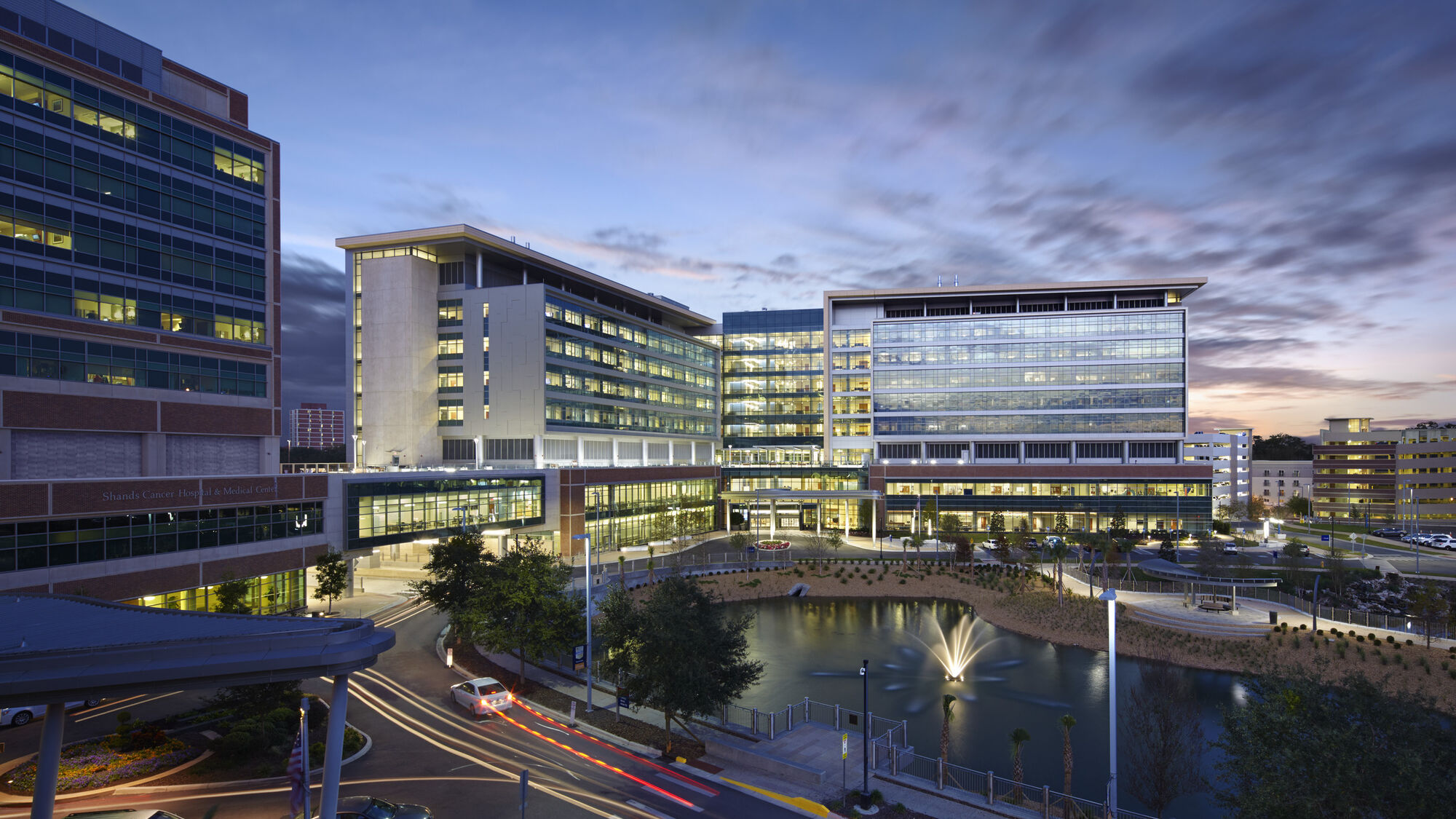 Innovation
University of Florida Health: Designing the Nation's First Four Green Globes-Certified Hospital
Encompassing 540,000 square feet and powered by an on-site cogeneration plant, the new, state-of-the-art, $415 million University of Florida Health's Heart, Vascular, and Neuromedicine Hospital is the first hospital nationwide to achieve Four Green Globes certification by the Green Building Initiative (GBI).

Connected to Shands Cancer Hospital, a LEED Gold-certified project also designed by AEI, UF Health's new facility incorporates an intelligent palette of sustainable design and delivery strategies recognized by each level of the Green Globes system.
Developed by GBI — a non-profit, American National Standards Institute (ANSI) Accredited Standards Developer, this science-based rating system directly reflects GBI's commitment to reducing environmental impact through enhanced building performance and design.

Reviewed and verified by a qualified third-party, scores are tallied against a 1,000-point scale, with 85 percent representing the threshold for a Four Green Globes certification. To date, only 77 projects in the United States have achieved a Four Green Globes certification, including:
53 existing buildings
21 new construction projects
Three sustainable interiors
Raising the bar in healthcare facility design, this milestone achievement places UF Health's new hospital among the largest and most complex within this elite group of certified buildings.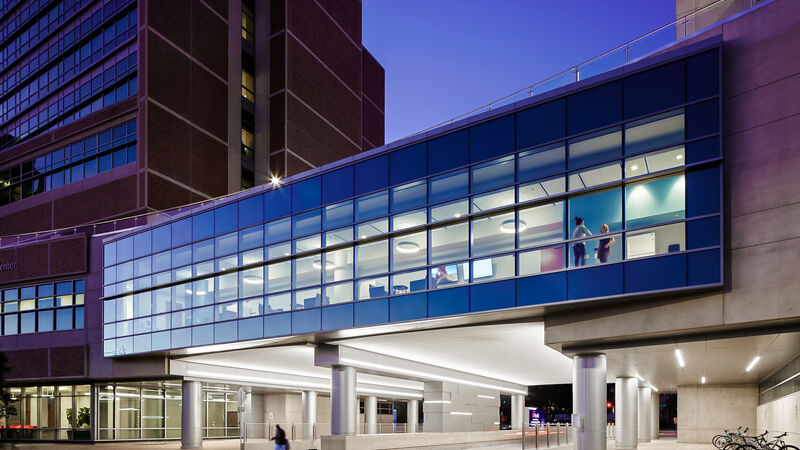 How did University of Florida Health's Heart, Vascular and Neuromedicine Hospital achieve its Four Green Globes rating?
88

%

Final Green Globes Rating
Site

In addition to specifying a highly reflective roof surface that mitigates heat island effects, the project includes a large green roof on the third-story terrace offering a respite for patients, visitors, faculty, residents, staff, students, and volunteers. The green roof also assists with stormwater retention and evapotranspiration. Ninety-three percent of all irrigation water is provided by a municipal reclaimed water source.
The landscape plan includes a palette of fully native and adaptive species with a detailed tree preservation plan for the live oaks that remain on the site. In addition, outdoor light pollution is minimized through the design of zero up-lighting in parking areas.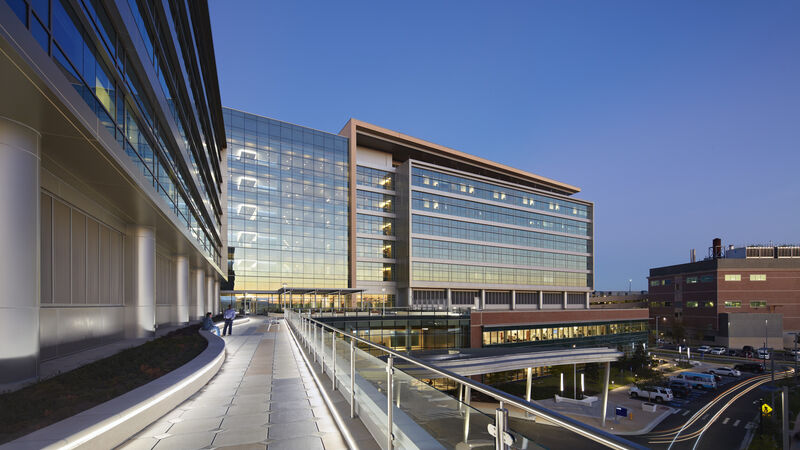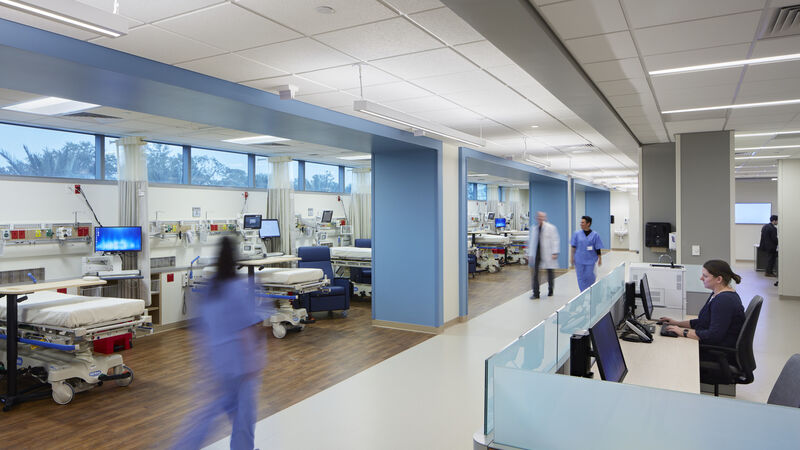 Energy

Leveraging on-site power and hot water delivery from the GRU South Energy Center cogeneration plant and a myriad of responsible, energy-conscious design features, the project boasts a projected site Energy Use Intensity (EUI) of 230 kBtu/ft/yr – a 50 percent improvement over the Energy Star median property.
Aggressive energy management practices that have been spearheaded by AEI on the campus over the past several years were distilled into a roadmap of lessons learned. The most notable include enhanced building automation through intelligent control algorithms and a robust, ongoing commissioning program, much of which is automated.

Water
Hospitals are highly water-intensive. Owing to their function and 24/7 operation, they consume approximately 150 percent more water than the entire commercial building sector. The Commercial Buildings Energy Consumption Survey data collected for inpatient healthcare facilities establishes an average water use intensity (WUI) of 50 gallons/SF/year.
Balancing aggressive water use reduction goals with clinical purpose and patient needs, the hospital achieved a modeled water use intensity of 11 gallons/SF/year. Water use reduction strategies include utilizing municipally reclaimed water for cooling tower makeup and site irrigation, low-flow fixtures for select patient rooms and public areas, and chilled water-cooled process equipment.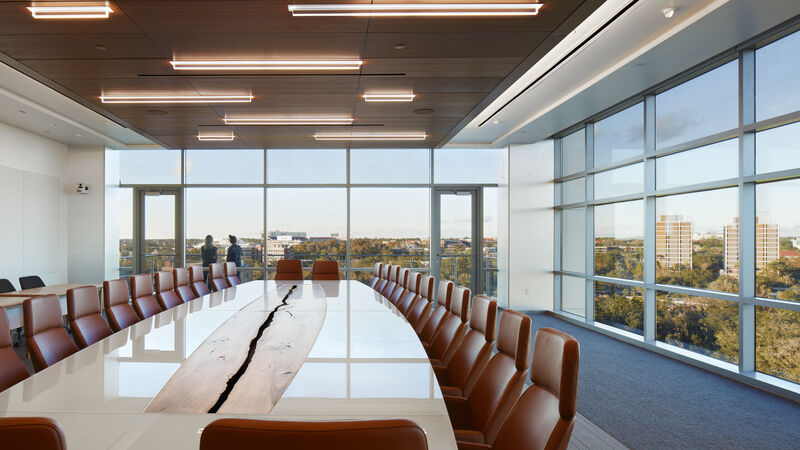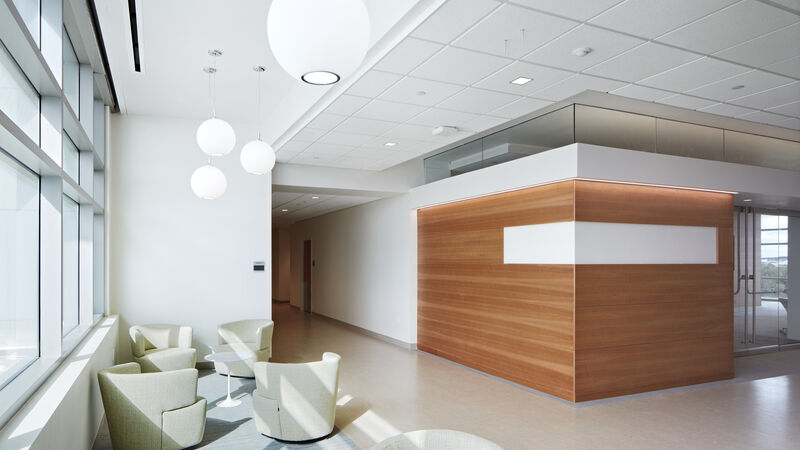 Resources and Materials
Acknowledging the importance of resource conservation, the team targeted an environmental performance assessment path for the building core, shell, and interior fit-out to support sustainability goals in the early stages of design. The team prepared detailed life-cycle models to compare how the design alternatives performed relative to global warming potential, acidification, eutrophication, ozone, smog, and fossil fuel indicators.
In addition, the construction team embraced a set of robust construction waste management standards that diverted over 75 percent of construction debris from the landfill.

Indoor Environment

Superior indoor air quality, occupant comfort, and well-being represent the guiding principles for inpatient healthcare environments. The design team supported the client's vision for patient healing and employee health with a design that optimizes visual, acoustic, and thermal comfort. It also addresses the health effects of building material choices and balanced daylighting with direct access to views of nature.
The building employs a suite of strategies that include low-VOC materials, enhanced filtration in the air distribution systems, mechanized control of window coverings to address glare and heat gain, and high STC ratings for partitions separating acoustically sensitive areas. The project also features a healing garden, reflection pond, waterscape, and outdoor walkway along Rush Lake for patients, visitors, and staff.

Supporting Long-Term Sustainability
While healthcare projects, especially in-patient hospitals, are energy-, water-, and material-intensive, UF Health's Heart, Vascular, and Neuromedicine Hospital demonstrates the value of sustainable strategy development for clients and design teams who are able to embrace the challenge. At Affiliated Engineers, rising to meet challenges that support a sustainable planet, healing environments, and healthy indoor spaces are the life-blood of our work.