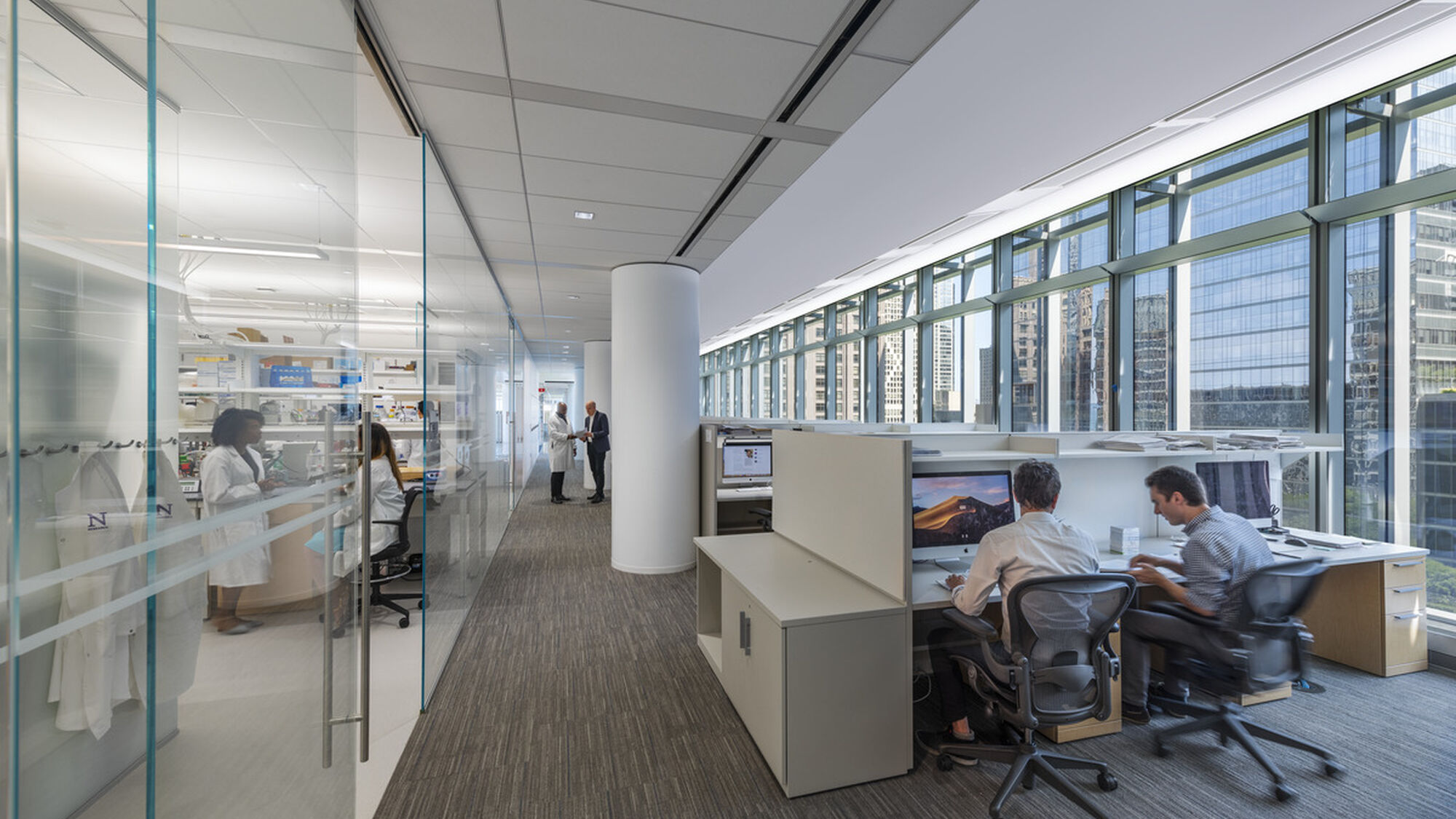 Innovation, News & Announcements
Tradeline Spotlight on Next-Generation Design at Northwestern University's Simpson Querrey Biomedical Research Center
A vibrant research hub decorating downtown Chicago and part of Northwestern University's Feinberg School of Medicine, the Louis A. Simpson and Kimberly K. Querrey Biomedical Research Center (SQBRC) was recently highlighted by Tradeline for pushing the boundaries of next-generation design and engineering.
Balancing stringent sustainability goals with the energy-intensive demands of modern research labs and a constrained urban site, the LEED Gold-certified SQBRC presented several unique design challenges.

AEI collaborated with project architect Perkins&Will to implement an array of high-performance engineered systems and design solutions that maximize environmental stewardship and occupant comfort while enabling cutting-edge biomedical research operations.
Among the building's many energy-saving measures, the SQBRC includes:
Two separate exhaust systems — general building exhaust served by a 70 percent effective total energy heat wheel and lab fume exhaust served by 50 percent effective run-around heat recovery.
High-performance lab equipment, such as high-efficiency ULT freezers, that help decrease thermal load and lower airflow within the lab spaces.
Advanced humidification system that utilizes pressurized water versus traditional steam.
Upgraded chilled water distribution featuring an energy-efficient primary pumping system.
Condensing hot water boilers, heat recovery chillers, and dry heat sterilization in lab spaces to reduce/eliminate steam.
Additionally, a chiller plant integration with the adjacent Lurie Biomedical Research Building (part of the Ann & Robert H. Lurie Children's Hospital of Chicago) consolidates utility systems to serve both buildings, providing significant cost and energy savings.
Further maximizing its urban footprint and concepts of transparency and connection, the SQBRC features a striking, double skin façade providing an abundance of natural daylighting and exterior views. Solar heat gain is addressed through user-controlled blinds, perforated shades, and vents between building floors.