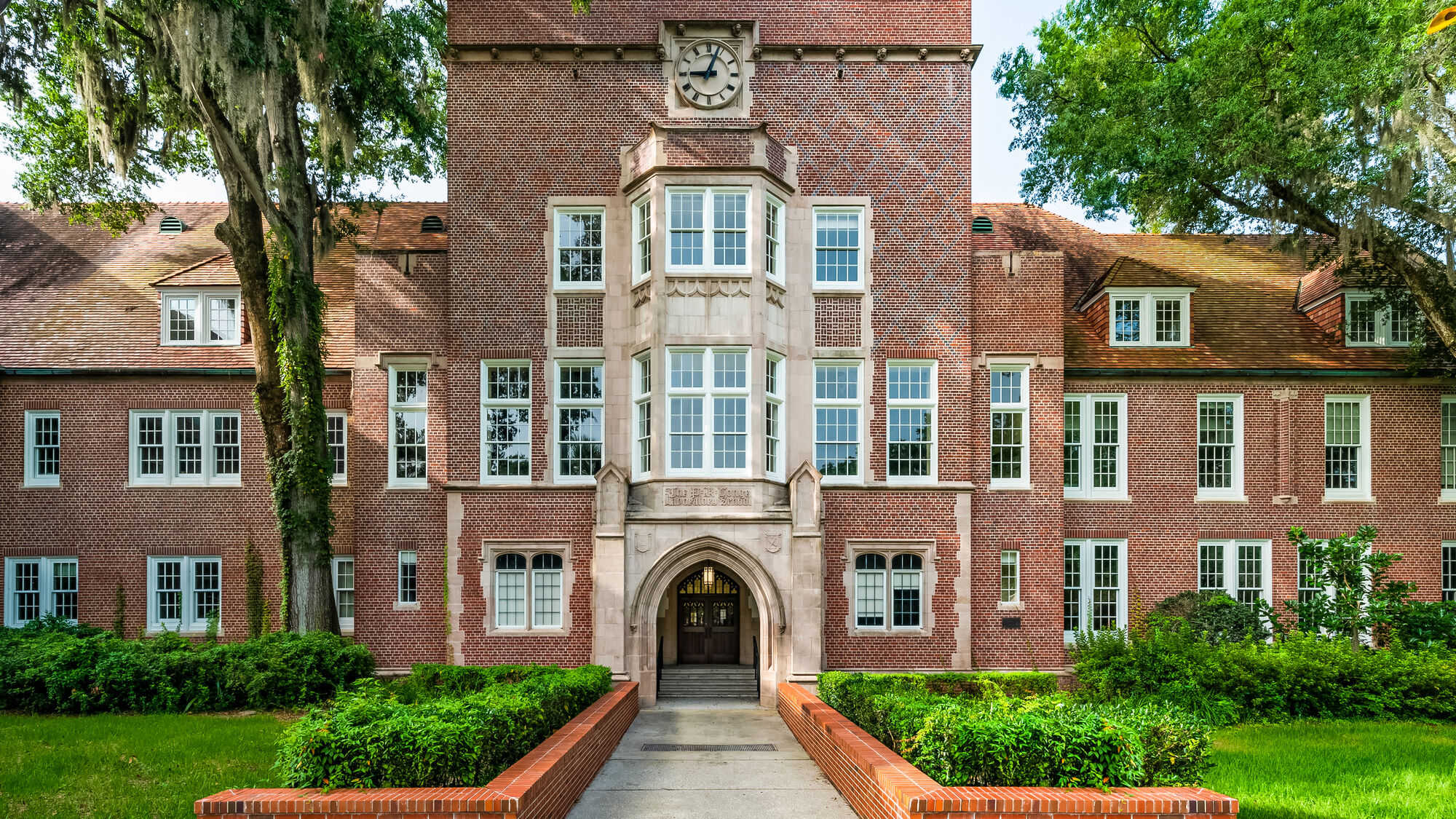 University of Florida
Norman Hall Rehabilitation
Preserving and revitalizing a historic university asset.
Originally built in the 1930s and featured on the National Register of Historic Places, Norman Hall is home to the University of Florida's (UF) College of Education, one of the nation's leading academic programs. Currently ranked as number one in the 2021 Best Online Programs rankings released by the U.S. News and World Report, Norman Hall is widely recognized as one of UF's most vital historic campus assets.
Boasting both historical charm and structural resiliency — including cast-stone gargoyle figures, its distinguished, durable brick façade, and wood paneling throughout — the building has remained largely untouched throughout its nearly 90-year lifespan.
Though smaller renovations have been completed in previous decades, prior to its comprehensive restoration, the building was still characterized by aging infrastructure, including outdated mechanical, electrical, and technology systems, making it difficult to keep up with modern collegiate demand.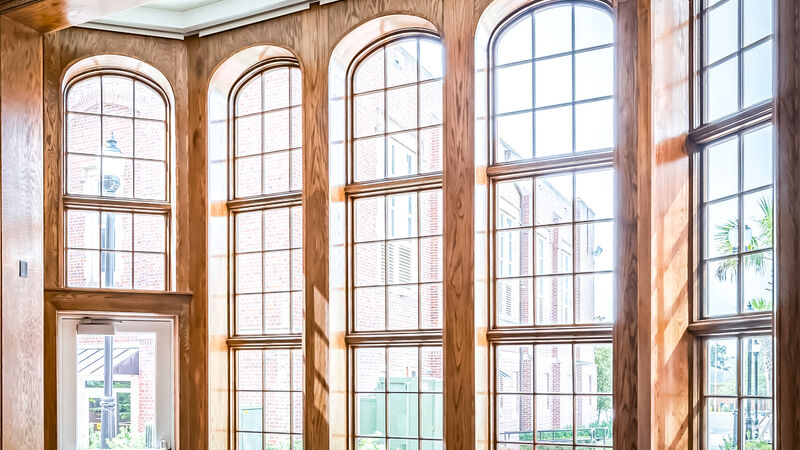 As Norman Hall's first major rehabilitation, the project included a critical, overarching goal — to preserve and maintain the historical integrity and iconic architectural building aesthetic while upgrading all engineered systems to modern day standards.
Total Systems Transformation
Comprised of 88,000 square feet — an 80,000 square foot renovation and 8,000 square foot addition — this project encompasses a total overhaul of the building's existing infrastructure, including comprehensive mechanical, electrical, plumbing, and HVAC systems replacement in the original Norman Hall, equipment and lighting replacements in Norman Library, technology upgrades, and telecommunication distribution pathways and structured cable.
AEI also performed rigorous indoor air quality assessments to identify and remove hazardous materials such as asbestos and lead paint.

As part of the HVAC upgrades, AEI utilized linear diffusers and color-matched grilles — strategically positioned between existing building columns and wood panels to remain hidden from public view — creating uniform airflow while preserving historical integrity.
With a system previously consisting of 67 single-zone air units, AEI collaborated with Walker Architects to centralize all cooling and heating based on various building zones. In addition to the primary zones, AEI implemented alternate space solutions — such as the basement and attic — for mechanical equipment and the new dedicated outside air systems, which feed air into each classroom. These solutions greatly improve overall operational and energy efficiency while enhancing occupant comfort.

Coordinating alongside the architectural building envelope rehabilitation effort — which included re-roofing, window repair, and an overall restoration and preservation of the bond brick façade — AEI provided design engineering services to restore interior corridors to their original state. This eliminated the use of corridors for mechanical equipment, instead integrating vertical pipe and duct distribution systems.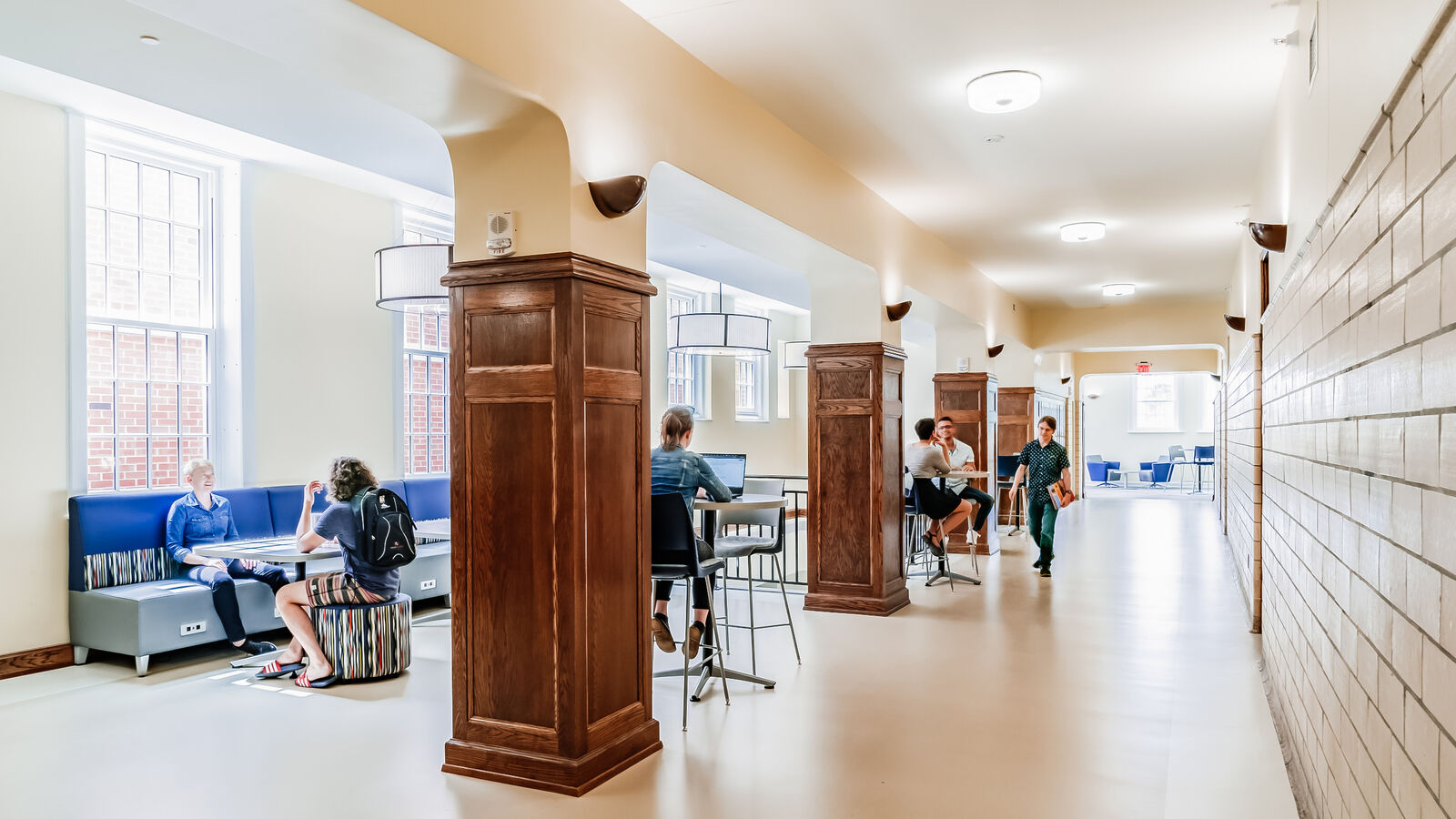 Sustainable Solutions
In addition to the DOAS and upgraded, zone-based air handling system, sustainability goals were a crucial component of this project, which achieved LEED Gold certification in 2020. The renovated facility incorporates a variety of sustainable engineering features, including demand control ventilation in all classrooms, low VOC building materials, and high-performance architectural elements such as low-E glazing.
These efforts culminated in outstanding building performance, exceeding the ASHRAE 90.1-2007 baseline by 24 percent in energy cost — a noteworthy achievement given the age of the structure.
24

%

improved energy cost over ASHRAE baseline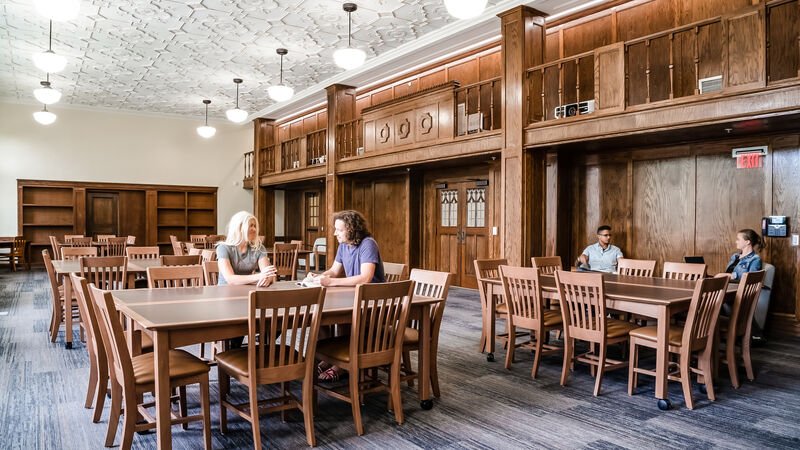 "

Our classrooms are now designed to reduce teaching friction and to align with innovative pedagogy....[they] are standardized, more user-friendly, visually appealing, welcoming, and flexible."
Something Old, Something New
The revitalized Norman Hall creates a one-of-a-kind academic experience. Refreshed classrooms offer an abundance of student-centric features, from reconfigurable spaces to additional electrical outlets to support modern technology needs. A dedicated conferencing center provides multi-functional meeting space fully equipped with the latest telecommunications and presentation technologies to enhance outreach, engagement, and professional development opportunities.
Offering the perfect balance between the conveniences and amenities of modern instructional environments and the timeless charm of this historic campus asset, Norman Hall will continue to impact and enhance education both in Florida and nationally for generations to come.